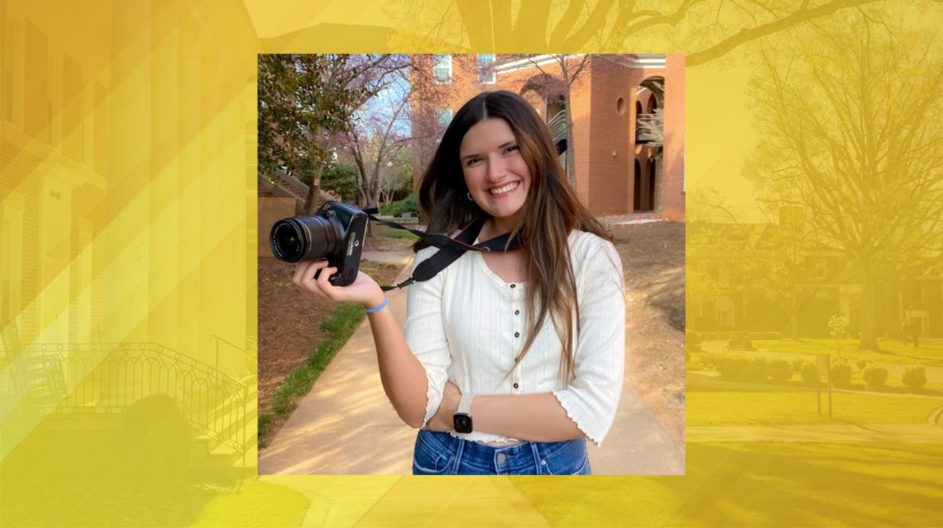 Senior Delivers 100 Days of Thanks on Facebook
by Ken Keuffel
Mar 16, 2023
When Landon Orrand '23, a first-generation college student from Baxter, Tenn., began attending Pfeiffer University four years ago on a full-tuition scholarship, she was less than optimistic about her prospects. "I was so shy," she said. "I had terrible anxiety. I never imagined myself becoming a leader."
Orrand's view of things has changed dramatically, and, as her Facebook friends have noticed, she can't thank Pfeiffer enough.
A member of Pfeiffer's Undergraduate Honors Program with a 4.0 GPA, she's writing a thesis on the American perception of Critical Race Theory. She's majoring in four subjects: Visual Communication, Studio Art, Communication, and Educational Studies.
Outside the classroom, she's taken on lots of leadership roles. She's a Francis Scholar and the Coordinator of Servant Leadership at Pfeiffer's Francis Center for Servant Leadership. She chairs the Marketing, Publicity, and Friend-raising Committee of the Campus Activities Board (CAB). She's served as a student leader for Pfeiffer's Summer Orientation, Advising & Registration (SOAR) programming. And she's the President of the Education Club.
You might think, then, that Orrand has embraced every opportunity Pfeiffer has afforded her, and that there's really nothing left for her to do before she graduates. She would disagree:
In her eyes, the people of Pfeiffer played a pivotal role in her success at the University and deserve to be thanked. So, during each of her last 100 days at Pfeiffer, she's paying tribute to a different Pfeiffer person in a message of gratitude she's posted on Facebook.
"Pfeiffer is full of good people," Orrand said. "That's our strength."
The people whom Orrand has featured or will feature in her Facebook project run the gamut. They include everyone from students and professors to staffers and maintenance workers.
Kennise Brown '24, who's double majoring in Counseling and Human Services and in Communication, tops the list of Orrand's favorite students. Orrand describes Brown, her roommate, as "the most selfless person I've ever met." As part of her work as a Francis Scholar, Orrand recruited students from Pfeiffer to help construct the 57th house of Stanly County Habitat for Humanity, beginning in the fall of 2021. This meant they had to be at the worksite on Saturday mornings at 7 a.m. The temptation to sleep in was sometimes hard to resist.
Brown went to the worksite every single time. "She's willing to drop anything she has to do to help someone else," Orrand said.
Then, there are the professors. Before Orrand attended Pfeiffer, she loved drawing but never felt she could take her art to the next level. Joshua Cross, a former Associate Professor of Art at Pfeiffer, inspired Orrand to pursue a major in studio art.
Cross "is one of the best people I've ever met," Orrand said. "He cares about students beyond the classroom. He teaches art, but also life lessons. He made me love Pfeiffer even more because I saw how deeply he cared for students and our small school. He's so humble and intelligent, and I hope to be like him one day."
Paula Morris '17 MSL, Pfeiffer's Director of Student Involvement, and Ron Laffitte, its Dean of Students, are among the administrators who've made the biggest impact on Orrand.
Orrand described Morris as her "boss in CAB for almost three years" and "like a second mom to me."
"I always find myself in Paula's office telling her about my day," Orrand said. "She works so hard, and she's so good with students. I know I can always go to her with anything. She's the best!"
As for Laffitte, "he is the most genuine and kind person I've ever met," Orrand said.
Orrand's Facebook project has its origins in "Cookies and Thank You Cards," a Francis Center-organized event in which students were asked to write a note of thanks to anyone at Pfeiffer who made a difference in their lives. Each person who got a note also received a cookie decorated with frosting.
"Cookies and Thank You Cards" made Orrand think of the people who didn't receive a card because they aren't on the "front line" as professors are, such as Damion Miller '09, the Acquisitions Collection Development Librarian at Pfeiffer. So Orrand wrote him one after the event, expressing appreciation for how positive and kind he is.
"Anytime I see him in the library, he's smiling, waving, and asking about my day," Orrand said. "He's a very helpful librarian, but the friendship we've formed goes way beyond that to include wonderful conversations."
When Miller, who's also featured in the Facebook project, received Orrand's card, he emailed her back immediately.
The card "really made my day and my week," he wrote. "Just this morning I was thinking how maybe, I wasn't making a difference any longer with the students. Thanks for your kind words. You are such a great young lady, and I'm sure your parents are proud of you."
Orrand is full of gratitude for her family.  "My parents, grandparents, and younger sister have always supported me," she said. "I can't wait for them to watch me walk across the stage and receive my diploma at commencement."