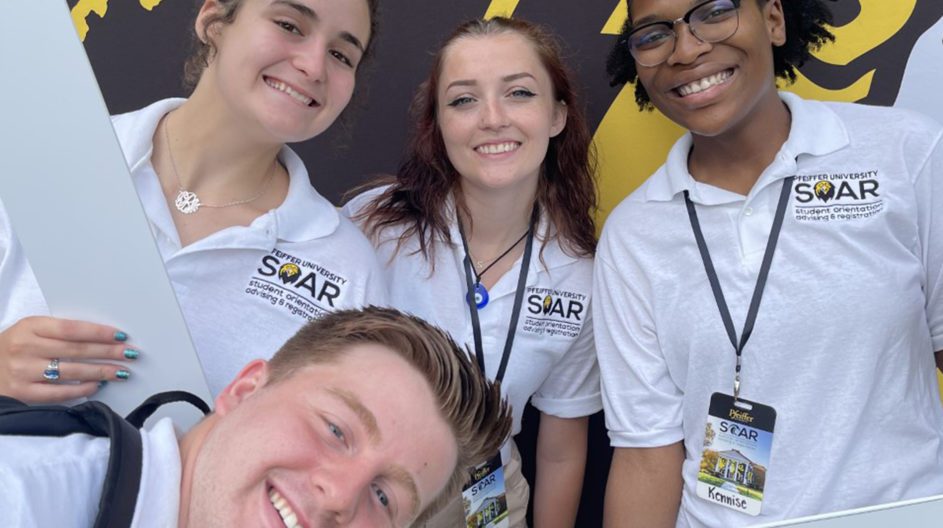 In-Person Summer Orientation Returns
by Ken Keuffel
Jun 22, 2022
After the COVID-19 pandemic forced a two-year shift to an online format, Pfeiffer's Summer Orientation, Advising & Registration (SOAR) programming has welcomed incoming Falcons and their families back to campus. "There's nothing like face-to-face interactions," said Ron Laffitte, Pfeiffer's Dean of Students. "One of Pfeiffer's assets is our people – the Pfeiffer family – and the value and importance of that is best felt on campus and in person."
The SOAR schedule includes everything from welcoming remarks by Dr. Scott Bullard, Pfeiffer's President, to presentations on topics such as academics, athletics, and critical support services.
Also this year, for the first time, there are two different presentations for parents, each designed to address questions and concerns, from a different perspective. "Parents: Sending Your Student to College," is first offered by Pfeiffer faculty and staffers who've sent their own children to college. The companion talk is led by current Pfeiffer students.
Laffitte plugs the parent presentations as a great way to reassure parents and alleviate the anxieties that come with sending a child away to college. The panel discussions offer general advice as well as responses to specific concerns from the participants. He also promotes the Commuter 101 presentation, which focuses exclusively on the commuter student experience and opportunities for engagement in campus life outside of the classroom.
New students also benefit from a Campus Life Fair designed to introduce the many important features of Pfeiffer's culture, from Student Wellness to Religious Life.
The SOAR of 2022 "has been amazing so far," Laffitte said. "It's a personal, caring and intentional program that answers questions and helps with the transition from high school student to college student. It's a great time, too, for our faculty to get to know our new students. To me, it's a direct reflection of what Pfeiffer is and stands for."
As was the case in past years, student orientation leaders play an important role in SOAR. Fourteen current students, from rising sophomores to rising seniors, are led by Landon Orrand '23 and Kennise Brown '24."Our job as leaders is to make sure that the new students acclimate well," Orrand said. "We talk to just about every new student and their parents."
The student orientation leaders have lots to do, with each assigned to a different group of new students. The leaders help connect new students with their advisors. They take them on tours of residence halls, and introduce them to important student websites and apps. Current Falcons also lead entering students through a series of ice-breaking games to ensure that they get to know one another before their return in the fall.
Orrand said that SOAR helps to answer the kinds of questions that new students tend to pose to veteran ones. One of the most common: What should I bring? Orrand recommends packing extra blankets as well as shower slippers and caddies.
New students are also eager to learn about Pfeiffer's many extracurricular activities. Orrand and the other student orientation leaders encourage them to check the Campus Activities Board regularly. Paula Morris, Pfeiffer's Director of Student Involvement, offers a presentation highlighting events throughout the academic year.
"Pfeiffer is one of those places where you're going to thrive if you're involved," Orrand said. "It's a you-get-what-you-give thing."
Orrand stresses that the first two weekends of the academic year will be packed with activities for new students. She urges them not to visit home at that time.
"It's a great opportunity to make new friends and get used to being at school," she said.
*Editor's Note: A virtual SOAR session will be held for out-of-state and foreign students in July, and a final in-person session will be held just before the fall semester begins in August.