Meet President Scott Bullard
The board of trustees named Dr. Scott Bullard as Pfeiffer University's 11th president in 2019.
"Pfeiffer is preparing leaders in health care, business, education, the arts, ministry, and many other disciplines," Bullard said, "and because of the character of Pfeiffer employees, Pfeiffer graduates care most about serving others through their vocations. What an exciting place to serve. I am excited to be working alongside such capable and engaged colleagues in service of students and a region that I have loved for a long time."
Bullard holds a Bachelor of Arts in philosophy from Campbell University, a Master of Divinity from Duke University and a Ph.D. in theology from Baylor University.
Bullard served as professor, co-campus chaplain, chair of the humanities division, head of the religion department, dean of the college, senior vice president, and interim president at Judson College in Marion, Alabama.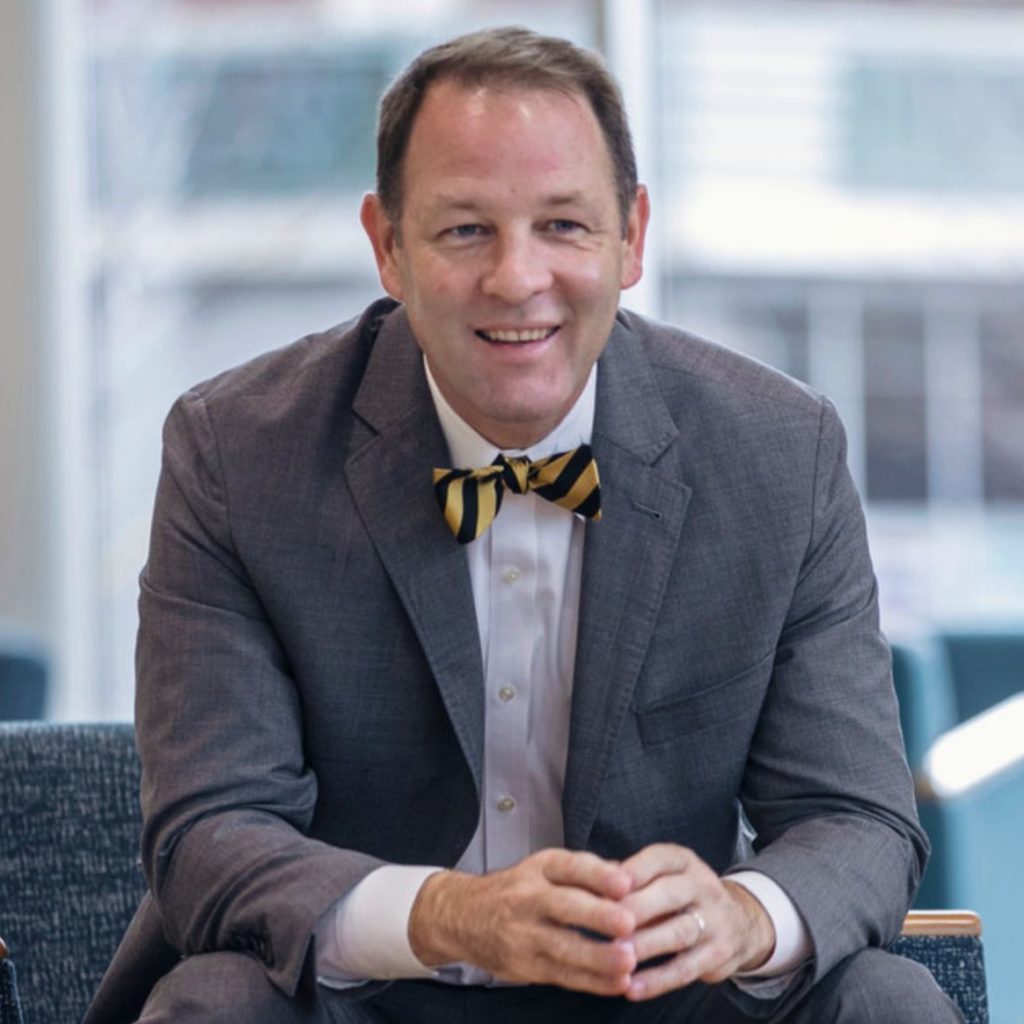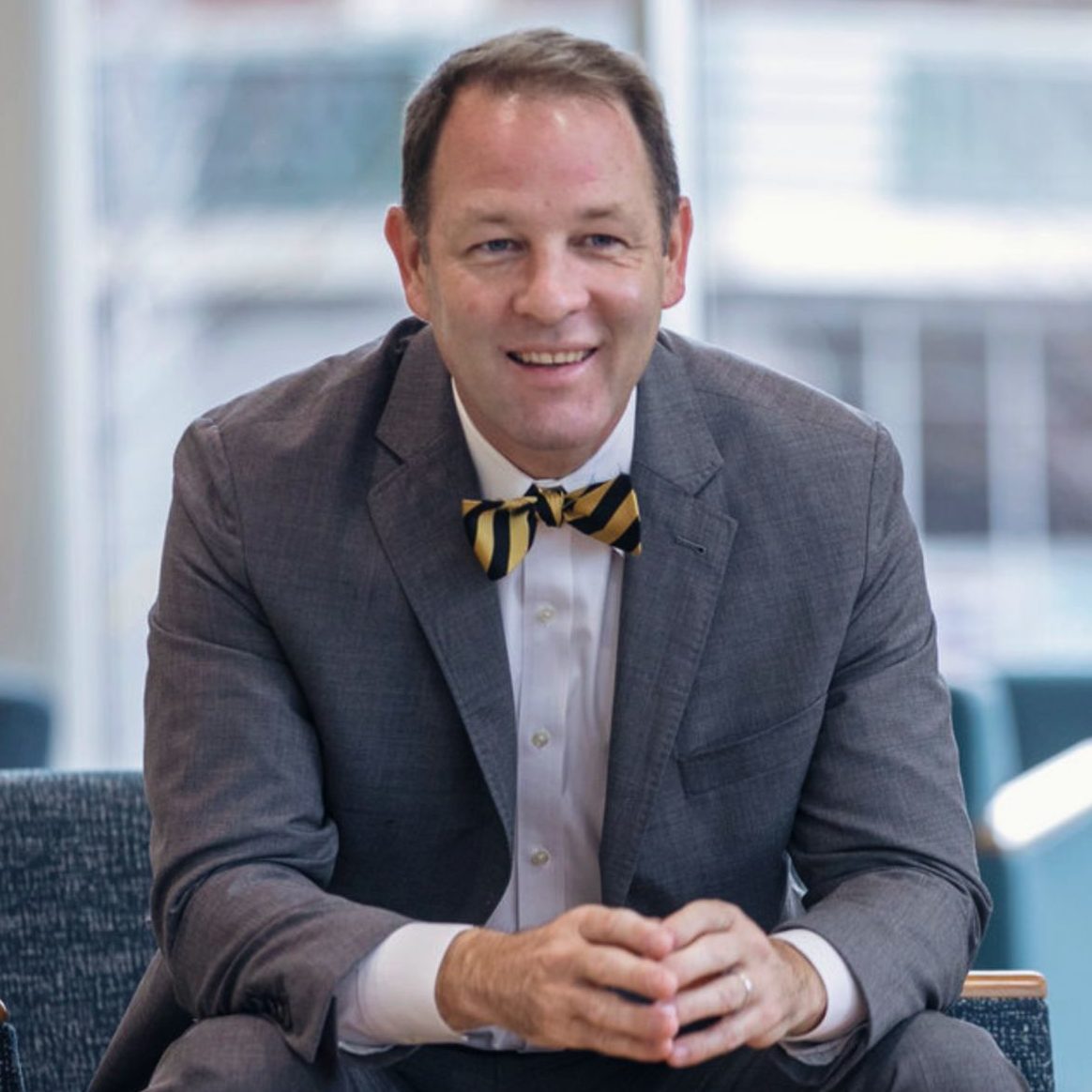 Jusdon's graduating seniors voted to honor Bullard with the Lula and Alton Holley Excellence in Classroom Teaching Award in 2010. As interim president, Bullard successfully concluded a $20.4 million fundraising campaign. He secured more than $5.4 million in gifts and pledges, including many donations toward the renovation of Judson's library and the funding of additional student scholarships.
Bullard is a published author, with works appearing in several academic journals and edited collections. His book, Re-membering the Body: The Eucharist and Ecclesial Unity, focuses on the understanding and practice of the Eucharist, or Communion, and was published in 2013. Bullard lives Pfeiffer's Oakboro president's residence with wife, Shannon, and their four children, Judson, Desmond, Campbell, and Walker.
---
Executive Leadership Team
Danny Mynatt
Provost and Vice President for Academic Affairs
Robin Leslie
Vice President of Finance and Chief Financial Officer
Ron Laffitte
Vice President of Student Affairs and Dean of Students
Emily Carella
Vice President for Enrollment Management
Jeff Childress
Vice President of Athletics and External Relations
Edward Royston
Faculty Senate Chair
JoEllen Newsome
Vice President for Advancement
Casey Habich
Director of Marketing and Communications
Teena Mauldin
Executive Assistant to the President
Rev. Maegan Habich
University Chaplain and Director of Religious Life
---
Board of Trustees
Officers of Board
Rev. Joy Thornburg Melton | Atlanta, GA
Chairwoman
Mr. Marshall Rogers | Albemarle, NC
Past-Chairman
Mrs. Anne Daniel | Winston Salem, NC
Secretary
Mr. Benny Merrell | Waxhaw, NC
Treasurer
Rev. Joy Thornburg Melton '77 | Atlanta, GA
Attorney
Mr. David B. Miller '04 | Charlotte, NC
Investment Executive
Rev. Julianne Brittain '77 | Mooresville, NC
Ministry
Mrs. Anne Rendleman Daniel '67 | Greensboro, NC
Insurance Executive
Ms. Deborah L. Frech '81 | Clarksville, MD
Accountant
Mr. Albert L. Rose '63 | Matthews, NC
Business Consultant
Mr. Arch Y. Stokes | Pensacola, FL
Attorney
Mrs. Natasha A. Suber | Cornelius, NC
Marketing & Communications
Mr. Roger L. Dick | Albemarle, NC
Banking/Investment Executive
Mr. Benny Merrell '65 | Waxhaw, NC
Retired Business Executive
Mr. T. Rann Paynter '92
Banking Executive
Mr. Marshall C. Rogers, Sr. | Albemarle, NC
Business Executive
Mrs. Bonnie N. Suther | Mooresville, NC
Wealth Management
Dr. Terry V. Swicegood '66 | Litchfield Park, AZ
Ministry
Mr. Richard W. Thames '75 | Charlotte, NC
Newspaper Executive
Mrs. Jane Sidbury Crisco '63 | Asheboro, NC
Business Executive
Mr. Matthew Moeller | Albemarle, NC
Retired Business Executive
Mr. Russell C. Ring '85 | Alexandria, VA
Business/Government Affairs Executive
Rev. Laura Hubbard Auten '87 | Albemarle, NC
Uwharrie District Superintendent| The Western NC Conference of the UMC
Mr. David Bell | Greenwood, SC
President-Elect, Pfeiffer University Alumni Association
Bishop Kenneth Carter, Jr. | Charlotte, NC
The Western NC Conference of the UMC
Mr. Grady Gaston '12 | Monroe, NC
President, Pfeiffer University Alumni Association
Ms. Nancy Reigel | Boone, NC
Treasurer, United Methodist Women | The Western NC Conference of the UMC
Dr. Ted Royston | Misenheimer, NC
Chair, Faculty Senate
Ms. Joanie Strohm | Marshall, NC
President, United Methodist Women | The Western NC Conference of the UMC
Dr. Christopher L. Bramlett | Albermarle, NC

Mr. Thomas M. Grady '63 | Concord, NC

Dr. William H. Grigg '93 (Hon.) | Charlotte, NC

Mr. H. Robert Herold, II | Pasadena, CA

Mr. Warren D. Knapp '66 | Asheboro, NC

Dr. Richard L. Petty '92 (Hon.) | Randleman, NC

Dr. George E. Thompson '65, '90 (Hon.) | Waynesville, NC

Mr. George P. Waters '65 | Mt. Pleasant, SC
---
A History of Leadership: Pfeiffer's Past Presidents
Since 1933, strong leaders have led Pfeiffer University with strength, faithfulness, and prescience.
1933-1934
Dr. Wick Shafter Sharp
President of Pfeiffer Junior College
Constructed the President's Home. six halls (Cline, Good, Merner, Rowe, Freeman, and Washington), and Henry Pfeiffer Chapel
Named Stanly County Man of the Year
1943–1953
Dr. Wick Shafter Sharp
President of Pfeiffer Junior College
Constructed Mitchell Gym
Grew the endowment significantly
Improved curricula for several key programs
1953–1968
Dr. J. Lem Stokes II
President of Pfeiffer Junior College; President of Pfeiffer College
Presided over the first commencement
Constructed the Harris Science Building, Stokes Student Center, G.A. Pfeiffer Library, five halls (Kluftinger, Foote, Plyler, Vaughn and Ervin), and James Apartments
Led Pfeiffer to become one the fastest-growing private colleges in the country and the second college to receive accreditation on its first application from the Southern Association of Colleges and Secondary Schools
1968–1971
Dr. Jack J. Early
President of Pfeiffer College
Constructed the Merner Health and Physical Education Center
1971–1978
Dr. Douglass R. Sasser
President of Pfeiffer College
Grew the endowment to $2.3 million
Led the Circle of Faith campaign, which generated $7.5 million for scholarships, faculty development, and on-campus programs
Established three endowed chairmanships
Opened Charlotte campus
1978–1988
Dr. Cameron West
President of Pfeiffer College
Worked as a professor of education and academic dean at Pfeiffer
Served as president of North Carolina Association of Independent Colleges and Universities and helped found the National Association of Independent Colleges
Awarded an honorary doctor of law degree from Pfeiffer
1988–1998
Dr. Zane Eargle
President of Pfeiffer University
Led Pfeiffer from college to university status
Constructed the Knapp Tennis Center, the first new building on campus in 25 years
Co-created the Legacy of Tomorrow campaign
1998–2010
Dr. Charles Ambrose
President of Pfeiffer University
Led the 21st Century Transformation Plan to improve the Misenheimer campus
Renovated Mitchell Gym (now Knapp Center), Jane Freeman Hall, Henry Pfeiffer Chapel, Stokes Student Center, Administration Building, Cline and Washington Halls
Constructed Harris Science Annex and New Hall
Opened Francis Center for Servant Leadership and established Bonner Leaders program
2010–2014
Mr. Mike Miller
President of Pfeiffer University
Led the university during its 10-year SACS accreditation
Added undergraduate and graduate programs
Promoted the establishment of the Pfeiffer Journey mentoring program
Made over $5.3 million in improvements to all three campuses
2014–2015
Dr. Jerry Boone
Interim President of Pfeiffer University
Served Pfeiffer College as dean of student affairs and associate professor of English from 1969-82
Returned to serve as interim president for a year
2015–2019
Dr. Colleen Perry Keith
President of Pfeiffer University
Served as Pfeiffer University's first female president
Began construction of a new health science campus in Albemarle, NC,
Expanded undergraduate and graduate programming
Grew student enrollment to record levels and increased retention