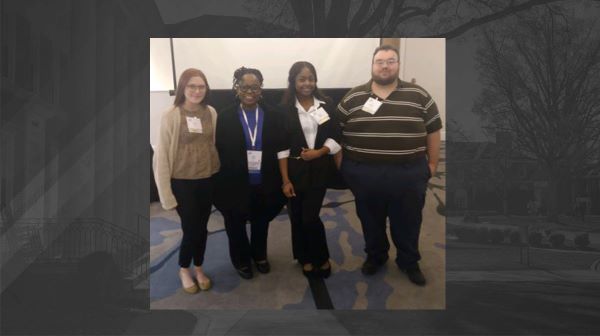 Pfeiffer Undergrads Present at Professional Conference
by Ken Keuffel
Apr 28, 2023
On March 17, three Pfeiffer University students, each majoring in Counseling and Human Services, made the most of an unusual opportunity.
The students — Ray Williamson '23, Ranasia Rumley '23, and Skylar Davis '23 — presented with Dr. Tiffany Rikard at the annual conference of the North Carolina Association of Marriage and Family Therapy (NCAMFT) in Chapel Hill. Rikard serves as Program Coordinator and Assistant Professor of Counseling and Human Services at Pfeiffer. The title of their nearly two-hour presentation was "Cultivating a Relational Approach to Cultural Humility."
"They're undergraduates," Rikard said. "That's what makes their participation so unique. Typically, undergraduates don't present at these types of conferences."
Lee Bob Smith, a former board member of NCAMFT, said he was "beyond impressed" with the students' "courage and ability to share the presentation duties."
The title of this year's NCAMFT conference was "Raise Your Voice: Constructing Systemic Inclusions," with presentations centered around diversity, equity, and inclusion in clinical and organizational practice in the field of Couples and Family Therapy. Rikard said she joined forces with the students because she'd already had several conversations with them about diversity, equity, and inclusion and because "I had confidence in the Counseling and Human Services program and what they're learning."
The students contributed to the presentation in a variety of ways, from citing statistics illustrating gaps in mental health services for minorities to illuminating the reasons for these shortfalls. They also helped clarify the difference between multicultural competency and cultural humility.
Multicultural competency suggests that a mental health care professional has gained the kind of knowledge of different backgrounds and biases that would enable them to work with diverse populations. Cultural humility is now being seen as a complement to or replacement for competency; it favors what Rikard called "a dedication to lifelong learning" because such learning can and should never end.
"Cultural competency implies that one day I'll be competent," she said. "Humility says, 'I may never be competent, but I am committed to engagement in the process.' It means you become less defensive and more open to information."
Such sentiments seem to have struck a chord with Davis, an Apex, N.C. resident who hopes to implement art therapy in a public school setting after attending graduate school.
"Cultural humility is a person's ability to look outside of their own experiences in their background and interactions and see somebody else's experiences for what they are and how that can pertain to a healthy relationship," she said. "It's probably the most important thing that we'll come across in our career."
Aside from mastering cutting-edge material well enough to present it to professionals, the students gained several other benefits from participating in the conference.
Rumley, a Charlotte, N.C. resident who wants to work in private practice as a licensed counselor, called the conference "a great opportunity for me to actually see what people in my field are doing right now and to hear them talk about the topics that they are passionate about and trying to get out there to everyone."
"I feel that the conference will help me in the future when it comes to networking," she added.
Williamson, who lived in Detroit before moving to North Carolina, wants to help veterans or foster children in a counseling role after he graduates from Pfeiffer. He encouraged the Counseling and Human Services program to provide its students with opportunities to present at conferences in the future.
The NCAMFT conference "was very eye-opening," he said. "I got a lot out of it."