The Mission of the University
Pfeiffer University delivers a transformational, personalized education wherein students are shaped by a gifted, diverse, and committed community of mentors. Graduates are prepared to lead, have the disposition to serve, and possess the wisdom and skills to facilitate health and prosperity throughout the region and the world.
Going Beyond Boundaries
Pfeiffer University catalyzes transformative growth through innovation, engaged learning, and a living network of campuses. Expert faculty members offer a unique model of liberal arts education that emphasizes participation in a global society. Embrace shared values with the close-knit Pfeiffer University family, who share a commitment to Wesleyan values and personal growth.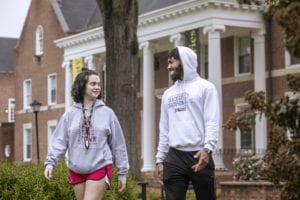 Find Purpose through Servant Leadership
Pfeiffer hopes to inspire students to lead lives of meaningful work and service through integrated academics and service. In this spirit, Pfeiffer established the Francis Center for Servant Leadership in 1999 to reflect John Wesley's charge to love God and one another.
---
"Servant Leadership begins with the natural feeling that one wants to serve first. Then conscious choice brings one to aspire to lead. At its core, servant leadership is a long-term, transformational approach to life and work – in essence, a way of being that has the potential for creating positive change throughout our society."

Robert Greenleaf, founder, Greenleaf Center for Servant Leadership
---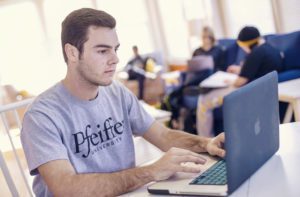 FIND CAREER SUCCESS THROUGH REAL-WORLD EXPERIENCE
Preparation for the professional world doesn't just take place in the classroom at Pfeiffer. Experiential learning through hands-on, site-based learning in students' chosen fields empowers them to conquer their fears, overcome obstacles, and grow in confidence. Volunteer opportunities, mentorship programs, internships, and student organizations help students gain the soft skills employers value.