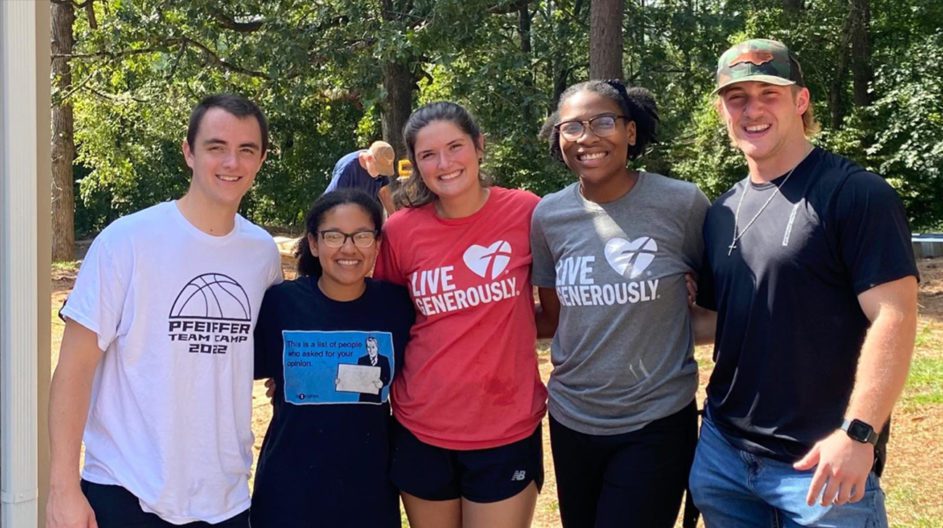 Pfeiffer Students Help Build Home in Badin
by Ken Keuffel
Nov 22, 2022
Beginning in the fall of 2021, students from Pfeiffer University resisted the temptation to sleep in on Saturday morning and instead headed to Badin, N.C., where they helped construct the 57th house of Stanly County Habitat for Humanity. The house became the new home for Peggie Owens and her three children early last month. It has all the essentials, including three bedrooms, two bathrooms, a living area, a kitchen, a laundry area, and a storage shed.
Steve Wilkinson, the project's construction coordinator, couldn't be happier with the contributions of the Pfeiffer volunteers, whom Landon Orrand '23 recruited as part of her work as a Francis Scholar in Pfeiffer's Francis Center for Servant Leadership.
"It's important to let you know how much I've appreciated the participation of Pfeiffer students, who were consistently a part of our Saturday build days from beginning to end," Wilkinson wrote in a letter to Dr. Scott Bullard, Pfeiffer's President. "They've been the most invested of any of our volunteer groups, and they've clearly approached this as a mission.
"They knew this was about so much more than building a house, and it showed in the way they related to the homeowner and other volunteers. Whatever the task – and a few have been difficult – they've been joyful and positive."
Wilkinson said that the Pfeiffer volunteers learned new construction skills "really fast," skills that enabled them to lay down floor joists, erect walls, paint walls, put up siding, do landscaping, and insert bathroom components such as mirrors and countertops. He also praised their willingness to take on "ugly jobs"; one was inserting subfloor insulation beneath a house's foundation, which involves rolling around in the dark and wet of a crawlspace.
Orrand said that what she and her Pfeiffer volunteers underwent for Habitat was "definitely a learning experience."
"Steve taught us to do everything and challenged us every day," she added. "We worked on that house from the ground up. Steve is the one to praise here. He is so patient and kind while teaching a bunch of college students how to do things like use a nail gun."
Each Francis Scholar is assigned a focus area that relates either to faith formation or to servant leadership. Orrand's area became Habitat for Humanity after the organization reached out to Pfeiffer for volunteers. The core student group included Natasha Feaster '25, an Environmental Science major; Josh Turner '25, a Health and Exercise Science major; Kennise Brown '24, who's double majoring in Counseling and Human Services and in Communications; Drew Brightman '23, a History major; Sam Daigle '23, who's majoring in Business Management and Leadership; and Ryan Lundvall '23 MSL.
Orrand allowed that it was sometimes a challenge to persuade these and other Pfeiffer students to be at the Habitat site, where work typically began at 7 a.m.
 "However, that should tell you how amazing the volunteers who do go are," she said. "They are amazing examples of servant leaders."