Campus Convenience
Pfeiffer University features a living network of regional campuses that make connections among a diverse student body. Undergraduate students enjoy an active learning environment in a close-knit campus community. Graduate degree completion, online, and certificate students participate in active learning in a flexible environment designed for working adults.
Misenheimer Campus
Approximately half of all Pfeiffer students attend our traditional undergraduate campus in Misenheimer, North Carolina. Nestled in a scenic, historic town near Morrow Mountain State Park, the Misenheimer campus cultivates a thriving community of engaged learners and faculty mentors oriented toward career exploration.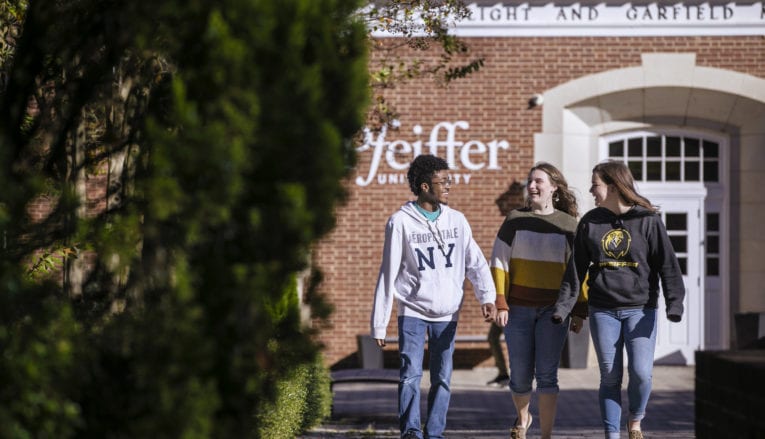 Explore what Misenheimer has to offer:
Experience the charm and character of the Misenheimer campus:
48380 US Hwy 52
Misenheimer, N.C. 28109
800-338-2060
Charlotte Campus
Featuring undergraduate and graduate programs for working adults, the centrally-located Charlotte campus caters to professionals through flexible courses and resources.
Imagine your future at our Charlotte campus:
1515 Mockingbird Lane
Charlotte, N.C. 28209
800-338-2060
Albemarle Campus
Located in the historic Five Points of downtown Albemarle, North Carolina, is Pfeiffer University's state of the art Center for Health Sciences and is home to the Master of Physician Assistant Studies and Master of Occupational Therapy programs. Featuring state-of-the-art ICU simulation rooms, Surgical Suite, Emergency Department Trauma Bay, the Albemarle campus is the ideal learning environment for the health sciences.
Take your education to the next level at our Albemarle campus:
Pfeiffer University – Center for Health Sciences
245 E Main St, Albemarle, NC 28001
800-338-2060
Online Courses
Pfeiffer's online courses deliver the same academic rigor and provide the same community as seated courses. Built for individuals who need flexibility in their lives, these courses are offered in a convenient format that works for degree and certificate seekers alike.
Learn more about our online programs here.