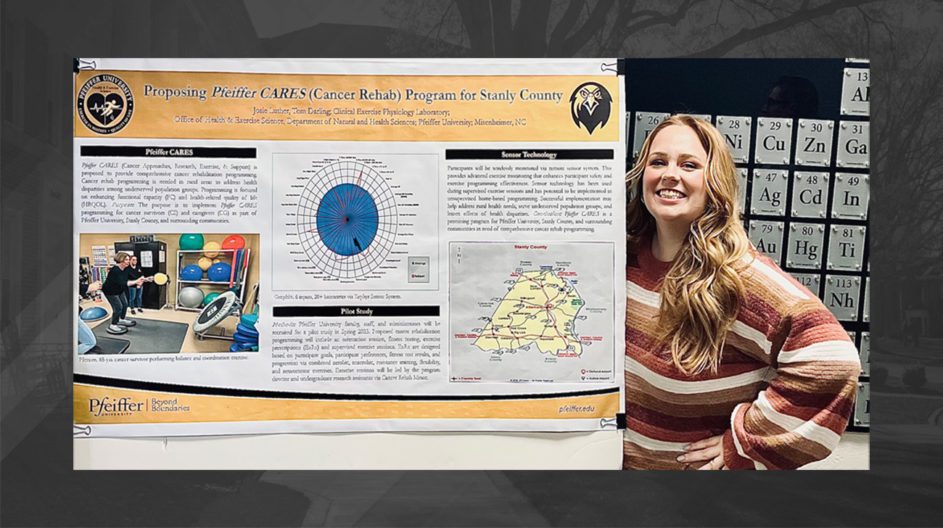 Symposium Showcases Internship Experiences, Research Projects, and Cancer Rehab
by Ken Keuffel
Dec 15, 2022
Julia Barbato '24, an Honors student who majors in Health and Exercise Science at Pfeiffer University, also plays on its women's lacrosse team. Recently, she considered why she's better at lacrosse than volleyball. The obvious answer — that she has played lacrosse, not volleyball, for most of her life — proved insufficient.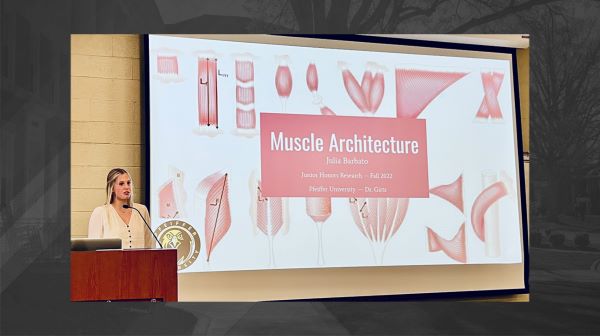 "I wanted to know what the specific reasons were," she said. "So, I began researching the matter, not only as it pertained to me but also to other athletes."
Barbato would come to examine the structure of skeletal muscles, having concluded that such a study "provides valuable data pertaining to athletic health and performance." On Dec. 2, she laid out what she's learned so far in "Relationship Between Muscle Architecture and Performance Across Sports and Sexes," the title of an oral presentation she made at Pfeiffer University's Undergraduate Research Symposium.
The symposium, organized by the Department of Health and Exercise Science (HES) and sponsored by the Milton Rose Research Fellows Program, was billed as the first effort at Pfeiffer to showcase the research of undergraduates across multiple disciplines. The Psychology, Biology, and Health and Exercise Science programs at Pfeiffer were represented at the symposium, with each of six students making an oral presentation and/or showcasing a science poster.
In addition, three Health and Exercise Science students – Makalla Burnette '23, Sierra Gordon '23, and Dashaniq Sidbury '23 – talked about their experience as interns for entities that included Pfeiffer, Albemarle High School, and the Stanly County Family YMCA.
Annabelle Griffin '23 and Peyton Farley '23 presented their poster on cancer rehab programming, having worked with Dr. Tom Darling, a Professor of Health and Exercise Science at Pfeiffer. Josie Luther '24, who also worked with Darling, showcased a science poster introducing Pfeiffer CARES (Cancer Approaches, Research, Exercise, & Support), a proposed initiative aimed at providing comprehensive cancer rehabilitation programming in rural areas, where there are health disparities among underserved population groups.
The other students who made oral presentations at the symposium were Xander Boltinhouse '23 and Joshua Turner '24. Boltinhouse, a Milton Rose Scholar and Honors student, shared the design and development of a microfluidic device capable of detecting alcohol, THC, and cocaine on the breath. He worked with Dr. Mark McCallum, a Professor of Biology at Pfeiffer who also serves as its Director of Academic Initiatives.
Turner, also a Milton Rose Scholar and Honors student, shared insights on utilizing ultrasound assessments of muscle architecture as a treatment for aging or as part of rehabilitation following injury. He worked with Dr. Ryan Girts, an Assistant Professor of Health & Exercise and Science.
"This symposium was put together with the intention of showcasing the students and the progress they've made this semester in their internships and research projects," said Dr. Samantha Canipe Pennington '11, the symposium organizer who serves as an Assistant Professor of Health and Natural Sciences at Pfeiffer. "I have hopes for representation of additional disciplines next time."
The symposium also revealed how Pfeiffer's student researchers could impact Stanly and surrounding counties. The work of Luther, who's majoring in Psychology at Pfeiffer and pursuing the new Cancer Rehab Minor via HES, provided a good example: Her poster says that Pfeiffer faculty, staff, and administrators will be recruited for a spring 2023 pilot study in which they'll undergo what future research participants (i.e., cancer survivors and caregivers) would experience later on with CARES: fitness testing, exercise prescriptions, and guided exercise sessions.
"This pilot study will be a great way for us to assess the approaches we will be taking," Luther said. "It will almost be like a trial run so we can try and perfect everything before we work with volunteers from the community. It will also allow students to have experience with working with others and any equipment we will be using."
Darling called the symposium "an amazing success, thanks to Dr. Pennington, student scholars, and a good audience turnout."
"All of the symposium's presenters did great," he added. "It is our hope that this event will encourage more students to participate in the future."
Both Barabato and Luther echoed these sentiments, pointing out the benefits they gained from the process of preparing their symposium presentations.
Barbato said that she developed time management skills from having to complete her symposium research as part of a full schedule that included a heavy course load, athletics, and part-time work. "This prepared me for the rigors of life, where I will need to time-manage past college in other research opportunities in my future," she said.
Luther, who had never created a science poster before, called her first experience with one "great practice."
"Dr. Darling worked with me in creating an abstract and guiding me in the direction I needed to go," she said. "I was taught things like what should stand out on my poster and how to review and revise to fix mistakes.
"I think this experience can be applied to many things. It allowed me to step out of my comfort zone and work on something that meant a lot to me. I learned to ask as many questions as needed because we all start somewhere and it's okay to not know everything."