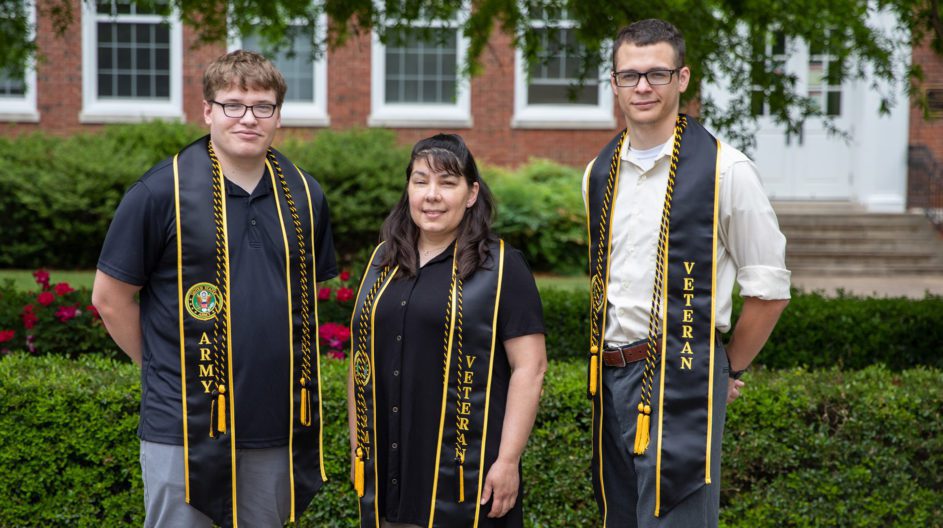 Pfeiffer Honors Three Graduating Veterans
by Ken Keuffel
May 24, 2022
In 2019, Wendy Lee Hopkins '22 of New London, N.C., found herself at a crossroads. She was 47, her service in the U.S. Army had ended nine years earlier, and each of her three children had left the nest or would do so soon. Lots of free time was becoming available to her and she began to consider her next step.
Having earned an associate degree in business administration, Hopkins decided to continue her undergraduate education at Pfeiffer University. She has a passion for helping the elderly and majored in Counseling and Human Services, with a Psychology minor. She hopes to make a second career in service to older adults.
During her 21-year Army career, which began in 1989, Hopkins achieved the rank of Staff Sergeant. She wore several hats in the military, working as a technical engineer, a draftsman, a surveyor and a soil analyst. She was stationed in multiple American states and in Germany.
When Hopkins arrived at Pfeiffer, she was the quintessential non-traditional student aiming to take advantage of Veteran Administration benefits that covered the cost of tuition, books, and some living expenses. Yet, she always felt as if she belonged.
"I am so thankful that I made the choice to attend Pfeiffer," she said. "Not once in my three years at the University did I feel left out because I was older. I made the acquaintance of many younger students, some of whom asked me for advice, and I sort of peer-mentored other older students."
Hopkins' classmates include two other Army veterans : Justen Morgan '22 and Jason Pearson '22, both of Kannapolis, N.C. All three graduates received diplomas at the University's commencement ceremony on May 14, wearing a special stole and cords indicating their status as veterans and graduates
Pearson, who served in the Army from 2011 to 2013 and plans to reenlist in the Navy in a few weeks, also quickly experienced a sense of belonging at Pfeiffer. He enrolled at Pfeiffer in 2017 after working odd jobs to make money for his family. He double-majored in Environmental Science and psychology and spent a lot of time in his beloved outdoors, as a member of the Pfeiffer Outdoor Club and as a volunteer who helped rid the campus of invasive plant species.
He said he'd recommend that other veterans attend Pfeiffer.
"The professors here are really good," he said. "A lot of veterans don't like to deal with crowds; at Pfeiffer, there's a tight-knit community with not a lot of people. Also, the Wick S. Sharp Learning Center is one of the best I've visited."
Hopkins, too, praised the welcoming vibe she received during a campus tour. She spoke of feeling encouraged to pursue ways of raising awareness of Pfeiffer's veterans; she spearheaded efforts to place info about them on a wall of recognition at the Stokes Student Center during Veteran's Day celebrations.
She also praised Kim Smith, Pfeiffer's Assistant Registrar, for the efficient way she processed paperwork related to Hopkins' VA benefits: "Kim is a true asset. Anyone who can get the government to pay on time is amazing. She has the system down and has been so helpful since day one."
Morgan, who majored in Computer Information Systems and wants to work in a related field, echoed these sentiments, praising both Smith and Pfeiffer's business office.
He found Pfeiffer to be extremely veteran-friendly and said, "We have an amazing team for it."