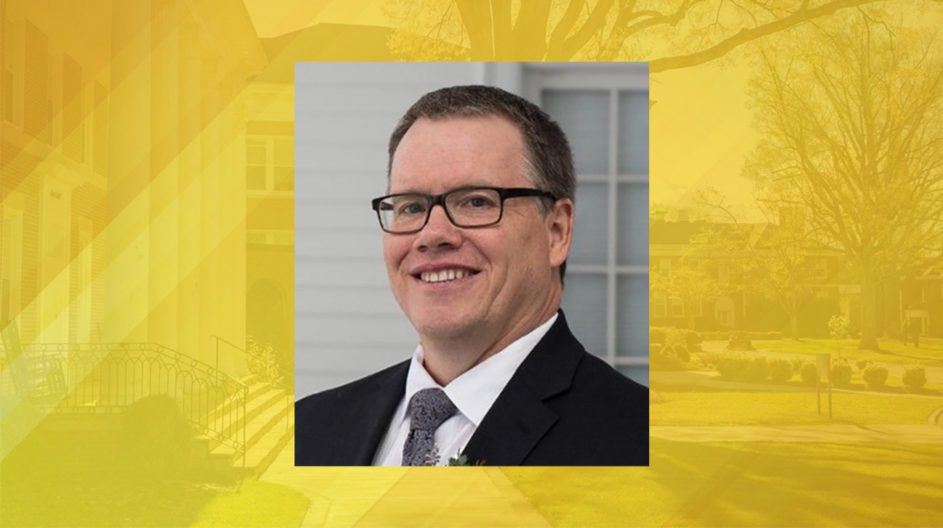 A Pfeiffer Kid Looks Back, Gives Back
by Ken Keuffel
Mar 16, 2023
Chris Dial '86, who graduated from Pfeiffer College with a B.S. degree in Chemistry, has given to his alma mater nearly every year since 1996. His pattern of generosity in the last ten years, though, moved to a recurring monthly one because it offers an easy way to make sure he doesn't miss a beat in supporting the place that gave him his start.
Dial enjoys the happiest of memories of his time at Pfeiffer, both familial and academic: He not only attended Pfeiffer but also spent the first 22 years of his life on its Misenheimer campus, living on Pfeiffer Place. He's the son of Dr. Steve C. Dial '59 (1937-2012), the legendary Professor Emeritus of Biology, and of Carolyn Dial, who still lives in Misenheimer.
Dial's five siblings also graduated from Pfeiffer. They include the late Steve H. Dial '84; Missy Pawel '84; Sonya Sienerth '87, Tara Mullinix '90, and Torin Dial '91. Two of Dial's aunts are also Pfeiffer alumni: Judy Greene '64 and the late MariLee Weaver '67, as is an uncle, Terry Weaver '66.
All of Pfeiffer's professors and coaches lived with their families on campus during Chris Dial's childhood. To and from school, he and his fellow "faculty brats" boarded a school bus reserved for the children of Pfeiffer professors. When they came home, they could swim in Pfeiffer's pool, play hoops in its gym, and go fishing at Gibson Lake.
"Misenheimer was an idyllic place in which to grow up," Dial said. "I feel very fortunate to have been part of Pfeiffer as both the child of a professor and as a student. A lot of my successes in my life are tied to my time at Pfeiffer. I want to give back."
Like many Pfeiffer alumni, Dial can make a strong case that the College laid the groundwork for his success in the workplace. He has distinguished himself in several areas, including aviation safety, pharmaceuticals, and baseball research. Many positions he has held have benefitted from his Pfeiffer-derived "ability to analyze the data around a job and do it better."
Since the fall of 2021, Dial has served Memphis, Tenn.-based MLM Medical Labs as its Director, Safety Lab Operations. As such, he oversees the critical safety testing of numerous drugs in clinical trials. In essence, patients who participate in these trials have their blood chemistry, urinalysis, and hematology tested constantly at MLM to ensure that key measurements fall within normal ranges. MLM also researches biomarkers related to the efficacy of new drugs.
Dial has worked in the pharmaceutical industry for 25 years. Before his appointment at MLM Medical Labs, he held positions at several firms in areas including sales, R&D, and business development.
"I was fortunate to work on a good number of drugs that subsequently were approved for the market," he said.
Outside of the office, Dial contributes to the research side of baseball, of which he has been a fanatic since early childhood. He has been associated with the Society of American Baseball Research (SABR) for several years, first as a director (2014-2019) and, now, as a member of its Defensive Committee.
SABR's Defensive Committee is charged with compiling SABR Defensive Index rankings for both the annual Rawlings Gold Glove Award and the annual Platinum Glove Award. The Gold Glove recognizes the club with the best team defense in each league of Major League Baseball (MLB). And the Platinum goes to the best overall defensive player in each MLB league.
Dial's roots in baseball research can be traced to his student days at Pfeiffer, where he served as the Assistant Sports Information Director, compiling stats and filing game recaps that ran regularly in both the Stanly News & Press and the Salisbury Post. Today, he is considered an expert on defensive analysis, and he has been cited in such publications as The Athletic.
It is in airport safety that Dial has likely made his most significant mark: Years ago, if an airport lacked a large enough area for an aircraft overrun, injuries, fatalities, and substantial damage would likely result from a plane overshooting a runway. In 1996, this scenario began coming to an end when the first Engineered Materials Arrestor System (EMAS) was installed at JFK International Airport in New York City.
Dial invented and holds the patents for the "crushable" material of EMAS, which has been likened to a sand-filled runaway truck ramp because it can arrest the movement of a plane without causing substantial damage to it and without causing injury to humans. An article published last year in medium.com cited 18 incidents in which EMAS stopped aircraft that overshot runways around the country.
Dial calls his work on EMAS "probably my greatest contribution" because it "has saved many lives and airplanes and will continue to do so."
Dial, then, can certainly look back on many great accomplishments after his childhood and student days at Pfeiffer ended. But his giving to Pfeiffer has also made a lasting impact. He has contributed thousands of dollars to the Steve H. Dial Memorial Endowed Scholarship, which is given to a deserving student who majors in Biology and/or Computer Information Systems. He also led the fundraising efforts for the renovation of the on-campus greenhouse, which is named for his father. Now, he uses his monthly gift as an easy way to ensure his membership in the Devoted & True Society.
"Pfeiffer gave me a great start in life, and it will always feel like home for me and other members of my family," Dial said. "I make donations to Pfeiffer on a recurring basis because I want to make sure that future alumni of Pfeiffer enjoy similar opportunities."
---
Pfeiffer Day is a Great Day to Become a Recurring Donor
What's a recurring gift? The gift that keeps on giving! As a recurring donor, you agree to make the same monthly gift for as long as you choose; you don't give a total amount up front.
Give more than you thought you could! Small things add up … snowflakes, snooze alarms, TikTok scrolls, and stuff in the junk drawer. A monthly gift adds up, too – and it's painless! Unlike stuff in the junk drawer, your recurring gift grows for a great cause!
Are You Devoted & True? That's what we call donors who pledge an annual Pfeiffer Fund gift of $1,000 for five years. It's easy with a recurring gift of $84/month – a good investment that makes a big difference for Pfeiffer students! See who's Devoted & True at community.pfeiffer.edu/devoted-true.