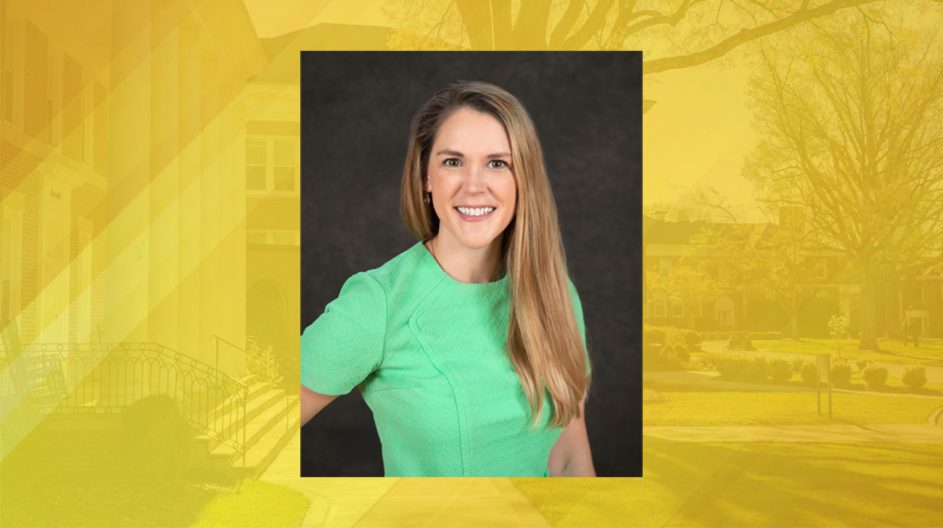 Sowards Finds Purpose in Helping Students Discover Theirs
by Ken Keuffel
Mar 7, 2023
When Caroline Sawyer Sowards '07 participated in Pfeiffer University's commencement ceremony last December, the occasion felt to her like "one of those full-circle moments" that come along only rarely in life.
Sowards, who majored in psychology at Pfeiffer, had just completed her first semester as an Assistant Professor of Psychology at her alma mater. Looking around at her colleagues, she smiled at Dr. Don Poe, a Professor of Psychology who had taught her at Pfeiffer and then urged her to pursue a doctorate in that discipline. She expects to earn one from Liberty University next year.
"Don has asked me for a decade or more, 'When are you going to earn your Ph.D.?'" said Sowards, who had taught psychology at Pfeiffer as an adjunct for 11 years before becoming an assistant professor. "He's really pushed me along and encouraged me to make that dream a reality. I love teaching psychology. It's truly one of my passions."
Another one of Sowards' passions plays out at Pfeiffer as well: counseling. Since 2017, she has also served as Pfeiffer's Director of Internships and Career Planning, a position she retains even as she teaches two psychology classes each semester, begins writing her dissertation, and parents two young children alongside her husband.
Sowards' staff and professor appointments at Pfeiffer are the latest chapters in her long and increasingly rich association with her alma mater, which she describes as "unique." She first became acquainted with Pfeiffer as a young child in the 1990s, when her father, Dr. Clyde Sawyer, Professor Emeritus of Education, began teaching on the University's Misenheimer campus.
Sowards thought of Pfeiffer as her "after-school playground." She learned to swim in the University's pool, took singing lessons in Henry Pfeiffer Chapel, and participated in Bible studies for youth.
When it came time for her to attend college, she enrolled in Pfeiffer, where she also ran cross-country and served as a peer tutor and a student ambassador. In doing so, she joined the company of three siblings who also attended the University.
Dr. Laura Sawyer Lowder '02, a Professor of Education at Pfeiffer, majored in Elementary Education. After earning an M.S. degree from Jones International University, she completed an Ed.D degree in educational technology at the University of Florida. Wesley Sawyer '07, who majored in English at Pfeiffer, became an attorney in South Carolina after earning a J.D. degree from the University of Virginia. And, Dr. Jennifer Sawyer Whisman attended Pfeiffer for a year before transferring to Appalachian State University, where she majored in geology. She holds an M.S. degree in geology from San Diego State University and a Doctorate of Natural Sciences in Paleontology from the University of Vienna and is the Department Chair of Sciences at Guilford Technical Community College in Jamestown, N.C.
"The Sawyers truly embody what Pfeiffer Pfamily means," Sowards said, adding that the University provided a solid foundation for the successful careers she and her siblings enjoy.
After Sowards graduated from Pfeiffer, she attended UNC Charlotte, where she earned a master's degree in school counseling. This credential helped pave the way for work at Stanly (N.C.) Community College, where she held the title of Coordinator of Student Support/University Transfer for a few years before overseeing internships and career planning at Pfeiffer.
When Sowards becomes Dr. Sowards, she will have completed research on what she has clearly found at Pfeiffer: a sense of purpose in life. Hers manifests itself in helping students find theirs. Unless she is critiquing a resume, a LinkedIn page, or an elevator pitch, she seldom advises students who come to her for career guidance. Instead, she asks scores of questions that help them come to their own conclusions on everything from their goals to their values.
Sowards' dissertation will explore one of two topics. One might be how a sense of purpose in life develops in young adulthood and correlates with outcomes such as GPA and retention. The other might be the development of interventions to assist students in developing a sense of purpose.
Such research will doubtless inform Sowards' work in teaching and counseling. And it will enhance what Pfeiffer is all about.
"The University is known for its culture of mentorship," she said. "All of us, whether we're professors or administrators, help students discover who they are and what their purpose is."