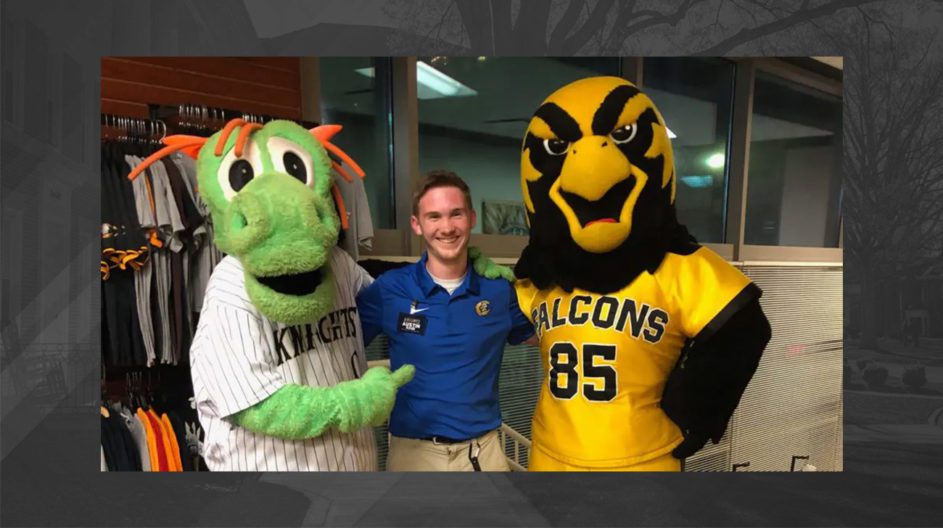 Real-world Experience Accelerates Path to Professor
by Ken Keuffel
Mar 7, 2023
Austin Rose graduated from Pfeiffer University with a bachelor's degree in Sport Management in 2021. Following the completion of his master's degree in Sport Management from Wingate University last August, he could have found employment in any number of industry areas, having held several job and internship positions with multiple Charlotte, N.C. sports teams, including the Charlotte Knights and the Carolina Panthers. His resume includes stints as an Assistant Merchandise Manager, a Ticket Operations Associate, and a Promotions Team Member.
That Rose opted to pursue a career in education, though, owes much to his love of coaching, which he has realized through his work with two high school football teams: North Stanly (N.C.) High School and Jay M. Robinson High School in Concord, N.C. While still a student at Pfeiffer, he served as North Stanly's Wide Receivers Coach; he's been North Stanly's Analytics Coordinator and a Running Backs Coach since 2022. At Robinson, he coached wide receivers and special teams during the 2021 season.
In addition to postgraduate study, Rose's real-world experience has accelerated his path back to higher education. And it hasn't taken him long to pay it forward at Pfeiffer: Since the fall of 2022, he's been an Assistant Professor of Sport Management at his alma mater, where he teaches four classes each semester.
"If someone had told me I'd be teaching at Pfeifferless than two years after I graduated, I probably would have laughed," said Rose. "However, I've really enjoyed my time as an assistant professor at Pfeiffer. I would love to stay in this field."
Dr. Mary Beth Chambers, an Assistant Professor in Pfeiffer's Sport Management program and its Program Coordinator, said it "was evident from the very first moment we opened our search that Austin was a great fit for Pfeiffer."
Rose "has consistently shown a passion for Pfeiffer that exudes in his work, both as a student and now as a professor," she added. "Since his appointment, he has demonstrated that he is a positive, contributing member not only to the Sport Management program but to the University as well."
Chambers also praised Rose's "rock-solid work ethic and abilities as a scholar," and she expressed "confidence in his network and leadership life experience with professional franchises in Charlotte."
"I like guiding a student to the best-fit position for them in sport management or, like a coach, helping them become better than they initially thought they were," Rose said. "Because Pfeiffer is a smaller school, I'm able to have meaningful one-on-one connections with my students throughout an entire semester. Watching them grow is extremely rewarding to me."
Rose's Sport Management students are growing under his guidance as they contemplate entering positions in ticket sales, marketing, community relations, promotions, retail, social media management, and administration. His teaching load has included Principles of Sport Management, Current Topics and Emerging Trends, History and Sociology of Sport, Sport Facility and Event Management, Sport Marketing, and Sport Analytics.
Along the way, Rose is drawing on real-world experience to deepen his students' understanding of certain topics. For example, in Sport Facility and Management, he has talked about how important an understanding of fan ingress, egress, movement, and behavior became when he worked in ticket operations for the Carolina Panthers. "This firsthand experience allows the class to have deeper and rich conversations about best practices for crowd safety and crowd control," he said.
For his Current Topics and Emerging Trends course, Rose relies on input from his professional contacts. The aim is "to help provide up-to-date information and topics for discussion."
Rose is doing all he can to ensure his students can navigate the job market successfully after they graduate.
"Having recently been through the job-seeking and hiring process for a range of positions, I can provide insights on how students should best conduct themselves after graduation," he said. "I make sure their professional branding, resumes, cover letters, and LinkedIn strategies will put them in the best possible position to fulfill their professional goals."
As Rose progresses as an assistant professor at Pfeiffer, he is clearly motivated by a strong desire to give back.
"I love Pfeiffer," he said. "It is a great school. I loved the faculty when I was a student here. I loved every one of the professors who invested in me. I want to make sure my students enjoy the same opportunities and success that I have."