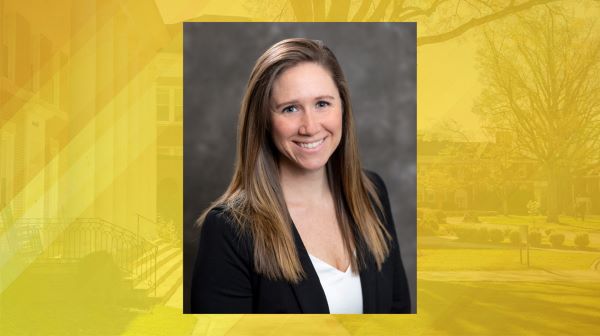 Lafferty Reflects on a Decade of Service at Pfeiffer
by Ken Keuffel
Feb 21, 2023
Danielle Lafferty '15 MBA has made a most unusual mark on the leadership of athletics at Pfeiffer University.
A former star shortstop at Elon University, she spent two seasons as a graduate assistant softball coach for the Falcons beginning in the 2013-2014 academic year. In 2014, she shifted to an administrative role as the Assistant for Compliance and Game Management.
After completing her MBA in 2015, she was hired full-time as the Assistant Athletic Director for Compliance. Later, she was named the Senior Woman Administrator and Deputy Title IX Coordinator. In 2018, she was named Pfeiffer's Athletic Director, a post she held until last month, when she announced her resignation to pursue other career opportunities in sports. Falcon Club Director and former Pfeiffer catcher Zac Chilton '15 is serving as interim AD until Lafferty's permanent successor is named.
"I've definitely fast-tracked," said Lafferty, who will remain at Pfeiffer as special athletics consultant through the summer of 2023. "Most people don't put in a few years as a coach and an assistant AD, and then, at 29 years old, become an athletic director."
While she was AD, Lafferty seldom knew a dull moment. Among other things, she led the Falcons through the transition from NCAA Division II athletics to NCAA Division III competition, and she oversaw key improvements to Jack Ingram Field and the softball complex even as COVID-19 limited many athletic activities and initiatives.
During a recent wide-ranging interview, Lafferty reflected on these and other highlights of her Pfeiffer tenure. She offered something of a crash course on how she (and just three assistant ADs) managed a program that includes 19 varsity teams, nearly 400 student-athletes, and 35 coaches. And she hinted at what lies ahead for Pfeiffer athletics.
Danielle, congratulations on your tenure at Pfeiffer and thank you for granting us an interview. It can often take decades to be appointed the head AD of a university. How did you become one so quickly?
I entered the field at the perfect time. I got to learn under Bob Reasso '73 (Pfeiffer's former AD and former head coach of its men's soccer team). He's a veteran in the industry. I learned a lot by watching him and his leadership skills, how he advocated for every program, and how he navigated the ins and outs of college athletics. He put me in meetings and situations that I would never have had the opportunity to be a part of had I stayed in coaching. I got to wear several different hats as I made the transition from coaching to administration. At the end of the day, I knew what a coach wants because I coached, and I learned how crucial the role of an Assistant AD is to the overall success of an athletic department.
How did you make the most of the opportunities Bob gave you?
I put in the work. I worked long hours, long days. I proved myself in ways that take a lot of dedication and commitment. I also sat back and just listened at meetings. I was quiet in meetings, not only because I was often the youngest person in the room; I also just wanted to learn from the people who had experience.
When you became AD, what was a typical day like for you?
You have office duties and you're serving students, so you need to be present for them during the day. And then there are all the games, many of which don't start until 7 p.m. You might have five events to oversee on a weekend, particularly in the spring, when teams for softball, lacrosse, baseball, and tennis are all playing on campus. You can expect to be on campus for setup through cleanup of every game and until the opposing team drives off in a bus. Everyone on my staff needed to step up; unlike DI programs, where there are often hundreds working in athletics administration, we have only three support staff positions.
Might a little burnout have entered into it for you?
Working in college athletics is very demanding, and it's often difficult to meet the challenges of finding a work-life balance. I mean, 48% of the industry is leaving, which is a sad statistic.
Navigating through a pandemic must have also contributed to your stress. In the spring of 2021, for example, all but one of Pfeiffer's sports programs saw action in abbreviated schedules following the cancellation of competition the previous fall.
It was a scary time. I mean, you didn't know what was right, what was wrong, what was safe, what was not safe. You're trying to put the students in the forefront and trying to figure out what's best for them, safety-wise, but also still providing them with the opportunity to play and practice and have some sort of consistency and outlet during the craziness of all that came with COVID.
During your tenure at Pfeiffer, the University moved from Division II to Division III in the NCAA. That was a momentous change, obviously, because it meant Pfeiffer could no longer offer athletic scholarships to prospective student-athletes. How did you adapt?
We really had to figure out how to recruit in a different way once we transitioned to DIII. It was important to hire strong, influential, and motivating coaches who could find kids who are truly interested in Pfeiffer's strong academic programs. Division III athletes have the most time for studying, extracurriculars, jobs, and other interests, so those benefits tip the scale in Pfeiffer's favor when only academic and merit-based scholarship money is available. During my tenure as AD, we hired some really good coaches who are able to highlight the University's effective balance of academics and athletics, even as they've elevated their programs by winning conference titles.
I understand you helped Pfeiffer begin the process of reimagining its athletics campus in a presentation you made to leadership in the summer of 2021. As your tenure at Pfeiffer comes to a close, what's next for Pfeiffer athletics?
The University is developing a strategic plan for the future that builds on our successes of the past. It will call for new and improved facilities and will ensure the steady growth of Pfeiffer Athletics, a program that has been so integral to the overall Pfeiffer experience. It's going to be an exciting time, and I can't wait to see what comes next!
I very much appreciate my time at Pfeiffer. I have learned so much, and in large part, I grew up at Pfeiffer professionally. I will forever cherish my time and those I met while I worked here. Pfeiffer will always feel like a little piece of home to me.