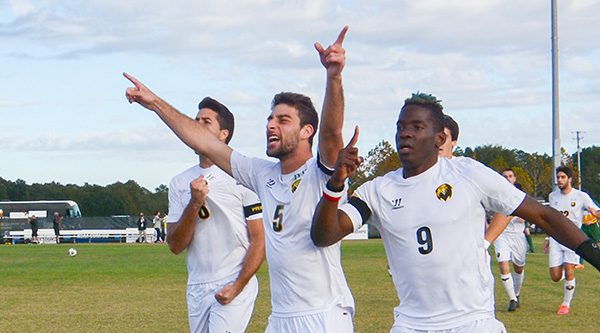 Siaj Inspires Pfeiffer Fund Message to Alumni
by Ken Keuffel
Dec 15, 2022
Soon after Dani Siaj Romero '17, '21 MHA of Madrid stepped foot on the Misenheimer campus of Pfeiffer University, having secured a scholarship to play for its men's soccer team, he found himself contending with a significant case of culture shock.
Complete comprehension of technical material covered in the classroom was sometimes challenging for Siaj, who earned a B.S. degree in Nursing. And often, it was difficult to decipher exactly what his coach, Bob Reasso '73, was trying to get across to him and his teammates.
"Bob has a very thick New Jersey accent," Siaj said recently, laughing. "Sometimes, it's still difficult to understand."
In Spain, universities are usually in big cities, "so they can reach as many people as possible," Siaj said; Pfeiffer, he quickly noticed, was located in a very small town and not just outside of Charlotte, N.C., as he originally thought. The ubiquitous public transportation that Siaj had known in Madrid was non-existent, and he lacked a car.
"After a while, I just realized that we were kind of out in the middle of nowhere," Siaj recalled. "It was very shocking at the beginning and a bit overwhelming."
In the end, none of this would stand in the way of remarkable success for Siaj and his teammates, several of whom were foreign nationals. In 2015, Pfeiffer's men's soccer team, on which Siaj played center back and served as a co-captain, won the NCAA Division II Men's Soccer National Championship, capping off an undefeated season. On Oct. 1, when the squad was inducted into the 2022 Class of the Pfeiffer University Sports Hall of Fame, Siaj told the ceremony's attendees: "This little town was very big for us."
His words seemed to encapsulate the Pfeiffer experience for generations of alumni, and they left the audience with goosebumps. The line was so moving, in fact, that it became the inspiration for the year-end Pfeiffer Fund appeal.
Donations to The Pfeiffer Fund support the University's greatest needs during an academic year, whether that's scholarship assistance for needy students or a new roof on an older building. That kind of flexible support allows Pfeiffer to continue offering the transformative college experience that is so "big" for so many. Like Siaj, thousands of alumni have launched into lives that are making a difference for their families and communities. An annual donation to Pfeiffer acknowledges and pays forward the gift alumni received from Pfeiffer, and Siaj couldn't have expressed that sentiment any better.
Siaj is a nurse at Atrium Health Levine Children's Hospital of Charlotte, N.C., where he specializes in cardiology and nephrology. If he wants to get into healthcare administration, the Master of Health Administration he earned from Pfeiffer will help him open doors in that area as well.
His Pfeiffer-Misenheimer story should resonate with all Falcons, regardless of their origins. His began at a tryout for Reasso and the soccer coaches of other American colleges in Madrid.
At the end of the tryout, Siaj and his brother Jaime, who would also play soccer for Reasso at Pfeiffer, needed an interpreter to understand their future coach's recruitment pitch. But he made an incredible impression despite the language barriers: "You could sense in Bob's tone how much he was really involved with this," Siaj said. "The other coaches seemed to be going through the motions of picking players, but Bob was quite enthusiastic. When he talks about soccer, it's just mesmerizing."
As time went on, Siaj also came to appreciate just how much of a supportive family his Pfeiffer community became. Those connections remain, and Siaj still meets up with his soccer teammates for Christmas celebrations in Spain or at weddings around the world.
So many people stepped up to help Siaj at Pfeiffer, in a variety of ways. Someone might volunteer to drive him and his friends to Walmart, where he could buy snacks or school supplies. A fellow Nursing student would transport him to places where they would care for patients in a clinical setting as part of their training. And Siaj could always count on a classmate to help him better understand a lecture or provide him with notes if he missed a class. "We were always supported as students and as athletes," Siaj said. "That made all the difference. It's what made this small place so very big for me, and it's why I give back now."