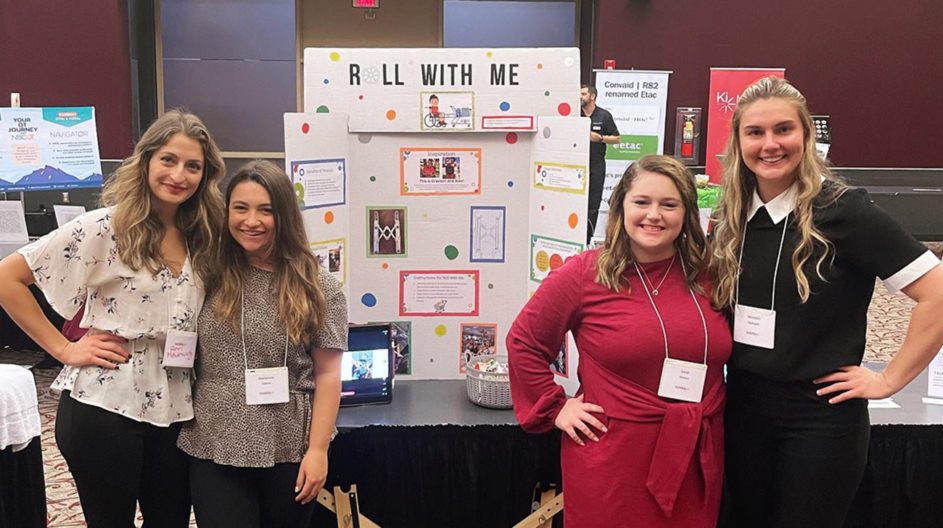 OT Students Claim 1st Place at Competition
by Ken Keuffel
Nov 22, 2022
Four students in Pfeiffer University's Master of Science in Occupational Therapy (MSOT) program have become award-winning creators of an assistive device that makes life easier for shoppers in wheelchairs and those who help them.
The device, called "Roll with Me," connects a wheelchair to a shopping cart. It won first place in a student design competition sponsored by the North Carolina Occupational Therapy Association at its fall conference earlier this month in Raleigh, N.C. The competition encouraged new ideas for assistive technology and adaptive equipment.
"Roll with Me" is "helpful for a caregiver of an individual who uses a wheelchair because they don't have to pull the wheelchair and also push a shopping cart," said Mackenzie Gibbon '23 MSOT, one of four students who created the device. She added that "Roll with Me" is also beneficial for someone who can maneuver their wheelchair without assistance: "When they push their wheelchair, they also push the cart without having to place a hand on the cart."
The creative team behind "Roll with Me" also included Alexis Mikulewich, Sarah Benson, and Meredith Applegate, all of whom, like Gibbon, are scheduled to complete the MSOT program in 2023.
Benson said that "Roll with Me" removes the need for transferring someone with special needs into one of a limited number of special carts or wheelchairs provided by some stores, a procedure that can lead to injury and leave the user with small baskets that fill up quickly. The device also enables individuals in wheelchairs to participate actively in food shopping; this is especially beneficial to children "because it allows them to be in the store and learn a life skill," Benson said.
Gibbon first conceived of "Roll with Me" when, back home in Cary, N.C., she realized that one of her friends uses a wheelchair when he leaves his home but is unable to move it himself. That task falls to his mother, from whom Gibbon learned that going to the grocery store was "always so hard because she would have to pull him in his wheelchair while also having to push a shopping cart."
Winning the competition "feels really good because we really do care and believe in our idea, and we truly want to help a lot of people," Gibbon said. "The recognition means other people saw the meaning behind the device and all it can do. However, even over winning, just having people at the conference say that they have been looking for something like this was even more exciting."
The "Roll with Me" creative team took "Technologies in OT," a course taught by Amanda Davis, an Assistant Professor of Occupational Therapy at Pfeiffer. Among other things, course participants review all kinds of adaptive equipment, including special-order items with unique features. Students look at modifiable aspects of mainstream technologies and consider how they may be used for everyday tasks. They learn about barriers to obtaining equipment, and they learn that it's often necessary to improve or come up with alternatives to what's available.
The creative team behind another competition entry also originated in the course: Madison Lankford, Landon Jennings, and Kassie Williams. They developed the Lankford-conceived "Sensi-Hoodie," a tag-less hoodie with customizable fabrics sewn into its pocket. This is an item that could be helpful to what Lankford describes as "the pediatric community, especially those who are diagnosed with autism."
The hoodie is similar to a fabric swatch that those who are sensory-seeking are often given, but it "is more discrete and personal to the person using it," Lankford said. The hoodie can also benefit those who are sensory-avoiding by using just one or two fabrics that can sooth the person.
Davis wants her students to continue participating in design competitions sponsored by the association. "They set up in an exhibit hall and engage with attendees, who are mostly experienced occupational therapists, occupational therapy assistants and other students," she said. "This event engages students in being creative, and it promotes dialogue among OT professionals about common challenges people may face and possible solutions. It is my hope that this opportunity helps students grow their understanding, confidence, and ideas."