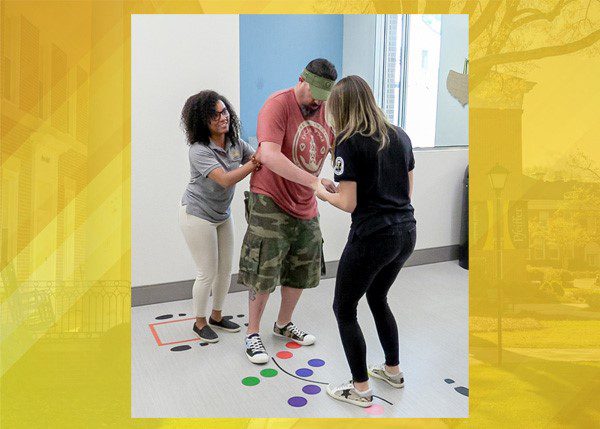 OT Program Fully Accredited Through 2030
by Ken Keuffel
Jan 26, 2023
The Master of Science in Occupational Therapy (MSOT) program at Pfeiffer University is now fully accredited for the next seven years, having achieved that all-important milestone last month.
In addition, the Accreditation Council for Occupational Therapy Education (ACOTE), which granted the accreditation, noted no concerns or areas of non-compliance in its on-site review. The council did not make any suggestions for ways that MSOT might improve.
"It was a glowing report," said Dr. Elizabeth Fain, the founding director of MSOT. "We essentially scored a 100."
Pfeiffer's first cohort of MSOT graduates are now eligible to sit for a national certification examination administered by the National Board for Certification in Occupational Therapy. Passage of the exam confers the title of Occupational Therapist, Registered (OTR).
All told, Pfeiffer's MSOT program had to meet ACOTE's standards in more than 120 areas, a process that took about two years to complete. The program began operating in the spring of 2020, having been granted "candidacy status" by ACOTE, which is the initial phase of a developing program.
ACOTE highlighted several strengths of the University's program. These include a high level of awareness of Pfeiffer and the occupational therapy program in and around Stanly County, N.C. as well as the advocacy and service that the program is offering the community.
The MSOT program was also applauded for its experiential learning opportunities, and it was acknowledged for its diverse student body. ACOTE commended the program for having a "shared vision with the community and Pfeiffer University" and "for students expressing confidence in the OT program."
One of the students is Kenneth Drysdale, who relocated from Florida to attend the MSOT program. Drysdale, who's scheduled to graduate next December with the 2023 cohort, said he was thrilled to learn of the accreditation.
"MSOT promotes student feedback to cultivate an enhanced learning experience," he said. "The prospect of becoming the next generation to deliver evidence-based services to patients creates enthusiasm for the journey we face each day." Drysdale also praised the clinical experience of the MSOT professors, and he said that each "is available as a mentor."
Madeline Cook, an MSOT student scheduled to graduate with Drysdale, noted several aspects of the program that utilized experiential learning.
"I can confidently say how impactful that experience was for me and how much I grew as a student and future practitioner. Learning hands-on gave me a newfound appreciation for the human body and how all body structures work together to impact movement," she said.
Cook also praised efforts by Pfeiffer's MSOT program to bring in guest speakers. These have ranged from clients who've been positively impacted by OT to occupational therapists who have talked about the settings they work in and how they are advocating for their profession.
Cook, who lives in Huntersville, N.C., has benefited from the personal, individualized approach at the heart of Pfeiffer's MSOT program. She was paired with a "Pfeiffer friend," who has helped her forge connections in the community and even fortified her with baked goods before exams.
Finally, Cook called the faculty of Pfeiffer's MSOT program a huge strength.
"I have always felt that I can go ask any of my professors for help or talk to them if I am struggling with something," she said. "I am grateful to the faculty for all they do and love to learn from them since they all come from unique and diverse backgrounds."