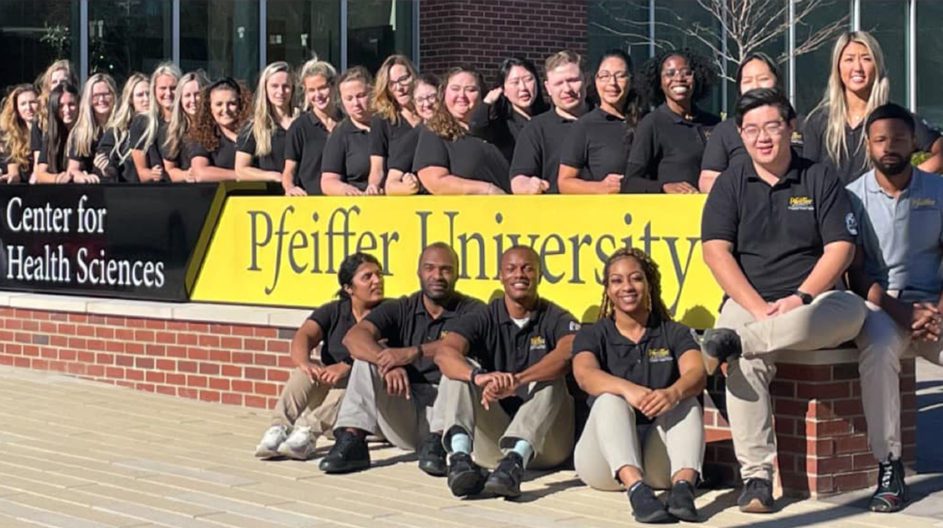 Pfeiffer's OT Students Start Care Program for Seniors
by Ken Keuffel
Sep 27, 2022
Thanks to the financial support of the Stanly County Community Foundation, students of Pfeiffer University's Master of Science in Occupational Therapy (MSOT) program are enhancing their experiential learning by connecting with and providing services for elderly residents of Stanly County through a year-long pilot program.
The program, called Gen2Gen Stanly Connections, was made possible with a $7,500 grant from the foundation. It targets seniors who need continued support in their homes for various reasons, such as mobility issues, relying on referrals from local agencies.
Gen2Gen resembles real-world practice: Students and faculty make an initial assessment in person at each client's home to collect data and evaluate needs. Students then work with seniors in person up to twice monthly; during these sessions, clients receive occupational therapy, which includes ways to prevent falls. They also learn about additional resources and how to advocate for their care.
And because telehealth is becoming more prevalent, the OT students also conduct weekly telehealth visits with the clients. Each client in Gen2Gen receives a GrandPad provided by the foundation's grant funding. The GrandPad is a simplified iPAD that includes an internet connection and a variety of functions. It is seen as a way to decrease a client's social isolation and, thus, improve their quality of life.
Dr. Elizabeth Fain, the director of MSOT, envisions that 4-6 students and 10 clients will be participating in Gen2Gen by the end of the year. She said that she's pursuing other grants to sustain the program. She sees many benefits of the arrangement.
"The OT students learn innovative emerging OT practice through the program, including telehealth care," she said. "They learn about how to assess and implement treatment interventions for preventing falls, and they help enhance the grip strength of clients, perform balance tests, and enhance socialization for the clients involved."
The local healthcare community is reacting positively to the pilot.
"We understand the importance of connection after the inpatient rehabilitation we provide is complete," Genny Jordan, a Social Worker at Trinity Place of Albemarle, N.C, wrote in a letter of support for Gen2Gen. "The concept of Gen2Gen brings hope to those who can return home, remain independent and are still able to live a full life."
Grace Byrd '22, an OT student who's doing Gen2Gen until her graduation in December, echoed these sentiments. "This program is a really exciting opportunity for me to make a difference in the lives of real people in the community," she said. "That's why I wanted to become an occupational therapist, and I am so excited to be able to participate in Gen2Gen."