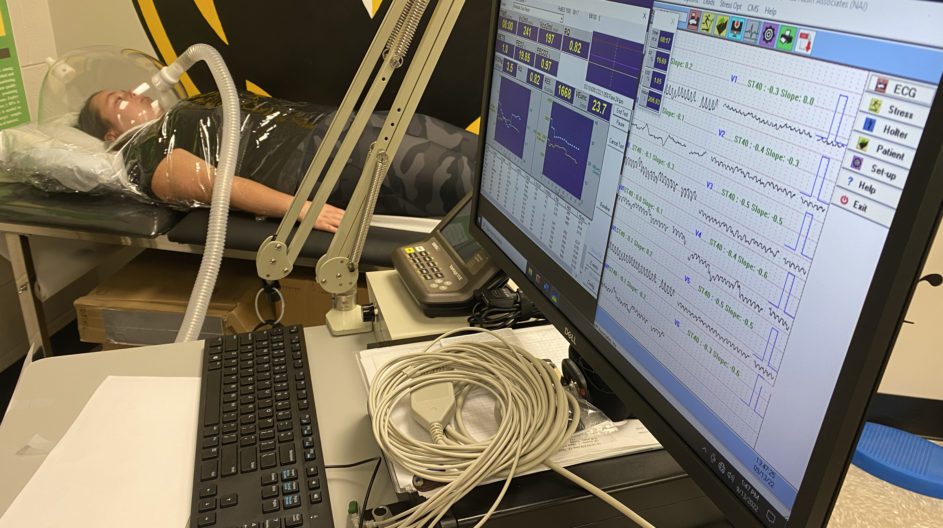 Braswell Grant Provides Gold-Standard Equipment for HES
by Ken Keuffel
Jan 26, 2023
A recent grant award from the James R. and Bronnie L. Braswell Trust will allow Pfeiffer University's Department of Health & Exercise Science (HES) to purchase a body composition tracking system. A portion of the $80,000 grant award will also provide unrestricted university support.
The system, known as the COSMED Bod Pod, is another gold-standard piece of equipment that HES has acquired to update and expand its labs.
HES now offers its students four labs: 1) Clinical Exercise Physiology Lab, 2) Biomechanics Lab, 3) Body Composition Lab, and 4) Anatomy and Physiology Lab. Other essential equipment includes the Parvo Medics Metabolic System, a Monark Wingate Cycle Ergometer, a Welch Allyn Electrocardiograph with spirometry, and several complementary pieces.
"The students are learning hands-on, which helps prepare them for advanced study and future careers," said Dr. Tom Darling, Professor and Chair of HES. "Without this generous Braswell funding, we wouldn't be able to do the great things we're doing. We're advancing in several areas, adding faculty, expanding spaces, purchasing new equipment, and enhancing program offerings. External funding is essential to our continued growth and success."
Darling added that the Bod Pod and other pieces of equipment will enhance research and help pave the way for a planned master's-level program at Pfeiffer, in either clinical exercise physiology or lifestyle medicine.
"We wouldn't be able to offer advanced learning experiences if we did not have these lab spaces or equipment," he said.
The labs and equipment will also play a prominent role in a new Cancer Rehab Minor, which the Faculty Assembly recently approved for launch in Fall 2023. Darling said he's begun recruiting students to join the Cancer Rehab team.
Darling stressed that HES now has the essential equipment to conduct aerobic, anaerobic, and body composition testing for instruction, lab activities, and research projects. He added that "it's really tremendous to have this equipment and we're all really excited."