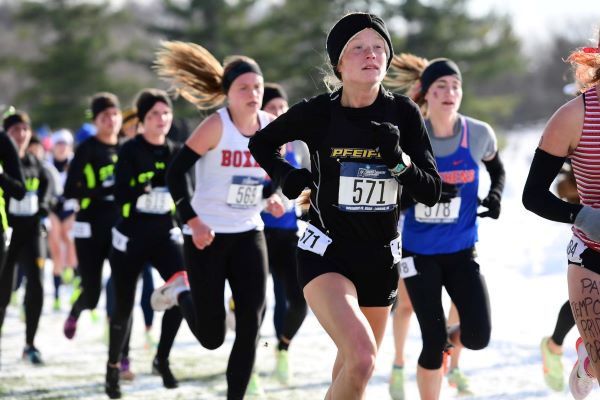 Lowery Finds Her Stride at Pfeiffer
by Ken Keuffel
Jan 26, 2023
In August of last year, Madison Lowery '24 of Kannapolis, N.C. enrolled in Pfeiffer University as a junior, having transferred from Catawba College. She was facing some personal challenges and felt a fresh start at Pfeiffer would be good for her.
"Even so, I was taking a leap into the darkness," Lowery said of the move. "But I really wanted to do it because it meant I could continue running cross-country and track for Bob Marchinko. I knew his process and trusted everything he brought to the table with coaching."
Marchinko, the Head Coach of Pfeiffer's cross-country and track and field teams since August, and Lowery, who is majoring in Criminal Justice, arrived at Pfeiffer at the same time. They go back several years. He first coached her when she was a sophomore runner at South Rowan High School, and he coached her for a couple of seasons when he was an assistant at Catawba. The two have formed a close bond: Lowery thinks of Marchinko not only as a coach but also as a "father figure" who has filled a void created after the deaths of her parents.
"He has really helped me in my life," she said. "I'm beyond grateful for that."
Marchinko is bringing out the best in Lowery's long-distance running. Last November, she became the first female in University history to compete in the NCAA Division III Cross Country Championships, at the Forest Akers Golf Course at Michigan State University in Lansing, Michigan.
Lowery, also the 2022 USA South Champion in cross-country, clocked a time of 23:12.7 over the 6K course, finishing in 77th place in a field of 293 participants. And she did it despite the unfamiliar challenge of running in snowy and very frigid conditions.
"It was about seven degrees when we ran the course," Lowery said. "Parts of it were so icy that you felt you were running on a skating rink. And in some areas, you were literally stepping into five inches of snow."
During the Michigan race and the races that preceded it, Lowery drew on refined techniques that Marchinko teaches her, often during training sessions in which he runs beside her and other runners. The instruction emphasizes things such as proper breathing (in your nose and out of your mouth) and optimal form (if a runner keeps her arms outward, for example, it makes for strides that translate into faster, more efficient running).
Marchinko's coaching has also helped Lowery develop a runner's mindset. During the day of a race, he might ask her how badly she wants it. "That reminds me that pain is only temporary while the prize will last forever," she said.
Lowery has also learned that "comparison can become the thief of your own happiness."
"I try to tell myself that although I didn't run my best time today, my effort was there and that's all I can give," she added.
Lowery hopes to pursue a career in law enforcement after she graduates from Pfeiffer. Until then, she is relishing the small-is-beautiful atmosphere on the University's campus in Misenheimer, N.C. "I'm a very social butterfly," she said. "Everyone that I run into at Pfeiffer is very social as well. They're kind; they're not going to walk past someone on campus without waving and asking how they are. I really like the family environment; it makes me feel more at home."