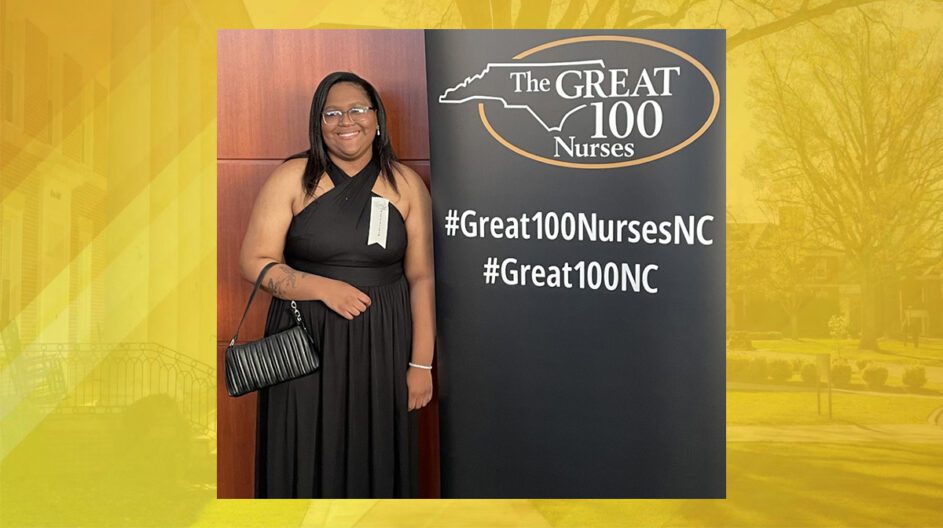 Nursing Student Receives Prestigious Scholarship
by Ken Keuffel
Oct 24, 2023
Sydney Hall '24 is preparing to receive a B.S. degree in Nursing from Pfeiffer University in May. She hasn't decided on a specialty yet, but she is considering working in operating rooms and, eventually, as a certified registered nurse anesthetist.
As a student in Pfeiffer's program, Hall is receiving an excellent preparation for these goals. One hundred percent of the 2023 graduates recently passed the national licensure examination on the first attempt, placing Pfeiffer's program among the top ten in North Carolina for another year. On Oct. 7, she received a strong vote of confidence when the North Carolina chapter of the Great 100 Nurses Foundation awarded her a Great 100 Nurses' Scholarship at its annual gala in Raleigh, N.C.
"When I first got the email telling me I'd received the scholarship, I was shocked," Hall said. "But it felt great. It felt amazing."
The Great 100 Nurses' Scholarship provides $1k, which Hall will use for saving, purchasing scrubs, or filling the tank of the car she uses to commute to Pfeiffer's Misenheimer campus from her hometown in Badin, N.C. Her participation in the Great 100 gala also afforded her an invaluable opportunity to network with future nursing colleagues.
Since its founding 37 years ago, the Great 100 has honored excellent nurses at awards ceremonies in several southern states, including North Carolina. The organization also makes scholarship funds available to nursing programs at colleges and universities, which, in turn, choose the recipients of scholarships.
The criteria for a Great 100 Nurses' Scholarship award include academic achievement, the potential to make contributions to the nursing profession, and good character. A recipient must also have plans to work in North Carolina after graduation.
"Sydney certainly fulfilled all of these criteria," said Dr. Martha Bramlett, an associate professor who chairs the Department of Nursing at Pfeiffer. "Upon graduation, she will definitely make a positive contribution to the health of the residents of this area. We are so proud of her."
Hall will also seek to emulate the professionalism and friendly bedside manner of nurses she encountered before enrolling at Pfeiffer, where her father, Ray, has worked in plant operations for some time. The local hospital nurses, whom she observed when they cared for two members of her family, inspired Hall's interest in nursing.
Hall will also plug the small-is-beautiful culture of Pfeiffer's nursing program. "The professors are always there for you," she said. "They're so supportive."