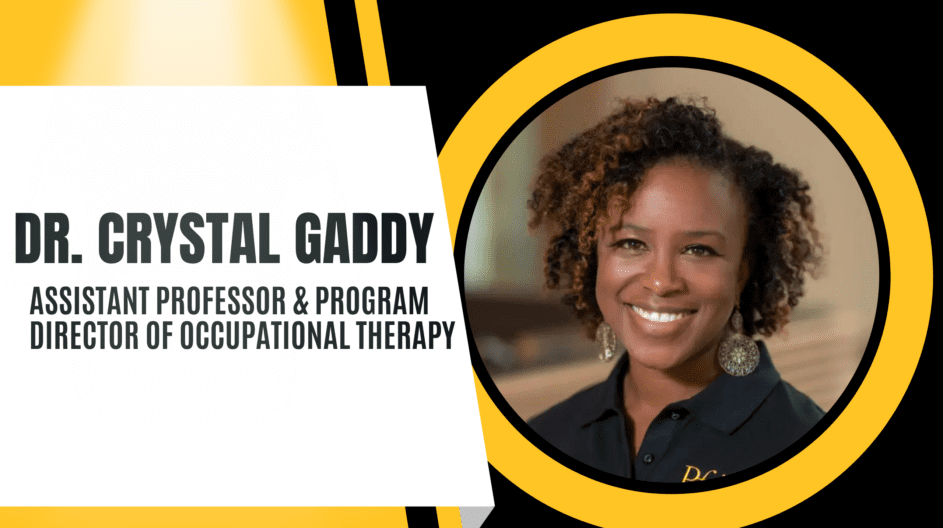 Faculty Spotlight – Dr. Crystal Gaddy
by Taylor Brigman
Nov 3, 2023
Meet Dr. Crystal Gaddy, Pfeiffer's Assistant Professor & Program Director of Occupational Therapy! Gaddy has been teaching for 3 years and has been an Occupational Therapist for 20 years. Gaddy teaches Interprofessional Practice, Occupational Therapy in Pediatrics and Youth, Occupational Therapy in Healthcare Management, Occupational Therapy Evaluation and Assessment Pediatrics/Youth, and Group Dynamics.
When asked what got her interested in Occupational Therapy, Gaddy said, "I became interested in the field of occupational therapy before I realized what occupational therapy was! Even as a child, I'd be passionate about assisting my peers with diverse needs and abilities, encouraging them to be as independent as they desired to be. As a freshman in college, I was introduced to various allied health professions, and what spoke to me the most was occupational therapy!"
Gaddy's goal for her classes is that each student will grow to be confident and competent in their skills as they work toward becoming a future occupational therapy practitioner.
While she has had opportunities to speak and present on state and national levels within her field, Gaddy believes her greatest accomplishment so far has been "becoming the program director for such a wonderful and growing occupational therapy program!"