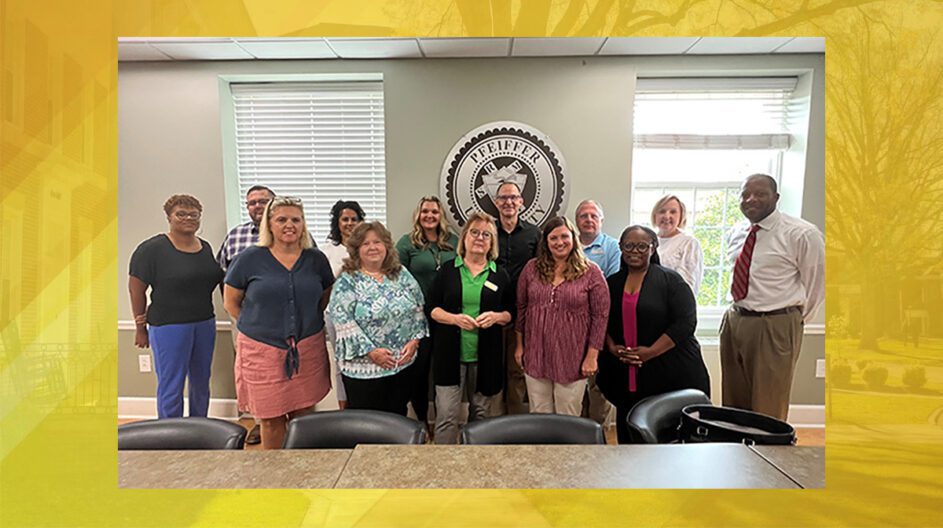 Pilot Program Sharpens Professors' Teaching Skills
by Ken Keuffel
Oct 24, 2023
A pilot program designed to enhance the teaching skills of professors in Pfeiffer University's undergraduate and graduate programs has been so successful that it will continue indefinitely, its chief organizers say.
The program, which confers a Pfeiffer Faculty Teaching Certificate (PFTC), offers monthly workshops, each on a different topic. Workshop topics include everything from teaching strategies to overcoming bias in the classroom.
Since 2022, two cohorts of 15 professors each have participated in PFTC training sessions. Another cohort will run from January through June 2024, with the faculty in that group meeting once per month for a total of six workshops.
"We are a teaching institution," said Dr. Dawn Lucas, Pfeiffer's Dean of the Undergraduate College and Department Chair for Education. "So, placing an emphasis on and investing in faculty development as it relates to teaching is a priority. To me, the PFTC program is a no-brainer, and it likely sets Pfeiffer apart from many of its peer institutions."
Lucas added that the PFTC sessions stand to have a positive "trickle-down" impact on retention and graduation rates among Pfeiffer's students.
The first PFTC sessions were funded as a component of a grant from the Teacher Quality Partnership Program of the U.S. Department of Education's Office of Elementary & Secondary Education. Lucas said that Pfeiffer plans to keep the PFTC program going after the federal grant funding period concludes.
PFTC has emerged at a time when an aspiring professor of any subject can often go through an entire doctorate program without ever taking a course on how to teach material on their field effectively.
PFTC is a "deep dive," Lucas said. Workshop topics include "Developing a Philosophy Around Education"; "Teaching Strategies and Bloom's Taxonomy"; "Strategies for Working with Struggling Students"; "How Learning Works"; and "Culturally Responsive Teaching."
PFTC also has both a mentorship component and one for a "portfolio," in which participants craft a philosophy around teaching that works for them, developing ways to build on strengths and address weaknesses.
Dr. Samantha Canipe Pennington '11, an Assistant Professor of Health and Natural Sciences at Pfeiffer University, said she greatly benefitted from compiling a portfolio.
The process prompted her to "completely" rewrite her teaching philosophy which she had created at the beginning of her higher education teaching career in 2018.
"It encouraged me to identify areas for improvement and set goals for further advancement," she said. "It enabled me to step back and critically evaluate my teaching methods so that I can remain dedicated to providing the best possible learning experience for my students."
Dr. Kathryn N. Riley, Associate Professor of Biology at Pfeiffer, participated in the program during her seventh year at the University. She echoed Pennington's sentiments.
"To be able to talk about teaching and pedagogy is just what I needed," she said. "I am always looking to improve my courses and I am grateful to have the opportunity to be part of a program specifically focused on teaching. I gained ideas, perspective, motivation, and more in the program."