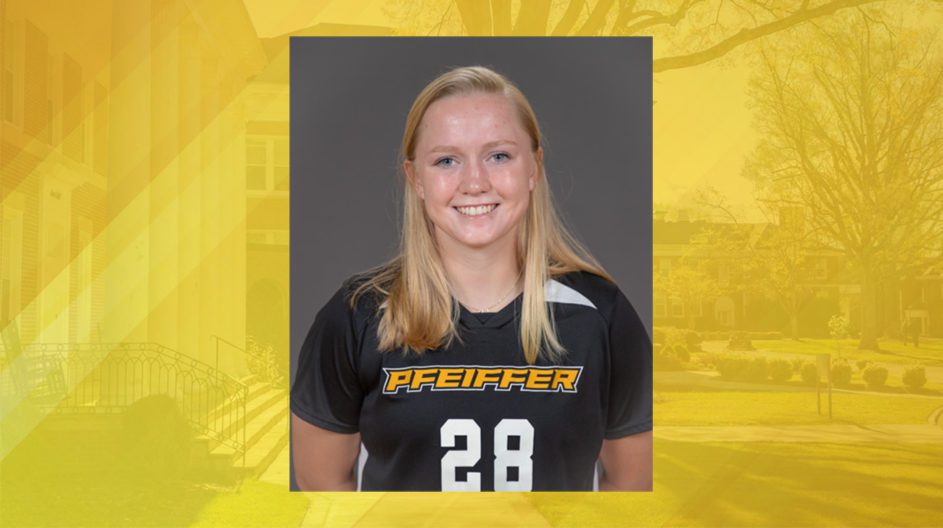 Future Attorney Reflects on a Rich University Experience
by Ken Keuffel
May 12, 2023
As Alyson Hanlon '23 prepares to graduate from Pfeiffer University with a bachelor's degree in Criminal Justice and transition to the Elon University School of Law, where she starts in the fall, she thinks of the 20 or so students she helped as a peer mentor over three years at Pfeiffer.
"They're some of my closest friends now," she said of the students, who are now rising seniors. Hanlon, who hails from Summerfield, N.C., made their lives easier by answering scores of their questions. Where's the library? Could you recommend a good tutor for a particular subject? How do I get a parking pass? How do I replace the student ID I've lost?
Hanlon looks back fondly on helping the students she mentored through registering for classes — a process that invariably began "like a race" around computers at midnight, with students wolfing down cokes and donuts as they talked with Hanlon about which classes to take.
Hanlon's tenure as a peer mentor at Pfeiffer was but one of many ways she distinguished herself at the University, from which her sister, Samantha, graduated in 2019 and her mother, Dana, earned a dual master's degree in Christian Education and Children's Ministries in 2000. Dana was pregnant with Alyson just as she was finishing up her studies at Pfeiffer — which Alyson thinks "is pretty cool" because it makes her feel as if a part of her has been at the University her entire life.
Alyson Hanlon's Pfeiffer resume indicates that she took advantage of opportunities in just about every possible realm, from leadership (she also served as a Student Ambassador for three years) to academics (she participated in the Undergraduate Honors Program). Along the way, she ran cross country and joined the women's lacrosse team, despite the fact that she did not play lacrosse at Northern Guilford High School in Greensboro, N.C.
Because of these experiences, Hanlon grew into the kind of student Pfeiffer's small-is-beautiful culture is known for nurturing: a servant leader with solid academic credentials and eclectic interests. She can also make the case that her time at Pfeiffer planted the seeds for her pursuit of a career in law. She's interested in specializing in advocacy law, which would enable her to help marginalized groups such as foster children and victims of domestic violence.
She credits John Reid, Assistant Professor of Criminal Justice at Pfeiffer University, for piquing her interest in law. Reid, who worked as a law enforcement officer for 30 years before taking up teaching, taught a course on criminal law that Hanlon found compelling. She soaked up the stories her professor would share about his former cases.
Reid was also known for generating discussions on a range of topics: "We could talk about what was going on in the world," Hanlon said. "Those conversations made me realize that law school was the right option for me."
Hanlon's work as a Student Ambassador in Pfeiffer's admissions office also came to figure prominently in her law school aspirations. This may not have been apparent at the beginning of her ambassadorship, as her tasks ranged from taking prospective students and their families on tours of Pfeiffer's Misenheimer campus to organizing all the paperwork that the admissions office generates.
However, when it came time to apply for law school, Hanlon could turn to Emily Carella, Pfeiffer's Vice President for Enrollment Management, for an unusually strong, influential letter of recommendation.
"I knew that I could trust Emily to write of me being a leader at the university as well," Hanlon said. "That made a tremendous difference." And the characterization was 100 percent true. Hanlon has taken full advantage of what the Pfeiffer experience offers.