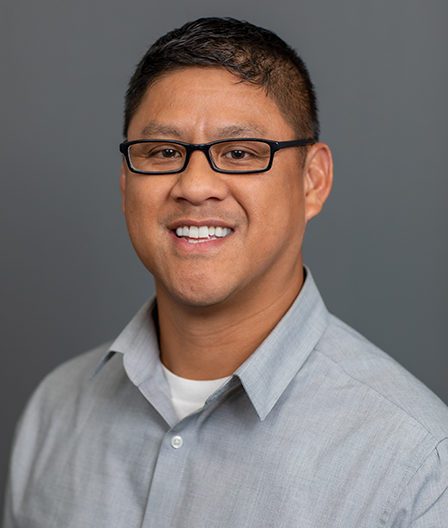 Dr. Tom Darling: A Brighter Future for Health Exercise Science
by campus
Sep 8, 2020
Dr. Tom Darling, new Professor and Chair of Health & Exercise Science (HES), is full of optimism about the restructuring and projected growth of HES, and its role in advancing education, scholarship, and service at Pfeiffer University.
"We have big plans for HES as an integral component of the Division of Applied Health Sciences," he said recently. "We have lots of work to do, and many things have to fall into place, but I am confident in the collaborative faculty we have in HES and in Applied Health Sciences and encouraged by the support of university leaders and colleagues."
Darling comes to Pfeiffer with over 20 years' experience in disease prevention, disease control, health promotion, and human performance enhancement, with expertise in Exercise Oncology. His research focuses on enhancing exercise interventions via cancer rehabilitation with the goal of increasing functional capacity, decreasing symptom severity, and improving health-related quality of life for cancer patients, survivors, and caregivers. He is committed to contributing to efforts for addressing rural health and health disparities in the region, a significant factor in his desire to join Pfeiffer University.
Darling believes that progression and success begin with intentional investment and support of programs that drive university vision and mission. From there, "it is up to the faculty, clinicians, and students to do the work." And Darling's work plan and to-do list are ambitious, but "possible with sufficient support and everyone working together," he said.
The first step is to restructure HES and develop new programs and corresponding curricula, ensuring that undergraduate education meets academic and field standards. Darling stated that the Division of Applied Health Sciences can consider HES as a feeder to graduate programs at Pfeiffer (e.g., physician assistant studies, occupational therapy). Additional HES goals include pursuing accreditation and adding a Master of Science in Exercise Science in the future.
Darling and Assistant HES Professor Dr. Blake Crabb are proposing a restructuring of HES into two major tracks, a health (clinical) track and exercise/sport (non-clinical) track – to be submitted for approval this academic year and implementation for 2021-2022. Students in the clinical track are those pursuing graduate/professional education and clinical careers, including medical school, physician assistant studies, physical therapy, occupational therapy, clinical exercise physiology, or various allied health sciences. Students in the non-clinical track also have the option to attend graduate school toward advanced training in exercise/sport science and pursuing careers in academics, research, applied sciences, or athletics.
New programs/curricula being proposed for HES include a Cancer Research Apprenticeship and a corresponding Cancer Rehab Minor. Both are designed as a 2-year experience, with students learning and contributing to cancer research and clinical exercise programming. Highlight experiences include hands-on training, presentation at scientific conferences, and community service.
Darling has mentored over 50 undergraduate/graduate students over the past 10 years, many moving on to very successful academic, research, and/or professional careers. Darling and a former graduate student who is now a pediatric cancer researcher, for example, recently published a paper on childhood cancer and treatment effects on motor performance. Other mentees are currently working in the health field or are in the process of completing medical school or professional training in rehab sciences.
Darling also recalled his experience, learning research for the first time, as a high school student in an NIH-sponsored summer program. He said, "It was really cool to learn advanced virology techniques that only few in the world were doing at that time." He would like to return the favor and continue his mentorship role, facilitating similar experiences and successes for Pfeiffer students.
Darling attibutes his previous successes on the campuses of institutions that he has served, in part, to establishing an outstanding Exercise Physiology Laboratory.
"You cannot call yourself an exercise science program if you don't have a lab," he said. "Laboratory space, equipment, and supplies are vital to program activities, academic excellence, and research. Exercise Science programs are lab-dependent." Darling wants to establish a state-of-the-art exercise physiology lab at Pfeiffer, calling it a "necessary step" in restructuring and advancing HES. Gold-standard lab equipment includes the Parvo Medics Metabolic System, the COSMED Bod Pod, and the Monark Wingate Cycle Ergometer. The lab should also include various testing and exercise equipment, clinical assessment tools, computers/technological components, and research devices and supplies.
"We at Pfeiffer, similar to previous experiences, are starting from scratch," said Darling, who has established exercise science programs and exercise physiology labs at three other universities. "I have had to be very creative and intentional, and I will do the same here. But I envision greater possibilities at Pfeiffer, with many things already in place, in progress, and planned. I am impressed with the establishment of The Center for Health Sciences in Albemarle as it provides a foundation piece for Allied Health Sciences."
Darling emphasized that he is eager to contribute to the health efforts in Albemarle and of the region. He would like to explore ways that HES can join forces with Pfeiffer's physician assistant studies and occupational therapy programs, stressing that "we have the same vision when it comes to focusing on rural health and health disparities."
Darling has earned several degrees and advanced training, including a Ph.D. in Health & Human Performance from Oklahoma State University and post-doctoral cancer research training from the University of Rochester Medical Center (Rochester, NY). He also has professional experiences in cardiology, public health, and various roles in clinical exercise physiology. Along the way, he developed into "a behaviorist and a strong proponent of Exercise is Medicine." According to Darling and fellow behavioral scientists, exercise is effective for cancer prevention, management, and survivorship. He envisions HES integrating this approach to cancer and comorbid diseases (e.g., heart disease, diabetes, obesity) via the Cancer Rehab Program and adjunct exercise programming.
Darling had been sharing his ideas with Pfeiffer leaders even before his arrival to North Carolina, and he is motivated that even bigger ideas may become a reality. "My work is not curing cancer or advancing treatment methods," he said. "But we are directly impacting the individual – the cancer patient, survivor, and caregiver. We can help with exercise, nutrition, and healthy living interventions and approaches. In creating specific programming at the individual level, we can make a difference now…and we can do that for individuals in Albemarle, Stanly County, and surrounding rural communities."
Darling's work in Exercise Oncology began a little over 10 years ago when he collaborated with American Cancer Society and Relay for Life (Valdosta, GA). He realized then that there was a great disconnect between research and practice, combined with the lack of resources and available programming. From that point, it became Darling's mission to contribute to the effort in making cancer rehab an integral component of cancer care. According to Darling, not very many people know that cancer rehab exists – especially in rural areas.
Darling opened his first lab (in Oklahoma) a few years later to the cancer community, beginning a formalized, evidence-based exercise program for cancer patients, survivors, and caregivers. Darling and his research teams have performed numerous exercise testing sessions, supervised corresponding individualized exercise prescriptions and programming, and collected a great deal of research data.
"We have mostly worked with cancer survivors and their caregivers," Darling said. "We focus on increasing functional capacity (e.g., lower/upper body strength, range of motion, balance, and flexibility) and enhancing health-related quality of life. And we emphasize the FUN factor to increase engagement and adherence."
On top of exercise programming, Darling is also interested in technological applications and has found a niche in investigating the use of wireless technology to enhance the safety and effectiveness of exercise monitoring.
"I use sensors and wireless tech to monitor and record various physiological and mechanical data," he said. "The big vision is to build a fully functional remote exercise monitoring system – as proposed in REMEDY in 2015. This type of real-time, advanced monitoring system is very promising, receiving international interest and attention within technological sciences."
Darling is, indeed, optimistic about HES' role in Pfeiffer's future.
"We have a lot of work to do, but the future is bright for HES and Health Sciences at Pfeiffer University," he said. "With continued support and encouragement, we will continue to do great things and push the boundaries."
It is Darling's hope that Pfeiffer can inspire and influence key individuals and groups to invest in the worthy initiative of managing disease, enhancing rural health, and decreasing health disparities in the region. As a final comment, Darling stated that "in return, we must remain committed to our students, diligent in scientific discovery, and dedicated to serving the community."
---
Ken Keuffel, who authored this article, has served as Pfeiffer's Assistant Director of Communications since December 2019. He welcomes story ideas from Pfeiffer's faculty, staff, students, alumni, and friends. The form for submitting story ideas is Story Idea/News Item Request Form.