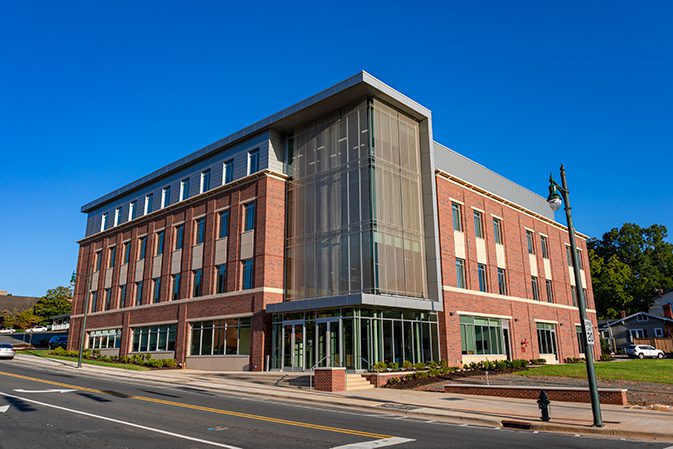 Center for Health Sciences Promotes Hands-On Learning for Occupational Therapy
by campus
Sep 17, 2020
Pfeiffer University launched its new Master of Science in Occupational Therapy (MSOT) program this past August, and the newly opened Center for Health Sciences (CHS) in downtown Albemarle has been its home since September 17. Dr. Elizabeth Fain, the director of MSOT, plugged features of CHS that will help her students to master techniques for treating clients in a hands-on fashion. Often, the learning will be like that in a teaching hospital, with students caring for clients under the supervision of faculty or clinical instructors.
In addition to hosting traditional classrooms, CHS spaces will serve specific educational purposes. In the Daily Living Simulation Suite, for example, students will learn to show clients how to navigate a mini-apartment that features a kitchen, a bathroom, a bedroom and a living area. One such client might be a stroke victim relearning essential skills like how to get in and out of bed, how to get dressed, how to get in and out of a tub and how to prepare meals. These types of everyday tasks are very important to quality of life for clients who, for any number of reasons, navigate with impaired movement or function.
In many instances, center clients under MSOT care will use modified or adaptive equipment – such as silverware, pens, and toothbrushes with built-up handles – which enables them to perform everyday tasks. Another commonly used adaptive device, a button hook, helps someone with arthritis overcome the challenges of fine motor skills or allows them to take on and off a buttoned shirt or zip and unzip a jacket using one hand. Adaptive equipment can even take the form of a dynamic splint. This can get fingers moving in a hand suffering from radial nerve palsy that emerges after a fall causing a humerus fracture and a nerve injury affecting the hand.
MSOT students will not only learn to teach clients how to use these types of adaptive equipment effectively; they will also master the making of adaptive equipment with a 3D printer at CHS – a feature that Fain calls highly unusual in programs that train occupational therapists. Printer-made devices, she says, should be an excellent support to clients who either have no insurance or are underinsured.
"We can make a button hook for 10 to 15 cents and issue it to the client," Fain said.
Two labs at the center will figure prominently in the training that MSOT students receive. In a "wet" lab, they will learn to apply heat packs safely to clients who are injured or arthritic. The packs have been submerged in hot water and then wrapped in towels.
In a "dry" lab, MSOT students learn such skills as manual muscle testing and lymphatic drainage massage as well as handling bandages, compression garments and compression pumps. They will learn how to transfer a client from a bed to a wheelchair, and they will learn how to do OT-related testing for students with special needs.
Video technology will be the principal vehicle for documenting and assessing student mastery of particular techniques. The same technology will also enable students to study more closely what they're doing right and what they're doing wrong when they work with clients.
Finally, role-playing at the center will help prepare MSOT students for various scenarios they're likely to encounter on the job. One such scenario will play out frequently on the center's first floor – in The Dr. Christopher Bramlett and Patricia Starnes Bramlett and F. Eugene Starnes, Jr. Center for Advanced Clinical Simulation Education.
The simulation center strives to enable students to practice what they are learning in a true-to-life environment. Often, this will include conferring with a student in Pfeiffer's Master of Science in Physician Assistant Studies (MS-PAS) about the best course of action for a particular client.
The simulation center features high fidelity simulators that are able to mimic human responses to student actions. In this space, MSOT students can model interdisciplinary care as well as mastery of their own curriculum.
---
Ken Keuffel, who authored this article, has served as Pfeiffer's Assistant Director of Communications since December 2019. He welcomes story ideas from Pfeiffer's faculty, staff, students, alumni, and friends. The form for submitting story ideas is Story Idea/News Item Request Form.