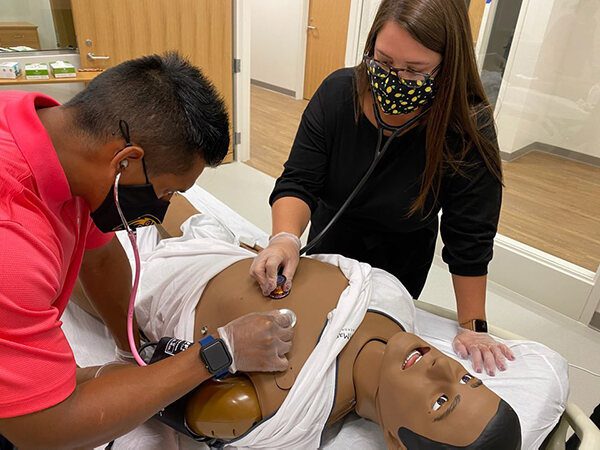 Center for Health Sciences Boasts Many Benefits for Physician Assistant Studies
by campus
Sep 17, 2020
In each of six hospital-like rooms in Pfeiffer University's newly opened Center for Health Sciences (CHS) in downtown Albemarle, students in the Master of Science in Physician Assistant Studies (MS-PAS) program will find a high fidelity, computerized human simulator.
The simulators, along with six clinic simulation exam rooms, are the highlights of CHS' Dr. Christopher Bramlett and Patricia Starnes Bramlett and F. Eugene Starnes, Jr. Center for Advanced Clinical Simulation Education (CACSE).
CACSE consists of two main parts: a training clinic (outpatient) and a simulated hospital environment (inpatient). The training clinic features six fully equipped exam rooms. The simulated hospital environment includes pediatric, cardiovascular, labor and delivery, and surgical suites along with an operating room and an Emergency Department Trauma Bay.
The simulators, which students will use to practice physical examination and treatment techniques they'll need to have mastered for employment, are among the most advanced of their kind. For example, the simulator in the Emergency Department Trauma Bay can simulate such scenarios as amputated limbs and broken bones. Duplicates of it were used to train surgeons in the United States Military.
The simulator in the Labor and Delivery Suite can simulate most any complication that a mother or her baby can experience during delivery. And the simulator in the SimMan 3G Suite can simulate everything from cardiac pathologies to seizures.
"These are amazing tools to train our students," said Dr. Brenda Diaz, the MS-PAS program director who holds The Anne Louise Keeney Chair in Physian Assistant Studies. "We're very blessed to have them. They'll help ensure that we produce physician assistants who can function on the highest level of competence for our profession."
MS-PAS' first official day at CHS was September 17, which was also the start date at CHS for Pfeiffer's  Master of Science in Occupational Therapy (MSOT) program. As students of both programs entered CHS for the first time on a rainy morning, several residents of Albemarle were waiting outside the building to cheer them on, many wearing "Welcome Pfeiffer" tshirts. G.R. "Ronnie" Michael, Albemarle's mayor, offered words of encouragement and welcome on behalf of the community as students made their way to class.
This feeling of excitement doubtless carried over inside CHS, where students encountered a state-of-the-art facility that is second-to-none.
Inside the CACSE, each exam room is wired for audio and visual. This will enable instructors to evaluate recordings of the MS-PAS students engaging with patient actors in what are known as Objective Structured Clinical Examinations. Among other things, a recording will reveal a student's ability to establish a rapport with a patient, and it will show the quality of their physical exam technique. Each MS-PAS student will perform an exam at least once a week, so that "when they go out on clinical rotations, they're comfortable around patients and they're comfortable in the clinical environment," Diaz said.
The clinical phase of Pfeiffer's MS-PAS program lasts 12 months, with each clinical rotation lasting five weeks. It begins after students successfully complete a 15-month didactic phase of the program.
Other features in CHS include two technology-filled classrooms within the Charlotte Pipe and Foundry Company Instructional Suite and the Edward J. Snyder, Sr. Community Room, which will be the site of various community interactions, including opportunities for public education.
The fourth floor of CHS is the location of The Dr. Robert H. Gaither and Donna K. Gaither Gross Anatomy Lab, in which MS-PAS students will directly explore human anatomy through dissection. The lab is high-tech:
In each of 16 pods, about three students will gather around a cadaver to learn how various organs function within the human body. Though their professor will guide them using a cadaver in a nearby workstation, everyone will have a clear view of the instruction, as the work of the instructor is streamed to a monitor at each student pod. As a result, everyone will have a clear view of a cadaver and an opportunity to fully participate in the lab without struggling for a place at the dissection table. Moreover, unlike other institutions, Pfeiffer's MS-PAS students are not competing with students of other disciplines to see and work with the cadavers in the lab.
MS-PAS students will also realize the benefits of studying anatomy through BodyViz 3D anatomy software, which creates an exact, detailed representation of real human anatomy.