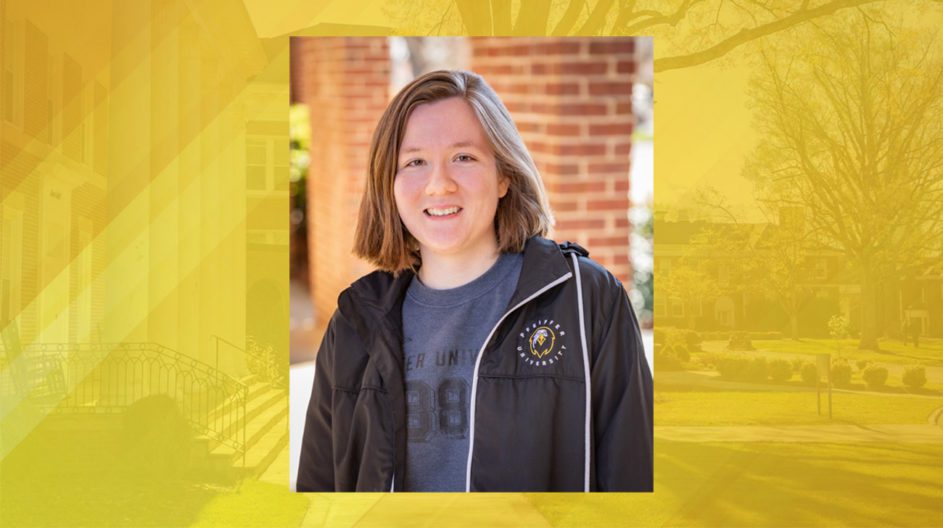 Student's Video Reminds Alumni to #stickwithPfeiffer
by Ken Keuffel
Mar 16, 2023
They say you make your own luck. Taylor Brigman '23, who's majoring in Business Management and Leadership at Pfeiffer University, would likely agree. She participated in a class assignment that helped pave the way for her to make the promotional video for this year's Pfeiffer Day.
The assignment, done for educational purposes only, was a part of Dr. Raushan Gross' Principles of Marketing course, which Brigman took in the fall of 2021, shortly after earning an Associate of Arts degree from Rowan-Cabarrus Community College. It called on Brigman and a few other students to develop a marketing portfolio for a local business, namely Concord (N.C.) Trophy Center.
The portfolio included everything from mock-up print advertisements to radio spots; Brigman, who'd been making videos for fun with her siblings since childhood, contributed a commercial to the mix. The commercial used explosive rock music and compelling visuals of athletes and others in action or moments of victory to underscore the idea that "everyone is great at something" and "nothing feels better than winning." It concluded with the words: "Celebrate your achievements with Concord Trophy Center."
Making videos "is something I really enjoy doing," said Brigman, who plans to pursue a position in marketing after she graduates. "I like creating digital content. It goes hand in hand with stuff I've enjoyed doing my entire life, such as writing stories and planning ways to tell them."
Shortly after Brigman made the commercial, she and a friend gathered one morning between classes in Jordan Hall. Brigman, who likes taking breaks in Jordan because of its comfortable seating, took out her smartphone and showed her friend the commercial.
Dr. Scott Bullard, University President, happened to be walking by the pair. Intrigued, he looked at the commercial as well and was impressed. He told Brigman that the University might benefit from her talents and introduced her to administrators involved in its fundraising and marketing.
"Taylor is a great example of the creative and talented students we have here," Bullard said. "It is such a gift to be able to watch each of them as they grow and develop in skill and knowledge."
In time, Brigman joined Pfeiffer's marketing staff on a work-study basis. She's now a Multichannel Content Creator who's responsible for areas such as video production and editing, photography, and social media.
"Taylor has an exceptional ability for creative problem-solving," said Casey Habich, Pfeiffer's Director of Marketing and Communications. "She can conceptualize, plan a course of action, and execute it successfully. Her technical skills in content creation are at a high level. She is a tremendous asset to Pfeiffer."
Brigman began working on the promotional video for Pfeiffer Day 2023 last month. Its visuals and its script, which Brigman wrote and delivered, find their inspiration in "some things that just stick with you" about Pfeiffer, from lifelong friendships to a campus that felt like home. The video also features reminders of "classes that made you grow"; "professors who pushed you to succeed"; and "coaches who taught you resilience."
"Now, on this Pfeiffer Day, it's your turn to stick with Pfeiffer," Brigman says at the end of the video.
When Brigman talks about what has stuck with her from her time at Pfeiffer, she recalls that she once found herself alone at a bowling event for students. Jesse Sherrill '23 asked Brigman to join her and her friends.
"She went out of her way to do that," Brigman said.
Brigman will also likely never forget how the Pfeiffer Pfamily made her feel during her first days on campus.
"I was nervous about attending a new school and how everything would be," she said. "The professors really calmed that a lot. I quickly realized that they genuinely care about what their students have going on in their lives, and I have really benefited from that. "Even though I started Pfeiffer as a junior, I don't feel I've missed anything. I've got friends, I've enjoyed wonderful opportunities, and my professors have been wonderful mentors for me. I have every reason to stick with Pfeiffer."