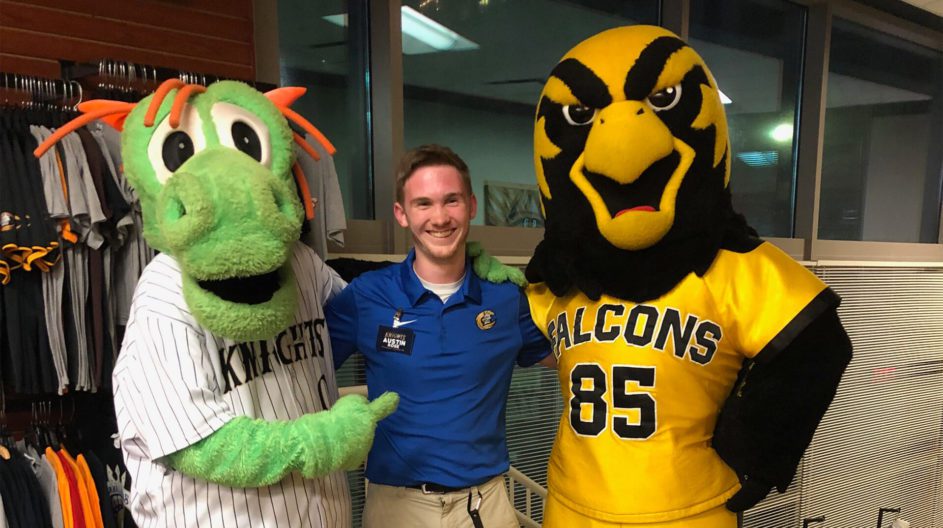 The Impact of Internships: Austin Rose
by campus
May 19, 2020
When Austin Rose, a sports management major from Concord, graduates from Pfeiffer University in 2021, he'll likely be among the stronger candidates for entry-level positions in the front offices of Charlotte's sports teams.
That's because he'll have both a bachelor's degree and something equally important to go along with it, namely the resume-enhancing work experience gained from a Pfeiffer internship with the Charlotte Knights, the Triple-A affiliate of the Chicago White Sox. The internship is one of several that the Knights have given to students of Pfeiffer, which is also one of the team's sponsors.
"Students from Pfeiffer are starting to become a larger part of the sports industry," Rose said. "This internship is keeping me moving in the right direction, career-wise." He credited Mary Beth Chambers, who chairs Pfeiffer's sports management department, with building Pfeiffer's sports-management brand in Charlotte.
Rose attends Pfeiffer on an academic scholarship. His institutional aid packaged is funded by the Nick and Reba Lefko Endowed Scholarship; the Mayhew Endowed Scholarship; the Buford C. and Brown M. Earnhardt Endowed Scholarship; and the Mary Frances Mitchell Denny Endowed Scholarship.
Rose's internship at the Knights began this past January and is about 50 percent complete, having been put on hold because of the COVID-19 pandemic. It requires him to work for 270 hours in a role that has him assisting Elijah Saint Blancard, the team's merchandise director, with various team store operations. These include designing and ordering such items as hats, jerseys, t-shirts, miniature bats and baseballs. Rose also sets up store displays, tracks online inventory and performs such personnel duties as hiring, training and scheduling work hours for the store's game-day staff.
Saint Blancard has been most impressed with Rose's job performance.
"Austin has been a tremendous asset to the Charlotte Knights merchandise department," he said. "He has taken the ball and run with it and leads by an awesome work ethic every day. I am excited to see what the future has in store for him."
Rose owes his internship at the Knights largely to the fact that he did well at a similar merchandising job he held with the team during the spring and summer of 2019. He has also forged the right kinds of connections – having practiced what the sports management program at Pfeiffer constantly preaches. So far, Rose's connections have worked out pretty well for him:
His former high school football coach knew somebody who worked in ticket sales for the Carolina Panthers. The right introductions were made and since finishing high school, Rose has also worked as a ticket operations associate for the Carolina Panthers. One of Rose's Panthers colleagues once interned at the Knights and helped him open doors there.
Rose's internship enables him to continue making connections:
People who work in the Knights' front office pass through the team's store on their way to and from work, giving Rose invaluable opportunities to interact with them. When these interactions occur, Rose draws on networking and personal brand-building skills that Chambers is teaching him. Often, this means asking questions that will prompt executives to open up: How was your weekend? How's your day going? What are some of the principal duties of your position?
The answers to these questions are helping Rose learn as much as he can about various sports-industry positions before deciding to pursue the one that fits him best.
"Being new to the industry, I didn't really have a full understanding of what they did on the job," he said. "Once I established a professional relationship with them, they were more open to explaining their jobs in a little more detail."
---
Ken Keuffel, who authored this article, has served as Pfeiffer's Assistant Director of Communications since December 2019. He welcomes story ideas from Pfeiffer's faculty, staff, students, alumni, and friends. The form for submitting story ideas is Story Idea/News Item Request Form.