MSOT Facilities
The Occupational Therapy Master's (MSOT) program is located in the Pfeiffer University Center for Health Sciences, a state-of-the-art facility in Albemarle, North Carolina.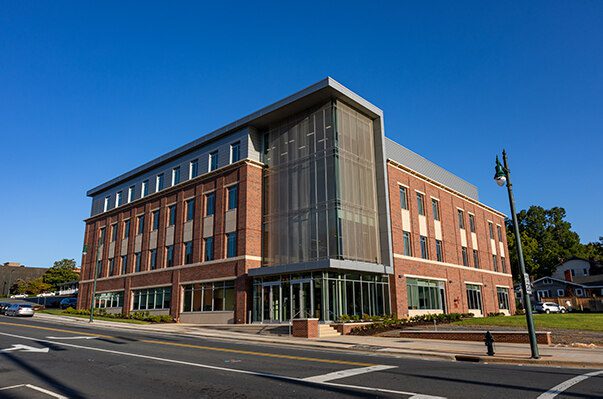 The Pfeiffer University Center for Health Sciences features the Center for Advanced Clinical Simulation Education (CACSE). The CACSE includes four simulated ICU rooms, one Surgical Suite, and one Emergency Department Trauma Bay; each of these rooms is equipped with high fidelity, computerized human simulator. Additionally, the CACSE features a fully functional clinic with six exam rooms, where occupational therapy and physician assistant students alongside our board-certified and licensed physician assistant faculty, will provide much-needed community health services. Graduate clinical simulation education at Pfeiffer University brings life into books and books into life, hence bridging classroom instruction and clinical practice.
The MSOT program has two dedicated technologically advanced classrooms and a multipurpose room and labs for collaborative learning activities. A full ADL room with functional kitchen, bedroom, and bathroom is utilized for experiential learning of various occupational tasks with simulated disabilities. Students also receive instruction in a cadaveric Human Gross Anatomy Lab, where they directly explore the human anatomy. Gross anatomy labs have been designed to give each student the opportunity to actively dissect and study the human body. In addition to lab instruction, students participate in team-based learning activities where they apply anatomical principles to clinical scenarios.