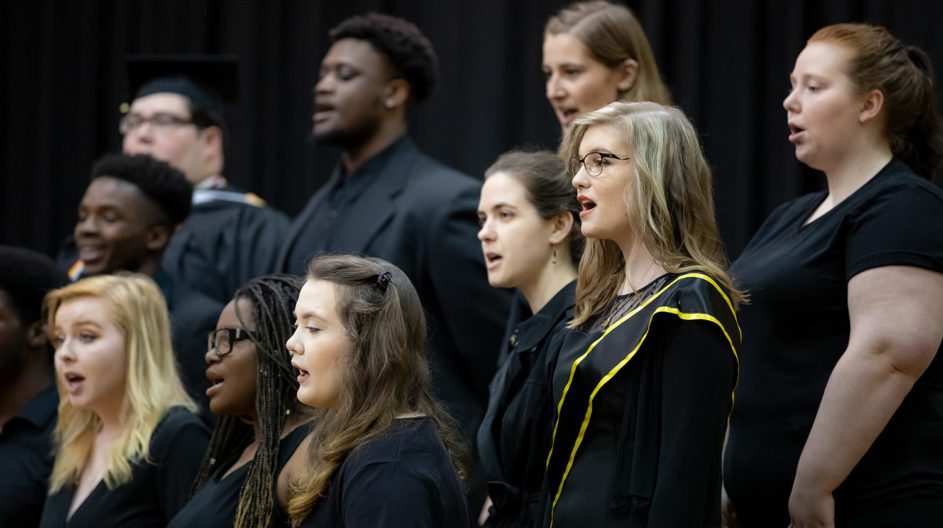 Pfeiffer's Music Program to Benefit from Generous Gift
by Ken Keuffel
Aug 30, 2022
During her time at Pfeiffer College, Cindy Reedy Serbin '75 double-majored in mathematics and music education, having found in the latter numerous ways to develop her gifts as an organist, a chorister, and a choral director. So, when she learned last fall that Pfeiffer would reinstate the music education major at the beginning of the 2022-23 academic year, she was thrilled.
Serbin was also motivated to take the kind of action that can significantly advance the program's revival. She has made a $100,000 gift that will fund improvements to lighting and acoustics in Henry Pfeiffer Chapel, the University's principal performance venue, and help underwrite a musical revue on campus.
To further elevate the program, she is earmarking funds for the first Pfeiffer University Serbin Choral Festival, which will be held in the fall of 2023. It is anticipated that this event will bring about 100 choristers from high school ensembles across the Carolinas to Pfeiffer for two days of rehearsing and performing under the direction of a leading clinician; the goal is to interest them in attending the University and singing in its choirs if they do, an important first step on the way to becoming a music major. Like the choirs of most small universities and colleges, Pfeiffer's ensembles also welcome non-music majors.
"The festival will be a great recruiting tool for us," said Joe Judge '87, Pfeiffer's Director of Vocal and Choral Music. "It will get potential students and their parents to campus, and it will get Pfeiffer reestablished within the choral community of the Carolinas."
Judge also plugged the planned lighting and acoustic improvements as ways to make Pfeiffer's performance venue more attractive to potential music majors. LEDs will replace the chapel's existing lighting, lasting longer and washing more of the stage than the current lights do. They will also provide some "color options" that aren't available now.
Acoustical panels will be placed on the walls between the chapel's windows, giving greater focus to a sound that Judge described as currently too "bouncy."
"We're doing more with amplification, videos, and recorded music," he said. "The chapel's current acoustics make those sounds very difficult to hear well because there's so much reverberation in the room."
Judge stressed that the acoustical panels will not drastically change what most people consider to be wonderful acoustics in the chapel. "The idea is to keep up with the times, if you will," he said. "They will make it better for the events that happen in the room beyond what the Music Department does."
After graduating from Pfeiffer, Serbin earned a master's degree in mathematics from the University of Tennessee in Knoxville. She married one of her professors, the late Steven Serbin, and worked for many years in Knoxville as a computer analyst.
Along the way, music remained a serious interest. Among other things, Serbin has played handbells, sung in choirs and musicals, led a church's children's choir, and served as a substitute organist at several churches. Pfeiffer doubtless sparked all this activity: Serbin, whose music ed concentration was organ, would play that instrument each Sunday at Wesley Chapel United Methodist Church near campus, in addition to starting a children's choir. She also sang with multiple choirs at Pfeiffer, touring often in the United States and Europe. She made many friendships: "Being together on a bus for hours will do that for you."
Asked whether her gift will give music and music education at Pfeiffer a shot in the arm, she said: "I certainly hope so. I got so much out of it when I was there. I would like future students to get the same kind of experience."