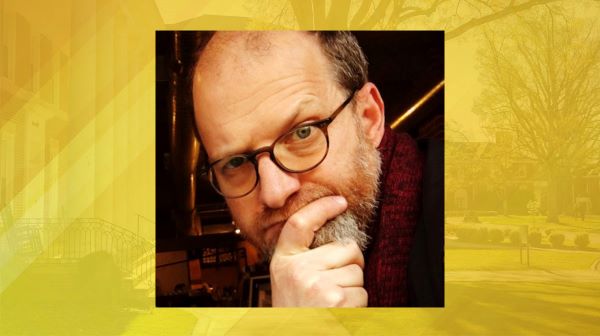 Dr. Pete Candler Lectures in Earnhardt Speaker Series
by Ken Keuffel
Apr 28, 2023
"The truth of the South at the present time is a far more mixed reality than the travel-brochure or country radio version would suggest. It is a region whose remarkably sustained creativity is, if we are honest, a fruit of centuries of adversity, both in the form of slavery . . . and the less obvious spiritual conditions that habituated numbness to and willful ignorance of that history have produced in generations of white Southerners."
So writes Pete Candler, a former professor of theology and current essayist, photographer, and podcaster with deep Atlanta roots.
Candler is the recent author of The Road to Unforgetting: Detours in the American South 1997-2022. He was welcomed on March 27 as the second lecturer in the Eugene I. Earnhardt Speaker Series, created in honor of Gene Earnhardt, a Professor Emeritus of History at Pfeiffer who was known for bringing historically important – and sometimes controversial – figures to the University's campus where he taught for 30 years. Dedicated to helping students explore contrasting perspectives and engage in academic discourse examining cultural issues, Earnhardt believed that universities offer spaces to discuss complex and culturally divisive issues.
Pfeiffer president Scott Bullard believes that Gene Earnhardt would have loved Candler's work. "Through photography and his speech, Candler encouraged our students to explore every inch of the American South, as well as the entire country, asking themselves hard questions about the cost of our modern lives, conveniences, and, ultimately, our forgetfulness. Moreover, in an era wherein local school boards and even state governments are considering censoring the list of books that children can read in public and even in private schools, Candler wants us to continue to ask ourselves difficult questions: questions like, for example, in what ways are we responsible for remembering and re-narrating both the positive and negative stories within our national and regional histories?" he said.
In a compelling presentation in Merner Gymnasium entitled "The Promise of American Guilt," Candler asked similar questions of about 400 students, faculty and other supporters of Pfeiffer. He even issued a few challenges: "The recognition of guilt can actually be a liberating kind of experience if you confront it honestly because it means that you have the opportunity to replace your idols with something true," Candler said. "And that's always a good and healing thing for human beings."
Candler made this last remark in an interview following the lecture. The address grew out of his work as a writer, photographer, and filmmaker for a website called A Deeper South, the material of which revealed itself to Candler and Dr. John Hayes, an Associate Professor of History at Augusta University, as they traveled together over many years down the South's backroads.
By "idols," Candler referred to those in American history that reflect "our tendency as human beings and as Americans to retreat to those kinds of stories where we feel comfortable."
"We tend to prefer constructed histories that favor our self-image," he added. "We love those versions of ourselves more than the truth."
By contrast, Candler's work in A Deeper South strives for "an honest and unflinching memory," even of things that make us uncomfortable. It recognizes that our gravest danger is "a willful amnesia" and "a culture of selective memory." Candler noted that academic exploration of our history must never come to be viewed as "beyond reproach, beyond challenge, and beyond interrogation."
Candler specializes in challenging the Southern "Lost Cause" narrative, which "claims a sense of moral purity in the Confederate cause." Although he sees the moral culpability of the South "as a particularly concentrated instance of national guilt," he's also quick to point out the moral culpability of the whole nation — as when, for example, during the 50th anniversary of the Battle of Gettysburg, in 1913, aging veterans from both the Union and the Confederacy shook hands over a barbecue and "kind of buried the hatchet." Black troops on the Union side were not invited to the gathering; Union and Confederate veterans had "buried the hatchet" on the unspoken agreement that this was a white man's country.
So, how do we move forward? Leaning on both his academic research and experiences during his travels, Candler offers at least two suggestions. The first is to heed the words in The White Man's Guilt, James Baldwin's essay from 1965, in which he wrote that people "who imagine that history flatters them are impaled on their history like a butterfly on a pin and become incapable of seeing, of changing themselves, or the world."
The second suggestion comes from novelist Wendell Berry, who urges white Americans "to finally be home with our real selves in the real world and to get down to a couple centuries of honest work."
"Knowing Candler and Berry, and the deep authentic places from which their work arises, whether you agree with their claims or not, it is the work of the university – and it was the joy of Gene Earnhardt – to bring those perspectives before our students," Bullard said.