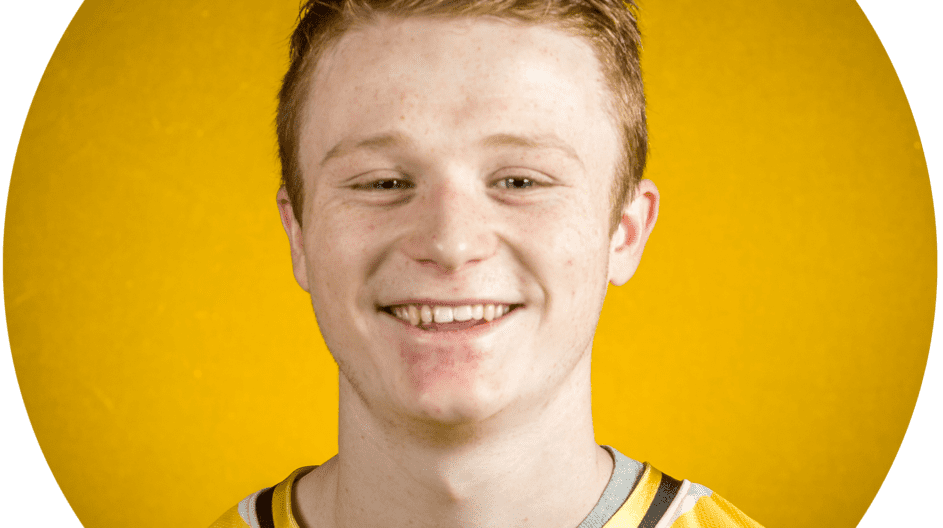 Jared Nelson '19: Pfeiffer for the Win
by campus
May 13, 2021
"There are some unbelievable opportunities at Pfeiffer University," Jared Nelson '19 raved recently. "If you take advantage of them, you can have an incredible experience."
Nelson's university resume bears this out.
Graduating early, he earned a B.S. degree in Business Management and Leadership in December 2019, compiling an impressive cumulative GPA of 3.8 in the process. He credited two Associate Professors of Business Management, Dr. Raushan Gross '09 MBA and Dr. Christopher Howard, with engaging him in interesting projects and challenging conversations.
"Those professors love teaching students," Nelson said. "That makes it a lot more enjoyable to be in class. And it makes doing the work a lot more enjoyable as well."
Nelson built on what he learned about business in the classroom by joining Pfeiffer's chapter of Future Business Leaders of America-Phi Beta Lambda. He and David Weir '18, '19 MBA of Belfast, Northern Ireland placed 1st at a Phi Beta Lambda-sponsored state competition, having impressed the judges with a marketing plan they were given just 10 minutes to devise.
In his extracurricular life at Pfeiffer, Nelson excelled as a Student Ambassador and as a Peer Mentor, and he starred on the men's lacrosse team.
Remarkably, Nelson's two head coaches for lacrosse were his father, Scott, and his brother, Tucker, who succeeded Scott when the elder Nelson retired. Such a scenario is extremely rare in college sports, and Nelson said it worked out well because both head coaches went out of their way not to show any favoritism toward him. Instead, "they pushed me just as hard as the other guys, if not harder," he said.
These days, Nelson is taking advantage of one last opportunity at Pfeiffer, having become a candidate for a Master of Business Administration (MBA) degree in 2020. And he's realizing several benefits because of it.
One benefit is common. Nelson, who hails from Vestal, N.Y., became a loan underwriter at Wells Fargo in summer 2020, shortly after earning his bachelor's degree. The MBA will help him progress at Wells Fargo and/or in outside medical sales, a career path that he has interest in pursuing.
Another perk of Nelson's decision to remain at Pfeiffer to pursue an MBA is much less common. After halting play in 2020 because of the COVID-19 pandemic, the NCAA granted another year of eligibility to any student-athlete pursuing a degree full-time. The waiver enabled Nelson to rejoin the men's lacrosse team, on which he played attack for four seasons beginning in 2017, served as a captain, and earned several honors.
The team has done exceptionally well this spring, and Nelson has made a significant contribution to this success. On May 1, for example, he broke the NCAA All-Division record for career assists as Pfeiffer won the USA South East Division title in a thrilling 13-11 win over rival Greensboro College at Lefko Field.
On May 8, he scored one goal and made four assists in Pfeiffer's 17-13 win over Piedmont College, helping the Falcons win their first USA South Conference title in program history. The win secured Pfeiffer an automatic bid into the NCAA Division III Men's Lacrosse Championship.
Nelson took a leave of absence from Wells Fargo to give himself more time to concentrate on lacrosse and his studies. After the lacrosse season ends, he plans to return to his old employer and begin considering ways to progress in his career.
He will also continue to advocate for his alma mater, having come to see it as the best possible choice he could have made when he started looking at colleges about five years ago.
"I always had a great experience in the classroom," he said. "I always had a great experience playing lacrosse. I live 20 feet away from my best friends, and because Pfeiffer is a small school, I have hundreds of friends. What else could I get out of another university when I'm so happy and comfortable here?"
---
Ken Keuffel, who authored this article, has served as Pfeiffer's Assistant Director of Communications since December 2019. He welcomes story ideas from Pfeiffer's faculty, staff, students, alumni, and friends. The form for submitting story ideas is at Story Idea/News Item Request Form.