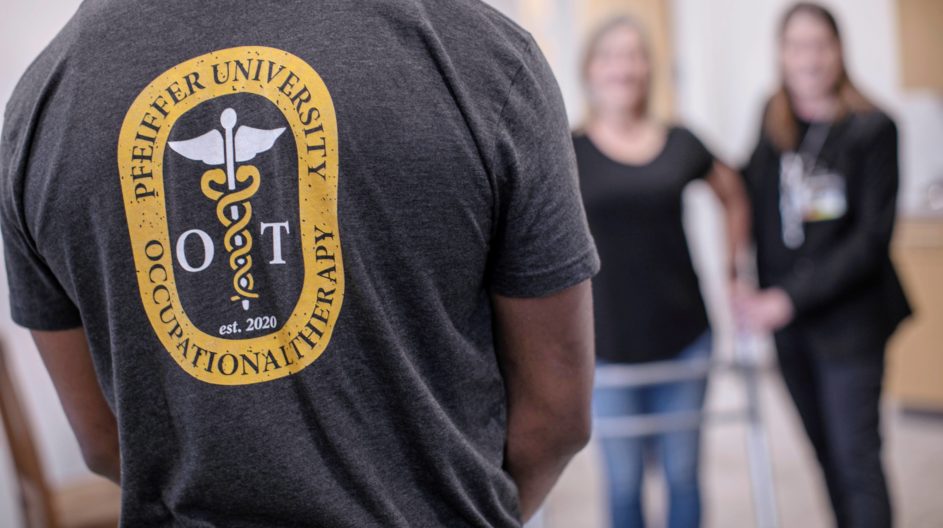 First Scholarship to Support Pfeiffer OT Students Established
by Ken Keuffel
Jun 30, 2023
Albemarle, N.C. (June 22, 2023) – The Ellen M. Snyder Endowed Scholarship, the first scholarship fund established to assist students of Pfeiffer University's Master of Science in Occupational Therapy (MSOT) program, will issue inaugural awards this fall.
Albemarle's Michael E. Snyder (who goes by Mike) and his wife, Karen, created the fund with a gift of $125,000 via the Michael E. Snyder Family Foundation. The Snyders are encouraging others to add to the scholarship or establish scholarship funds of their own in support of Pfeiffer's MSOT students. The MSOT program has operated in the Center for Health Sciences (CHS) on East Main Street in downtown Albemarle since 2020 and recently became fully accredited through 2030.
"It is an honor to have such a wonderful scholarship to further the growth of the occupational therapy profession by providing future OT practitioners with resources and support financially," said Dr. Crystal C. Gaddy, an assistant professor in the MSOT program who serves as its Interim Program Director.
"The Ellen M. Snyder Endowed Scholarship will greatly benefit Pfeiffer University's occupational therapy master's program in that it will maximize and provide scholarship assistance to passionate, incoming occupational therapy students. It will enable awarded students attending this graduate program to focus and thrive on their journey in leading productive and purposeful lives in their service to others within health care."
Mike Snyder strongly supports Pfeiffer's efforts to train occupational therapists, having recognized that there's a real need for them, particularly in the largely rural areas in and around Stanly County. He has been actively involved in the fundraising committee for the CHS since the group was formed in 2019. He named The Edward J. Snyder, Sr. Community Room in the CHS in memory of his father (d. 1969), who ran E.J. Snyder & Company, Inc., a textile dying and finishing company that operated on Snuggs Street from 1956 until its closure in 2005. Mike Snyder and his two brothers, now deceased, took over leadership of the company after their father stepped down.
Ellen Snyder, Mike's daughter, has been an adult and geriatric nurse practitioner at Atrium Health Primary Care Albemarle Family Medicine since 2016. Between 1997 and 2016, she served as the Director of Cardiac and Pulmonary Rehabilitation at Stanly Regional Medical Center in Albemarle. In this role, she developed and implemented a cardiac rehab program in 1998 and she developed and implemented a pulmonary rehab program in 2011.
"Ellen has done a lot of great work in the community," Mike Snyder said. "She's been very, very good at what she does, and I thought it would be appropriate to honor her and her achievements with a scholarship in her name."
Ellen Snyder said she was "extremely honored" that a scholarship was named for her.
"I've been involved in healthcare in a number of ways for many years," she said. "I'm very proud to be associated with Pfeiffer University and with efforts to help anyone who wants to pursue a career in occupational therapy. I think this is wonderful."
The Ellen M. Snyder Endowed Scholarship will be awarded to students who excel in their studies, show financial need, and maintain a grade point average of 3.0 or higher. The scholarship is renewable as long as the recipient continues to meet the award criteria. First preference will be given to students of the MSOT program who have financial need. If multiple applicants have equal financial need, then preference will be given to candidates who are originally from Stanly County.
To contribute to the Ellen M. Snyder Endowed Scholarship or to start a scholarship benefitting Pfeiffer University's Master of Science in Occupational Therapy program, contact Jo Ellen Newsome, VP of Institutional Advancement at 704-463-3222 or joellen.newsome@pfeiffer.edu.