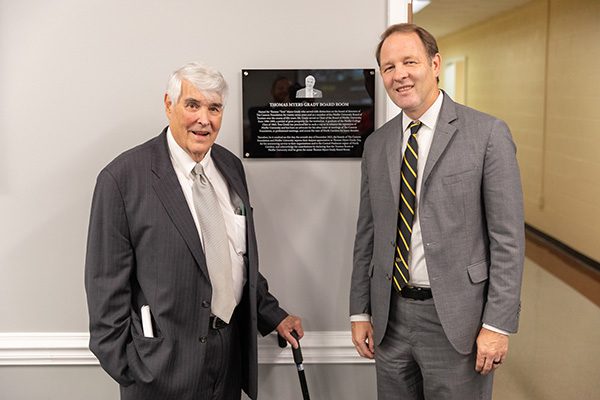 Board Room Dedicated in Honor of Alumnus Tom Grady '63
by Ken Keuffel
Jun 30, 2023
For most of its undergraduates, Pfeiffer University's campus becomes a second home for four years, after which students move on to graduate studies or careers in a range of fields.
But for Tom Grady '63, a Concord, N.C.-based general practitioner attorney for whom the Thomas Myers Grady Board Room at Pfeiffer was recently named, the University would remain a second home for far longer. Grady remained deeply engaged and provided his alma mater with what Pfeiffer President Scott Bullard has called "untold service…and acts of kindness." In honor of his contribution, the Thomas Myers Grady Board Room, located in the Stokes Student Center, was dedicated on June 9, 2023, following a recent renovation of the space.
Grady's association with Pfeiffer is remarkable. He is among the youngest appointments ever named to Pfeiffer's Board of Trustees, having joined the board in 1972, just nine years after he earned his undergraduate degree. His steady service as a trustee over the course of 50 years included leadership as chair from 1996 to 1999 after Pfeiffer was newly accredited as a University.
In 2005, Grady was named Trustee Emeritus, a title he shares with only a small group of others.
Grady also sat for 27 years on the Board of Directors of The Cannon Foundation of Concord, N.C., which honors the philanthropic legacy of Charles A. Cannon (1892-1971) by supporting healthcare, higher education, human services, and community.
Cannon joined Pfeiffer in honoring Grady for his service. The foundation named him Director Emeritus and supported the board room renovation in his honor.
Grady called the "joint deal" of being honored by Pfeiffer and Cannon "one of the biggest honors I've ever had."
"Nothing's been bigger in my life, except my marriage, my children, and my grandchildren," he added. "It has meant an awful lot to me."
And Grady has meant an awful lot to Pfeiffer – a truth that speaker after speaker, from former classmates to recent Pfeiffer graduates, underscored at the dedication ceremony. Don Maddox '64 (who served as District Judge for the 5th Judicial District in New Mexico for 10 years before his retirement in 2010) and Bobby Griffin '62 (who still practices in Monroe, NC, and was inducted into the North Carolina Bar Association General Practice Hall of Fame in 2017) joined Grady, also a Hall of Fame member, as the first three Pfeiffer grads to attend the Wake Forest University School of Law. Maddox reminded Grady of this distinction and congratulated his former classmate in a recorded video message.
Their success at the law school established Pfeiffer's reputation as a feeder school for subsequent generations of students. These include John Payne '20, a current Wake Forest Law student who congratulated Grady and thanked him for paving the way for others.
Grady developed his own practice niche in motorsports. He has a longtime association with NASCAR drivers, crew chiefs, and owners, for whom he has drawn up scores of legal documents, and his friendship with Richard Petty, the famed former stock car racing driver, led to Petty's service on Pfeiffer's Board of Trustees.
To be sure, Grady has enjoyed a long and storied career in service to both Pfeiffer and The Cannon Foundation.
"It's been an honor and privilege to have been associated with both the Pfeiffer and Cannon boards," he said. "Not many people have been as fortunate as I have been, to have had two things like that happen during a lifetime. Both of them have been wonderful experiences for me."