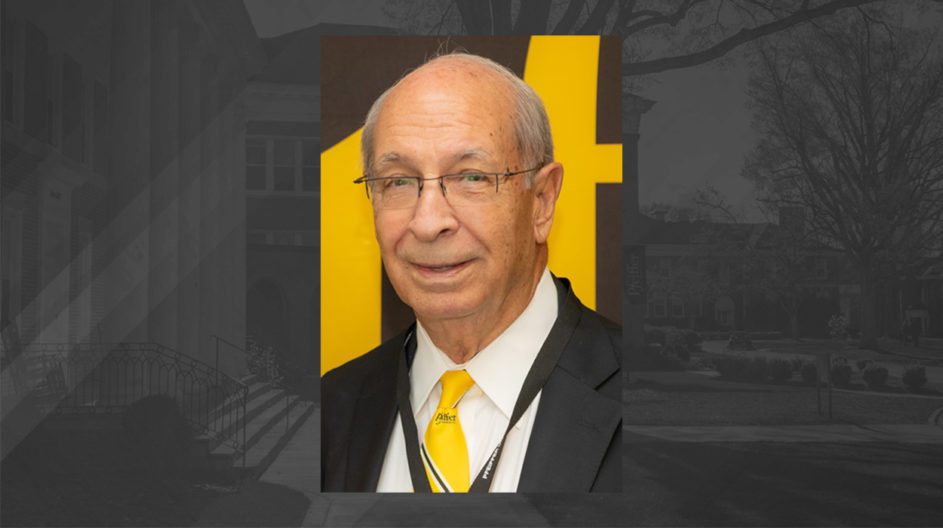 Brietz Named Outstanding Alumnus
by Ken Keuffel
Sep 13, 2022
Bob Brietz '65 will receive Pfeiffer University's 2022 Outstanding Alumni Award on October 1, 2022, during Pfeiffer's Homecoming festivities.
"It's a real honor and very meaningful to me," Brietz said from his home near Charlotte, N.C., where he also grew up. "I'm very appreciative."
Pfeiffer is also appreciative of Brietz. A longtime generous financial supporter of the University, he served with distinction on its Board of Trustees from 2009 through 2020. His tenure included service as Chairman of the Finance Committee (2015-2018) and Chairman of the Board (2018-2020), and his leadership played a key role in guiding Pfeiffer through several daunting challenges to a much sounder financial footing.
"Pfeiffer is very fortunate to have benefitted from Bob's service as an alumnus and a trustee," said Pfeiffer President Scott Bullard, who began his tenure as Pfeiffer's 11th president during Brietz's service as chairman of the Board of Trustees. "Many speak of being dedicated to something that they love such as their alma mater, church or other non-profit organization, but few people embody that love with as many hours and as much passion as Bob Brietz."
In 2018 alone, Brietz logged over 400 volunteer hours on Pfeiffer's behalf. That's quite a commitment, and when Brietz reflects upon it, he says a strong desire to help strengthen his alma mater was his principal motivation.
Following graduation from Pfeiffer College with a B.S. degree in accounting, Brietz landed work as a Senior Accountant at Coopers & Lybrand of Charlotte, which became PwC after its 1998 merger with Price Waterhouse. He eventually moved to Bank of America where he held several Senior Vice President positions, concluding his successful career as Senior Vice President and Supervisory Support when he retired in 2021.
"Pfeiffer provided an excellent education for me to launch my professional path," Brietz said. "It served me well during my 56-year career."
Brietz's love for Pfeiffer goes way beyond what it did for him professionally. It was on campus, for example, that he met his wife, Jane Cashion Brietz '68, when she was a freshman and he was a senior. They got married at the end of Jane's junior year.
"I messed up her college career," Brietz joked recently. "But it worked out well because we've enjoyed 55 wonderful years of marriage."
These days, Brietz is content to continue supporting Pfeiffer but in a manner that allows him "to slow down a bit." He frequently attends home athletic contests, concerts, and other favorite events on campus. And, whenever he gets the chance, he encourages fellow alumni to give back to the University and stay involved. He's following Pfeiffer's evolution and recent accomplishments closely, with the pride of a former Board chair who wasn't just content to lead from afar. "I love Pfeiffer, and the future looks bright," Brietz said. "I'm privileged to have been a part of that."