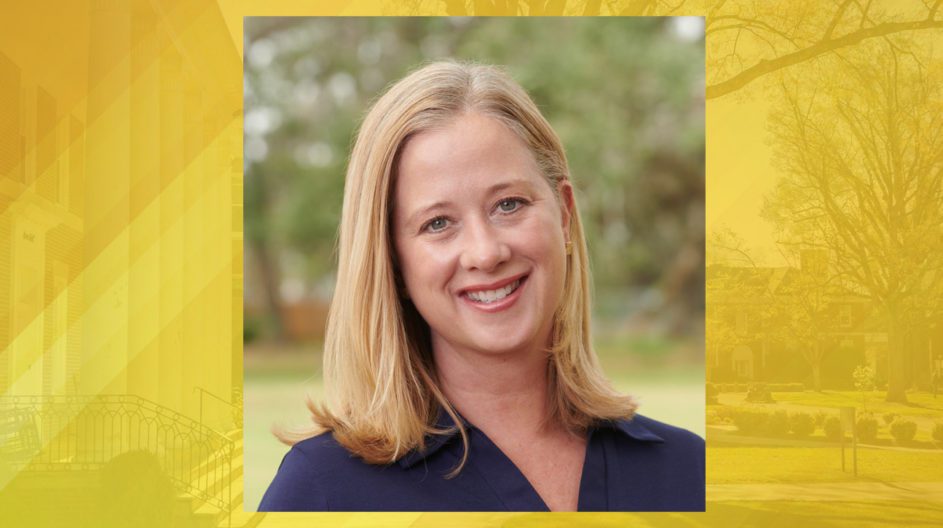 Alumna Novelist Makes Her Ghostly Debut
by Ken Keuffel
Jul 14, 2022
When Laura Hickey Michaud '94 of New Orleans first enrolled at Pfeiffer College, English, her major, was offered in two iterations: English-Literature or English-Writing Studies. Michaud, who wanted to write professionally, chose the latter, and this past March, the seeds of that decision bloomed in a significant way when her first novel, The Ghostwriter of New Orleans (Pelican Publishing), was published.
Being a published author "feels great," Michaud said. "I've always written because it's just something I really enjoy doing. It's something I've always done for myself, with the ultimate goal of being published some day."
In Ghostwriter, the soul of teenager James is transported to the familiar hallways of his New Orleans high school after he dies in a car wreck. "As he struggles to make sense of his new existence, he learns that there are others like him, ghosts who haunt the school, who claim they are there to protect the students and the precarious balance between life and death," a book description reads.
"James only knows that he misses his girlfriend, Margot. He spends his days watching over her as she grieves his loss. Desperate to reconnect with her, he begins leaving her notes within the pages of her favorite book. But there are consequences to his interference, and when James learns there may be a way to return to the living, he makes it his mission to reunite with Margot, no matter the cost."
Ghostwriter also looks at the consequences of the choices made by each of its characters. It exemplifies Young Adult (YA) fiction, a popular genre, and it is the first installment in a projected series that Michaud hopes will appeal to readers aged 13 to 17 and become a "crossover" favorite among older ones. Michaud is also a librarian at Metairie Park Country Day School in Metairie, LA, so some of the first people to read Ghostwriter will be among that institution's students.
"I love working with kids," Michaud said. "I love being a librarian and exposing children to books. I just feel like I'm enjoying a really nice balance in my life right now."
Michaud, who's originally from the Northeast, first attended Pfeiffer for a few years beginning in 1990. She completed her degree at a later date. She enjoys several ties to Pfeiffer: Her brother, Stephen Hickey '80, is an alumnus, and she met her future husband, Marc Michaud '93, when the two were students at Pfeiffer in the early 1990s. She and Marc have two children, Maddie and Charlie.
Michaud has dedicated Ghostwriter to her husband and her children, thanking them for giving her "writing time," which was sometimes difficult to find in a busy schedule that included work and parenting responsibilities.
The book is also dedicated to the late Dr. Alan Randall ("Randy") Clark, who taught Communications at Pfeiffer University.
Clark, who was teaching at Clayton State University near Atlanta when he died last year, was hired as an Assistant Professor of Communications (now called Communication Studies) at Pfeiffer in 1992 and taught there until 2000. The Communications major replaced the English-Writing Studies major, and Clark developed its curriculum. He also authored At a Theater or Drive-In Near You: The History, Culture, and Politics of the American Exploitation Film (1995).
Michaud called Clark "an incredible human being," whose "kindness and wisdom touched me and so many other students." She said he was very encouraging to her when she needed it most, namely after her father was in a very bad car accident during her freshman year.
"Even after I left Pfeiffer, Randy kept in touch and just told me to keep writing," Michaud said. "He believed in me. I always wanted to be a writer and he knew that, and he just never let me forget that that's what I should be doing."