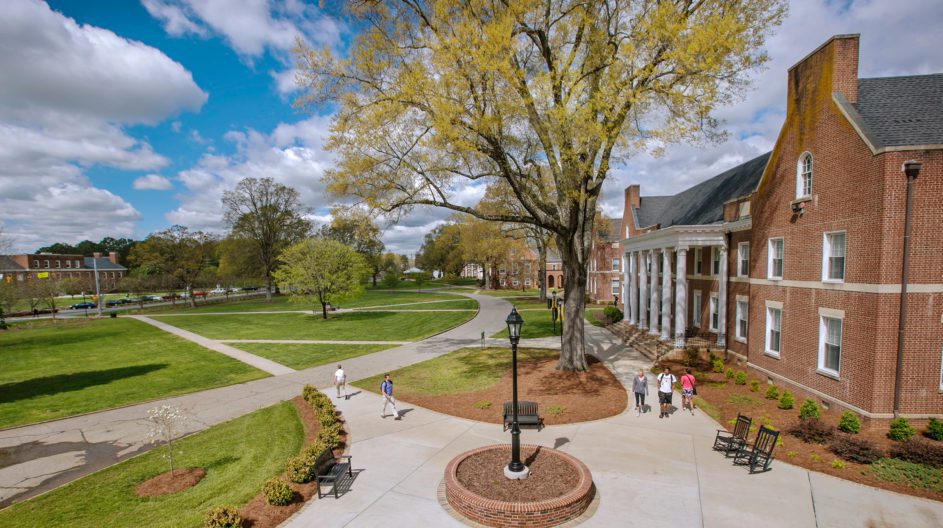 SACSCOC Finds Pfeiffer "In Good Standing" – University Deemed Fully Compliant
by Pfeiffer University
Jun 22, 2022
After a thorough review of Pfeiffer University's policies, practices, and finances, the Southern Association of Colleges and Schools Commission on Colleges (SACSCOC) has deemed Pfeiffer University compliant with the Principles of Accreditation. Pfeiffer University remains fully accredited and is in good standing.
The review was the result of the institution's financial results between 2015-2019, and included a visit to Stanly County and Pfeiffer's campuses by a team of SACSCOC reviewers in May. This was followed by a mid-June trip to Tampa, Florida for a team of Pfeiffer administrators and trustees who were given an opportunity to present Pfeiffer's progress in recent years to members of the SACSCOC board of trustees and others. Pfeiffer's team was representative of trustees, employees, and alumni. While in Tampa, the SACSCOC board determined that Pfeiffer University has demonstrated sound financial resources, a stable financial base to support the institution's mission and the scope of its programs and services, and responsible management of its financial resources.
Pfeiffer University President Scott W. Bullard said, "At our core, we remain committed to our mission of producing servant-leaders through interaction with engaged faculty and staff, exposure to the liberal arts through our general education curriculum, and participation in academic majors that lead students to become experts in one or two particular areas. However, for the last three years, Pfeiffer has embarked upon an ambitious effort to improve the efficiency of our operations and align expenditures with revenues, even while making new investments in cutting-edge programs. We are not finished with that effort, but today, Pfeiffer is a more vital, healthier institution because we have committed to being on that journey."
"I am very grateful to our faculty, staff, trustees, alumni, and our students and families who have continued to believe in, and advocate for, Pfeiffer over the past three years," Bullard said. "Like all journeys, there have been obstacles along the way. Throughout this time, we have continued to produce teachers, nurses, physician assistants, business leaders, ministers, experts in cybersecurity, and other professionals for our region, and we have continued to place students in some of the country's finest graduate programs."
Pfeiffer University was under monitoring by SACSCOC for two years before being placed on probation for being deemed out of compliance with Core Requirement 13.1 (Financial resources) and Standard 13.3 (Financial responsibility).
"We identified a path to improve financially and consistently balance our budget year after year," Board of Trustees Chair Joy Melton said. "I would like to thank Pfeiffer's previous board chairs, fellow trustees, and President Bullard and his team for their persistence and commitment in the face of significant adversity."
Melton is excited for Pfeiffer's future, noting, "We are growing in areas like Physician Assistant Studies and Health and Exercise Science. Key metrics indicate that our Nursing school is one of the strongest in the state. We have a new program in instrumental music and have made new investments in the area of campus ministries. We will continue to meet our region's and state's academic needs for many years to come."