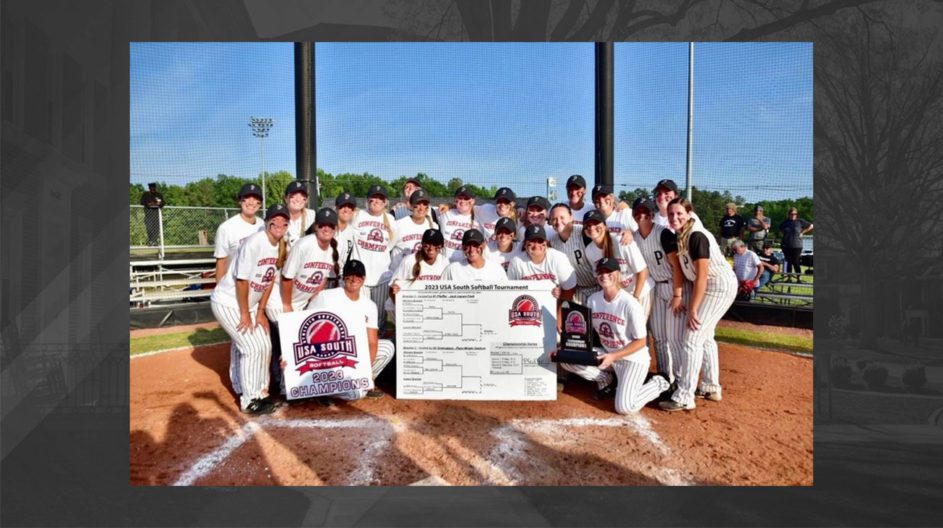 Team 34 Wraps Outstanding Year with Softball Conference Championship
by Ken Keuffel
May 30, 2023
The stars of Pfeiffer University's 34th softball team had much to celebrate this past spring.
On May 12, the Falcons' Emma Chopko '25 belted a two-run homer in the first inning of the first game of a doubleheader in which Pfeiffer swept Greensboro College to capture the USA South Championship. The blast was one of many by Pfeiffer batters during an afternoon that also saw stellar pitching by Pfeiffer's Kali Morton '24 over two games.
As USA South champs, the Falcons gained an automatic bid into the NCAA Division III Softball Tournament. They would advance to the NCAA Regional Championship game with a 6-3 win over No. 20 Rowan University. That victory forced a second championship game, in which Rowan claimed a 5-3 win.
Monte Sherrill '87 completed his eighth season as the head coach of Pfeiffer's softball team by compiling a 35-13 record. He acknowledged that obvious factors (e.g., great hitting, pitching, and fielding) accounted for a stellar season: "To play at the collegiate level, you have to be talented, and we're very, very talented."
But he stressed that far more explains his program's success, from perfecting "the smaller parts of the game, the nuances that a lot of fans don't see" to focusing on the team above all else.
"We're putting aside individual goals for what's best for our unit," Sherrill said, echoing values he came to embrace during a stint in the U.S. Marine Corps. "We're very mission-oriented and focused on the task at hand, and the players have bought into that philosophy during my time at Pfeiffer."
Several players painted a picture of complete commitment to the Sherrill way, which owes a lot to the late Joe Ferebee, the legendary coach for whom Sherill played baseball during his student days at Pfeiffer.
Chopko said that she and her teammates "really are in it for the whole team." This means, for example, that an older starter might help a younger reserve master her position or simply become a source of support outside of practice hours.
"That's something that I've never seen in another team culture before," she said.
Gretchen Wolpert '25, who plays first base and catcher, likened her team to "a military unit" in which everyone fulfills a role for the betterment of the group, whether she's on the field or not. The roles extend to uncommon areas: Before home games, for example, each member of the team pitches in to ready the field for play because there are no groundskeepers.
"Everyone has a certain (field-maintenance) responsibility," said outfielder Gracie Griffin '25. "And because of that, everyone becomes a leader in their own way."
Wolpert stressed that her team always focuses on "controlling the controllable and moving away from things we can't control."
One thing that's always in the Falcons' control, it seems, is the intensity of their practices. Wolpert, a Sport Management major from Ambler, Pa., called them "the hardest you'll probably ever see in your life," with players focusing on everything from the finer points of rundowns to a pickoff play in which an opposing team's runner is thrown out on second base, having been lulled into thinking that the catcher will always throw to the pitcher.
"We always keep moving," Wolpert said. "The drills don't stop." And some of the drills are amazingly demanding: In one of them, the entire team stands in the outfield waiting to catch popups hit to them by a coach. The drill isn't finished until 10 popups are caught in a row.
For Griffin, such demands were a small price to pay for the great experience she enjoyed on Pfeiffer University's 34th softball team.
"I couldn't be any more thankful to be a part of Team 34 this year," she said. "It was my favorite team that I've played for. There have been a lot of memories that I've made with the team. This team is special."