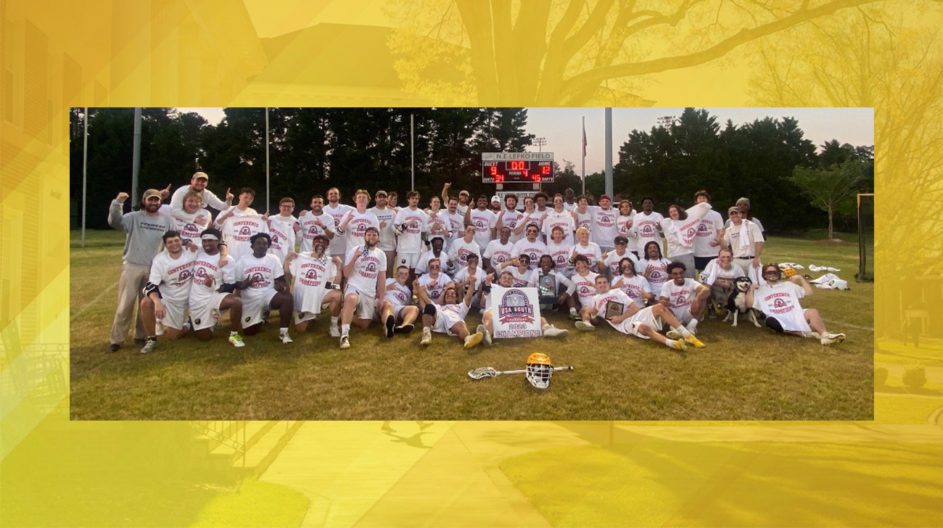 Men's Lacrosse Achieves Champion Season with Grit, Strong Bonds
by Ken Keuffel
May 30, 2023
On May 6, the Pfeiffer University men's lacrosse team captured the USA South Championship with a 12-9 win over Southern Virginia University (SVU) in front of a raucous crowd at Lefko Field on Pfeiffer's Misenheimer campus. The victory became the most memorable highlight of an excellent season in which the Falcons fielded two All-Americans (Kendall Jones '23 and graduate student Jaylin Jones), posted their best record in program history (16-2), and played in the 2023 NCAA Division III Men's Lacrosse Tournament.
Tucker Nelson, the head coach of men's lacrosse at Pfeiffer, opted not to offer his players extensive commentary at halftime of the game against SVU, in which SVU gained a 5-4 lead with a goal just one second before the halftime buzzer.
"We always tell our guys, 'Life's going to be tough. You're going to have to go through a lot of tough things. But tough guys usually make it through.' So, I simply challenged them to be tough," Nelson said.
Those few words would work like a dream. Pfeiffer came out hot in the third quarter, stringing together five straight goals to build the lead to 9-5. Southern Virginia would get no closer than two goals short of a tie score the rest of the way, with graduate student Treven King of Pfeiffer capping the game with a score one second before the final horn, providing the 12-9 final.
King remembers Nelson communicating the idea that the Falcons could play much better. "That snapped a lot of guys back into motion," King said. "A bunch of leaders stepped up."
The toughness that fueled the success of men's lacrosse rested on a multifaceted foundation. Rod Brown, Pfeiffer's Strength & Conditioning/Sports Ministry Coordinator, "really got us to another level physically," Nelson said. The weight training proved to "be an advantage throughout the course of the season," he added. "It prevented injuries, and we were able to have sustained success."
And even when key players (like face-off specialist Tucker Hill, a graduate student) were injured for a time, reserves filled in for them in exemplary fashion.
Hill and other players credited Nelson for recruiting players whose contributions could make a critical difference. This was particularly apparent on the defensive end of the field, where the two aforementioned All-Americans named Jones (no relation) assumed starring roles.
"We had a lot of leadership from the defensive side of the field," said Jaylin Jones, a defensive midfielder. "We just kind of played as one whole unit. We played together. A lot of guys played well together. Basically, we resolved to do as much as we could to keep the games as close as we could so that the offense could get as many opportunities as possible."
Several players on Pfeiffer's men's lacrosse team credited their success with an ability to bond well both on and off the field. The bonding took many forms. Hill, a prized recruit from suburban Rochester, N.Y., described one of the most memorable: Pfeiffer's loss to SVU in the 2022 USA South Championship game sparked a unified desire for revenge — so much so that when players on the 2023 men's lacrosse team began exchanging texts, they did so via a group chat named "The Revenge Tour."
"Everyone was hungry," Hill said. "Everyone wanted to win. And that's exactly what we did."