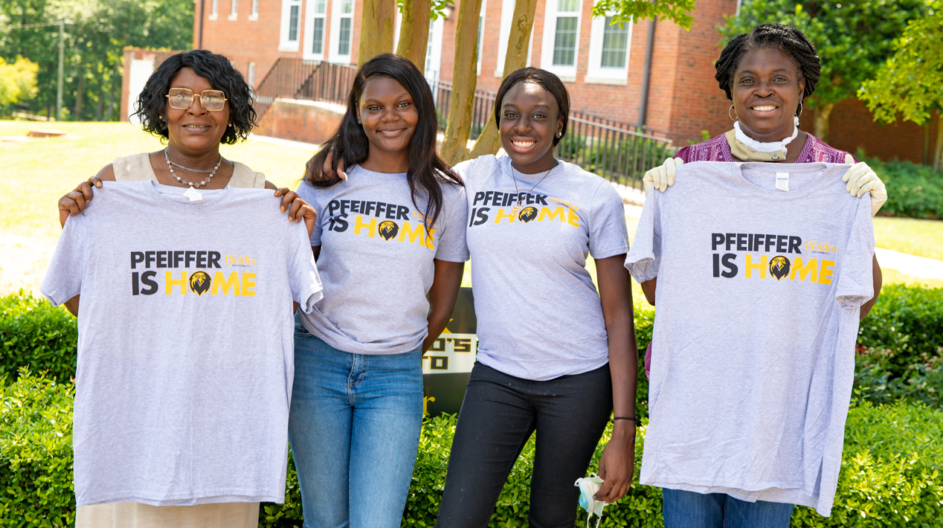 Recruiters Meet Student Prospects in Person Again: Alumni Scholarship Available for Family Members
by campus
Sep 28, 2021
Counselors from Pfeiffer University's Undergraduate Admissions department hit the road on Sept. 13 with the goal of recruiting prospective freshmen and transfer students. They'll plug the university through Thanksgiving at various in-person events, including 89 college fairs in North Carolina and another 34 in South Carolina.
This business-as-usual activity is a welcome contrast to last year, when the COVID-19 pandemic put all face-to-face recruiting on hold, causing a negative impact on enrollment numbers.
"We're really pushing the admissions team to get in as much face-to-face recruiting as possible," said Emily Carella, the Vice President of Enrollment Management at Pfeiffer. "We're hopeful that if we can finish out a travel season, we should be able to deliver an enrollment number for Fall 2022 that we can all feel good about."
Undergraduate Admissions has also scheduled several events for prospective students on Pfeiffer's Misenheimer campus through the spring of 2022.* Carella urged Pfeiffer alumni and friends to encourage any prospective students they know to attend. Prospective students who visit Pfeiffer are "three times" more likely to attend the University than those who don't, she said.
Carella stressed that a $2k-a-year alumni scholarship is available to any student with Pfeiffer alumni in their immediate family. Currently, there are 46 recipients of alumni scholarships; eight are freshmen in the incoming class for the current academic year.
*Click here to register for the following on-campus events, geared for prospective students:
Falcon Preview Days during the 2021-22 academic year will be held Dec. 11 and Feb. 12.
Each Preview Day runs from 9 a.m. until 1 p.m. Attendees can learn about campus life, internships and servant leadership from students, faculty, and staff. They can find out more about the University's academic programs and tour its Misenheimer campus. The aim is to get a sense of the Pfeiffer experience. Check-in starts at 8:30 a.m.
Drop-in Events will be Oct. 30, Nov. 13, Jan. 22, and March 19.
Attendees may come at their leisure to these floating-style events from 10 a.m. to 2 p.m. Prospective students can meet with Admissions Counselors, tour campus, see a residence hall, grab a snack, and have their picture taken with Pfeiffer's mascot, Freddie the Falcon.
Accepted Students Day will be April 30.
Attendees can meet and hear a welcome address from Dr. Scott Bullard, the University's President. The day will also feature lunch and games, along with opportunities to meet classmates and to join student clubs and organizations.
---
Ken Keuffel, who authored this article, has served as Pfeiffer's Assistant Director of Communications since December 2019. He welcomes story ideas from Pfeiffer's faculty, staff, students, alumni, and friends. The form for submitting story ideas is at Story Idea/News Item Request Form.