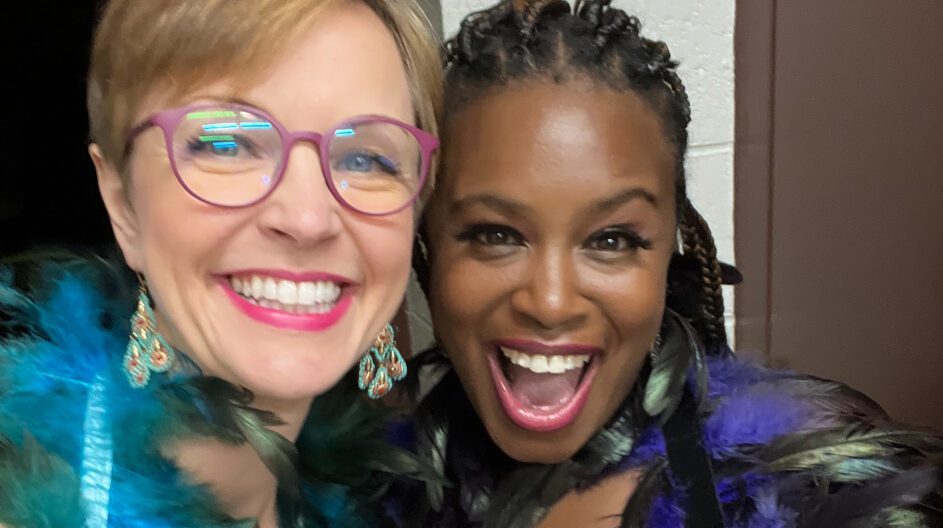 Professors Dance with the Stars for Butterfly House
by Ken Keuffel
Sep 28, 2023
Professors Dance with the Stars for Butterfly House
On Sept. 9, two professors in Pfeiffer University's Master of Science in Occupational Therapy (MSOT) program looked ready for Carnival of Brazil, having donned colorful tight pants and tops adorned with feathers.
Dr. Paula Graham and Dr. Crystal Gaddy, also MSOT's Program Director, showcased their samba skills as a duo in "Stanly County Dancing with the Stars," the annual fundraiser that benefits the Butterfly House Children's Advocacy Center of Atrium Health Stanly. As is the case with the "Dancing" shows on television, the professors aimed to win over a panel of three judges who would eventually pick a winning act.
"We're always telling our students that they have to be comfortable with being uncomfortable," Graham said before she and Gaddy appeared in the "Dancing" presentation, which took place at the Stanly County Agri-Civic Center. "We're leading here. We're leading the way."
Discomfort was not apparent when Graham, a shag dancing enthusiast, and Gaddy, who often makes Zumba a part of her exercise routine, executed steps with precision and energy. Maddie Cook '23 MSOT had choreographed the duo's routine, drawing on her experience as a dance professional. Gaddy and Graham, also MSOT's Community Clinic Coordinator and Lab Assistant, praised Cook for empowering them with positive feedback during rehearsals.
The Graham-Gaddy duo moved to the catchy music of a Portuguese-language pop tune as pictures of Rio De Janiero flashed on a large screen behind them. All this was in keeping with "Come Fly with Me," the theme of the 2023 "Stanly County Dancing with the Stars" presentation, in which contestants sought to transport the audience to distant places.
"I do like to dance," Gaddy said. "It's one of my hobbies I do when I'm not teaching and directing the OT program. I said, 'Why not?' We also helped raise awareness of the OT program at Pfeiffer and the role it plays in Stanly County."
Gaddy and Graham's participation in "Dancing with the Stars" sparked a hoped-for servant leadership among the OT students, who sponsored the Gaddy-Graham team by raising over $350 in its name. That was the largest share of the $2,000 in total sponsorship money raised for the duo.
Pfeiffer's appearance in "Dancing with the Stars" underscores the closer ties that its MSOT program is forging with Butterfly House. It is Gaddy's aim to formalize an arrangement that would enable Pfeiffer's MSOT students to engage in fieldwork there.
"The students will learn how they can advocate for and serve children who have experienced adverse situations," she said. "They'll also educate Butterfly House's stakeholders on the role that OT can play in healing these children and returning them to lives of normalcy."