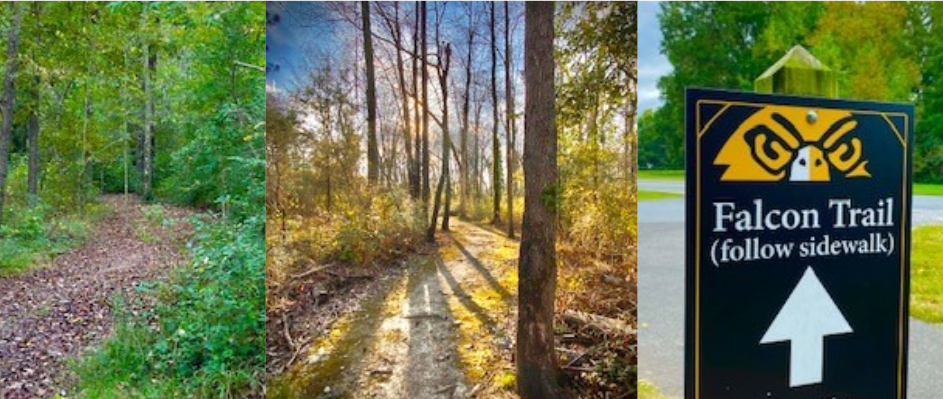 Phase 2 of Falcon Trail Construction Set to Start
by Ken Keuffel
Apr 19, 2022
Since its first section opened in 2016, the Falcon Trail has been one of the great attractions on and near Pfeiffer University's campus in Misenheimer, N.C. Work on the second of the trail's three planned sections will begin in a matter of weeks, providing an additional 2.5 miles through Richfield for hikers, walkers, and bicyclists in Stanly County.
The trail is named for the Pfeiffer University mascot. It now connects Misenheimer with Richfield over a stretch of 2.7 miles. When completed, it will link Misenheimer and Richfield with New London.
Dr. Mike Riemann '70 (Hon.) '10 (Hon.), Professor Emeritus of Chemistry at Pfeiffer, is a driving force behind the ongoing construction of the Falcon Trail. He has secured $100k of a needed $180k for a trail extension through Richfield near the edge of New London that will be named in honor of H. Thomas Webb, III.
Webb, the retired President and CEO of Faison, served on the Governing Board of the Carolina Thread Trail regional network of trails, of which the Falcon Trail is a part. The funding is part of $752,500 that the Carolina Thread Trail earmarked this year for expanding and advancing public trails across 15 counties in North and South Carolina.
"We're excited to get the $100k," Riemann said. "That puts us well on the way to completing the Webb section."
The Webb section will extend the completed stretch of the Falcon Trail from Richfield Park so that it crosses N.C. Highway 49, connects to Main Street, and continues to Deese Street. After that, the trail will end at U.S. Highway 52, having looped through New London Memorial Park.
The first section of the trail begins at the intersection of U.S. Highway 52 and Wesley Chapel Road in Misenheimer, runs through the Pfeiffer University campus and other parts of Misenheimer, and ends at Richfield Park. It has plenty to offer visitors: several bird and plant species, a pond, and two bridges, one of which leads to an island on the pond with a picnic table. It has provided the first connector between Pfeiffer's Merner Gymnasium and Richfield Park, giving Pfeiffer's students and staff easy access to what's been described as an "idyllic place to walk, run and mountain bike."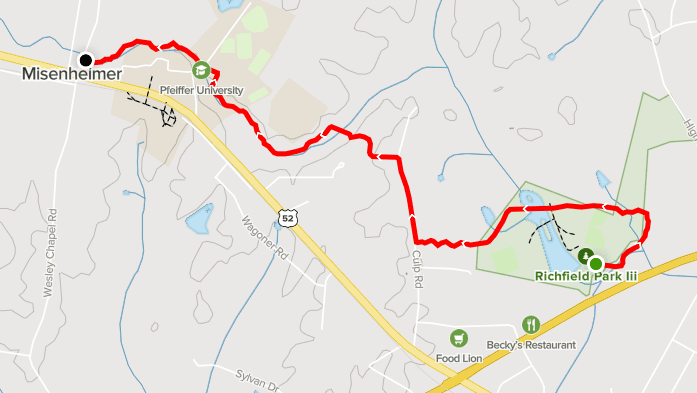 Gary Weart '71, now a resident of Richfield, is a staunch supporter of the Falcon Trail. He walks it round trip at least three times a week, beginning his journey at the trail's Richfield Park entrance. Weart, an inveterate photographer, often takes shots of what he sees along the way, including farmland, woods, and waterfalls.
"There are woodpeckers in the trees right now," he said. "Things are starting to green up and bloom. And it's just spectacular in the fall when the leaves are turning. It's a good walk."