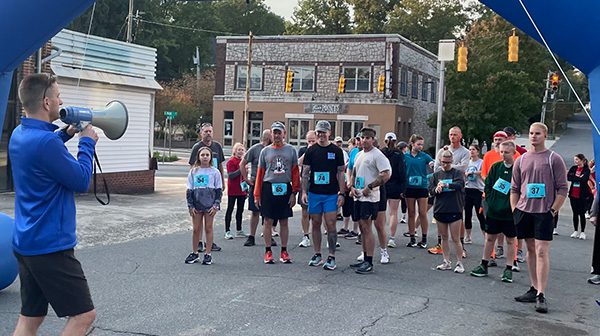 Pfeiffer's PA Students Launch 5K Run for Charity
by Ken Keuffel
Oct 27, 2022
Students in Pfeiffer University's Master of Science in Physician Assistant Studies (MS-PAS) program organized and participated in a recent 5K run that raised $3,500 for Stanly County Partnership for Children (Smart Start).
The Student Government Association of MS-PAS had the idea for the run, which will take place annually and benefit local charities. The inaugural run, which took place Oct. 8, started at the Center for Health Sciences, the Albemarle, N.C. home of MS-PAS, and continued through several of the city's neighborhoods. Sixty people participated in the run, and 10 of them were MS-PAS students.
Chanelle Brusseau '24 MS-PAS served as the student leader of the run. She and fellow classmates in the Class of 2024 cohort lined up sponsorships from friends, family members, and many local businesses.
"The run is a way to give back to the Albemarle/Stanly County community," Brusseau said. "We want to thank them for being involved in the growth of the MS-PAS program. We appreciate the many businesses and individuals who supported the run."
Tammy Albertson '91, the Executive Director of Stanly County Partnership for Children, expressed appreciation for the donation, which will be used to support programs and services focusing on the birth-to-five population in Stanly County. "We are extremely grateful to be chosen as the beneficiary of the first Pfeiffer University Physician Assistant Program 5K," she said. "The students in the program were so welcoming on the day of the event. As a Pfeiffer alumna, I appreciate the local support and partnership we have with the University. We look forward to future opportunities to collaborate."