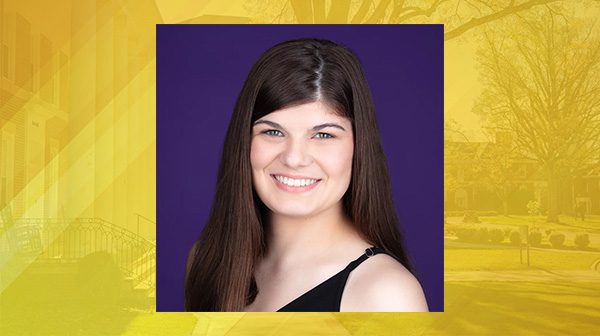 Current English Major Now Published Author
by Ken Keuffel
Oct 27, 2022
Many English majors entertain hopes of becoming a published author, but when Louisa Parrish '23 of Denton, N.C. graduates from Pfeiffer University next spring, she will be able to say that her dream has become a reality. As she started her senior year, she completed the first installment in a planned series of fantasy novels.
Artifacts of Fae (IngramSpark), Parrish's first book, went on sale in August 2022 under the pen name of Lucia Jex-Blake, just as the current semester at Pfeiffer was beginning. It emerged after Parrish learned that she qualified for a grant from Make-A-Wish of Central & Western North Carolina that could finance the book's production. Make-A-Wish funding enabled her to pay for an editor and the graphic designer who created the book's cover. Parrish has been diagnosed with cystic fibrosis; Make-A-Wish grants wishes for children with "critical conditions" such as hers, not necessarily terminal ones.
Parrish, who is also the Editor-in-Chief of The Phoenix, Pfeiffer's literary journal, aspires to live off the money she makes from writing novels.
"The Artifacts project was a nice way to jumpstart my career," she said. "I could get my first book behind me and start marketing my work while I'm finishing up my senior year at Pfeiffer." That marketing has included a late-summer book signing at the Barnes & Noble store in The Arboretum Shopping Center of Charlotte, N.C.
Artifacts transports us to a world of faeries and wizards in which Geena Bellows, after eluding capture by wizards who've had her on the run for much of her life, gains asylum in the faerie land of Apatite. Geena learns that Apatite's inhabitants knew her late mother. Along with unraveling her mother's Apatite connection, Geena comes to hope that the many mysteries in her life will be revealed.
Artifacts exemplifies a genre called fantasy dystopia, which "is like the way you would think of an infection," Parrish said. "It's this one thing that needs to be taken care of, or else it's going to be a problem."
Parrish said she's been reading fantasy dystopias "forever."
"It's what I know, it's what I'm familiar with," she said. "So, I figured that at least for my first series, I would go with what I know."
Dr. Ashley Schoppe, an Assistant Professor of English at Pfeiffer, expressed support for this strategy, saying that Artifacts "immediately immerses the reader, a feat which is even more remarkable considering this is Parrish's first novel." "Apatite, the world of the faeries, is realistically drawn, and it is a delight to explore," she added. "The conflict between the faeries and the wizards that forms the central plot of the novel is a fast-paced nail-biter, and the ending leaves you wanting more. I'm looking forward to reading the sequel."