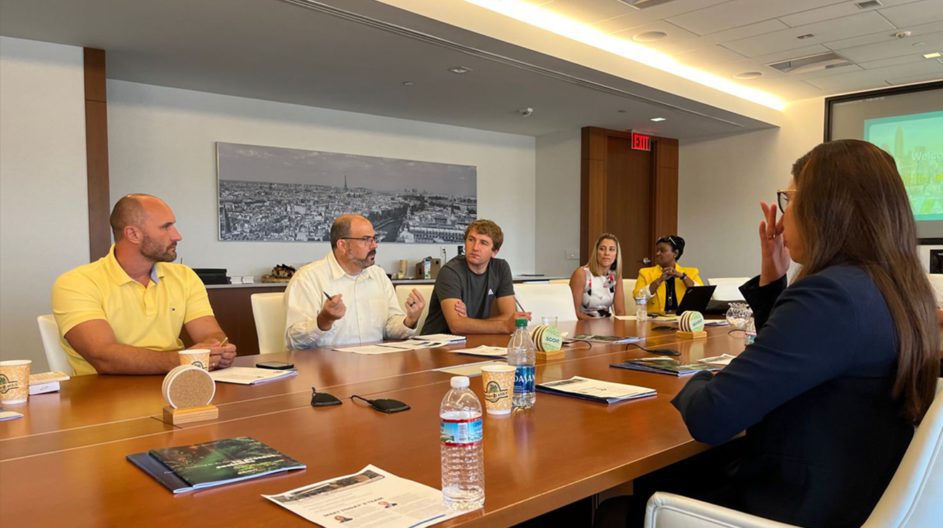 Pfeiffer Hosts Baltic Management Institute Conference
by Ken Keuffel
Sep 27, 2022
Pfeiffer University's Graduate School and its business programs hosted a global conference Sept. 11-16 for 49 European executives, all of whom are current and former students of the BMI Executive Institute. Since Charlotte, N.C. is currently rivaling New York City as the financial capital of the United States, BMI wanted its students to learn about Charlotte's economic ecosystem. Pfeiffer's business programs provided that education, offering them everything from workshops to tours of businesses in the Charlotte area.
"The Graduate School of Business here at Pfeiffer showed the students that ecosystem through our eyes," said Dr. Susan Luck, the Program Director of the Graduate School of Business at Pfeiffer. "We wanted them to understand the unique people and cultures that comprise business in the Greater Charlotte region."
BMI, which serves mainly European Union-based students, is headquartered in Vilnius, Lithuania, with a satellite campus in Brussels, Belgium. It's one of the leading providers of executive MBA programs in Europe; their students are all upper-level or C-suite executives.
Dr. Christopher Boe, Dean of Pfeiffer's Graduate School, said that Charlotte has grown into a city offering examples of "transformative development" in banking, sport management, international business, and philanthropy. "Pfeiffer partners in all of these sectors helped welcome the BMI Executive Institute students to the Queen City and provided experiences to augment the learning they have been doing in their executive MBA program," he said.
Roger L. Dick, a Pfeiffer Trustee who is President and CEO of Uwharrie Capital Corporation, reinforced another intent of the conference in his keynote speech, which he delivered Sept. 11 at the Speedway Club in Charlotte. This was to explore "Virtuous Capitalism" — the notion that business "cannot just be about money and profit; it must be about people and serving the public needs." To that end, Pfeiffer engaged Gretchen Carson from the Charlotte Regional Business Alliance to talk about how the area has grown and its many constituents.
Liz Babson '11 MBA, Assistant City Manager of Charlotte, described how the Queen City's transportation decisions differed from those in Europe. For example, bicycle lanes to combat climate change are far more frequently prioritized in Europe; in Charlotte, by contrast, providing sidewalks and traffic signals takes precedence for citizens whose only access to grocery stores is on foot.
A panel helped the BMI students understand the role of corporate philanthropy in the Charlotte region. Guests were Jerri Haigler, the Philanthropy Officer at the Charlotte Rescue Mission; Denise G. Cubbedge, the CEO of Ronald McDonald House Charities of Greater Charlotte; and Autumn Keck, who owns Scribe LLC, which provides grantwriting services for nonprofits.
Pfeiffer professors led workshops on topics such as business agility (Luck) and global leadership (Dr. Jimmy Atkins, an Associate Professor of Organizational Development at Pfeiffer).
To understand why business works the way it does in Charlotte, Pfeiffer wanted BMI students to be immersed in the Greater Charlotte community. So, the conference offered the students numerous tours of businesses, providing them with what Boe called "an opportunity to compare their business practices and norms to those of the organizations in the United States."
Boe said the tours showcased companies that "both do great work and good for the communities in which they are situated." These included Charlotte Pipe and Foundry Co., Grant Thornton, Fifth Third Bank, TIAA, and SCOR in Charlotte; the BMW GROUP Plant Spartanburg (S.C.); and Culp Lumber Co. in neighboring Stanly County.
Atkins led the BMI students on a visit to TIAA. During their time at the company, they met with senior leaders and executives from TIAA to discuss how the company is advancing diversity, equity, and inclusion across their enterprise. This included learning about TIAA's early talent program, which seeks to attract diverse talent from underrepresented groups by partnering with HBCUs and other minority-serving institutions.
Stephanie Hinrichs '05 MBA arranged the Grant Thornton site visit, which took place at Grant Thornton's new office space in Charlotte's Upper South End. With views overlooking Bank of America Stadium and most of uptown, this office space uses a hotelier approach, designed for a post pandemic hybrid work experience.
Mike Burgess, Grant Thornton's Managing Director of the Charlotte office, spoke to the students about the changing needs of business in a post pandemic world. Sharon Whittle, Grant Thornton's Vice President for Human Capital, stressed the need for hard business skills in young college graduates in nearly every field; even those in healthcare and nursing, she stated, need a sound background in accounting and finance. This statement was reinforced by Grant Thornton's Managing Advisor of Transportation and Supply Chain, Hayden Little, who stated that while the number of accounting majors has declined dramatically in the past 10 years, the need for them has more than quadrupled.
Charlotte Pipe and Foundry's Cast Iron Division was a favorite site for the BMI students as they got to don hardhats and orange vests and experience what working in the factory was like. Charlotte Pipe's Senior Vice President Mike Hall took them through all phases of production, giving them insight into labor practices in the United States.
The visit to Culp Lumber also made quite a favorable impression on the BMI students. Culp's culture of multi generations working for the company was something many of the Europeans noted did not happen in their countries. They were also quite impressed with the company's technology. One BMI student, who works in the European lumber industry, stated he had been in the top factories in Austria, Germany, and Switzerland, but Culp Lumber had the finest machinery and the best efficiency he had ever seen.
Nicole Baird '03, SCOR's VP of Human Resources, and Natasha Ashe-Suber, a member of Pfeiffer's Board of Trustees and the VP, Head of Global Marketing, Life & Health at SCOR, organized the conference's SCOR visit.
J.C. Brueckner, the CEO & President – Americas at SCOR Global Life, talked about his evolution as a servant-leader, and SCOR executives led the students through an overview of the re-insurance industry. SCOR, which is headquartered in Paris, France, offers its clients a diversified and innovative range of reinsurance and insurance solutions and services to control and manage risk.
The SCOR executives revealed ways in which they are applying current scholarship on leading teams to enhance morale. For example, Al Mele, SVP, Global Agile Coach at SCOR, introduced Amy Edmondson's work on the importance of feeling "psychologically safe" at work. Edmondson, the Novartis Professor of Leadership and Management at Harvard Business School, proposes that individuals who feel free to share a dissenting opinion, or to even share a personal challenge that they are experiencing in other areas of their lives, are more productive team members at work. For her, "psychological safety" is the number one predictor of a productive team.
Dr. Scott Bullard, Pfeiffer's President, visited SCOR along with the BMI students. He described the experience as a great opportunity for the students, many of whom are working at major corporations while completing their MBAs.
"I am personally grateful to SCOR executives and all of the conference presenters for taking the time to be transparent, discussing with us the ways in which they have evolved as individuals and as a team, and giving us concrete examples of the practices of top-flight teams," he said.
Luck said that hosting global conferences has a lot of value for Pfeiffer.
"They help establish our Master of Business Administration program as the one of choice in the international business community of Charlotte," she said.