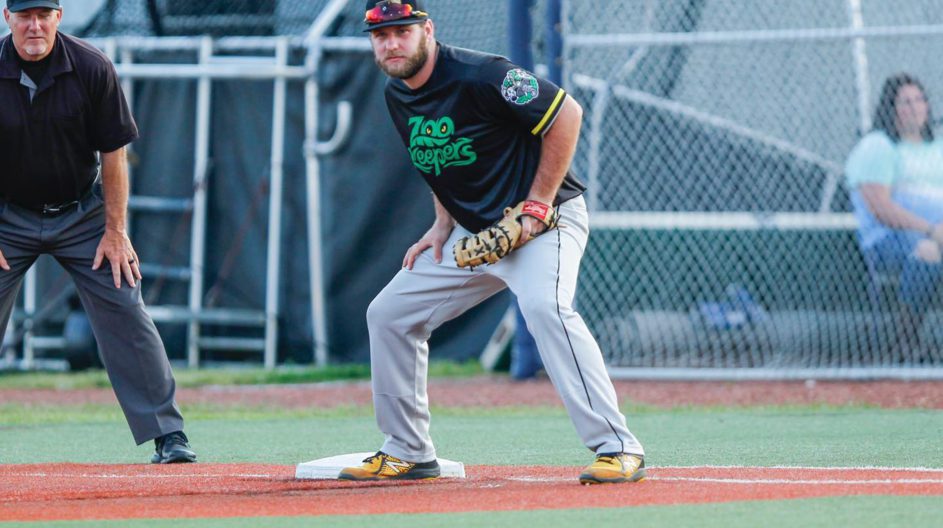 Pfeiffer Ballplayers Well-Represented This Summer in the CPL
by Ken Keuffel
Jun 20, 2022
Five Falcon baseball players* have become Pfeiffer University's boys of summer. They recently joined teams in the Coastal Plain League (CPL), an elite summer collegiate league operating in North Carolina, South Carolina, Virginia, and Georgia. They are:
"This is a huge accomplishment for these players to go compete in one of the better collegiate summer leagues" said Craig Bolton, Pfeiffer's Head Baseball Coach. "I also believe it shows that we have really good players here at Pfeiffer, players who can compete with anyone."
Anyone is the operative word. Just ask Owen, a starting pitcher for the Asheboro ZooKeepers. Owen, who'll play for the Falcons next spring as he pursues a Master of Business Administration degree, notes that the CPL's players comprise the top talent from all levels of collegiate baseball — which includes players from teams that qualified for the 2022 NCAA Division I Baseball Championship.
Falcon Club Director and former Pfeiffer catcher Zac Chilton '15 believes the CPL play is a great opportunity for Pfeiffer's athletes, as well as a showcase for their talent. "We have some outstanding talent on our team and are thrilled to see these five athletes doing so well. It's an amazing experience for them to compete among these top-tier college players, and one, I'm certain, that they will leverage well," he said.
Topper, a relief pitcher for the Lexington County Blowfish, echoed these sentiments: "It makes me raise my game to make the adjustments to play against these highly-skilled players."
Topper sees some other advantages to his participation in the CPL. He earned a B.A. degree in Sport Management and intends to pursue a master's degree in the same subject. He envisions working in ticket sales or marketing after his baseball career; he's been networking with owners of CPL teams who could help open a few doors for him.
The CPL aims to introduce its amateurs to "a minor league-like atmosphere" that many of them aspire to experience as professionals. Wooden bats are used, as opposed to metal ones, and games take place almost every day. Travel to opposing teams' fields is by bus, and it rarely entails overnight stays in hotels, which means that players often don't return home until 3 a.m.
"It can be a grueling schedule," said Kyle Pugh '07, President of the Asheboro ZooKeepers and former Pfeiffer third baseman, "but it's a great opportunity for these players, and I couldn't be happier to have two Falcons on our ZooKeepers team."
Caughey, who pitches for the High Point-Thomasville HiToms, earned a B.S. degree in Health and Exercise Science. He called the demands of playing in the CPL "a grind."
At the same time, he said, "it's nice to be around the baseball field. It's something I enjoy, for sure. I've really enjoyed being around my teammates." Caughey said he's befriended HiToms players from such schools as Duke University, Georgetown University, Wake Forest University, and Guilford Technical Community College.
Landis, a relief pitcher on the High Point-Thomasville HiToms, is pursuing a B.S. degree in Health and Exercise Science. He sees the CPL as "a great opportunity to further my skills and be better for it when I come back to school." He said he's improved by absorbing the best practices of other pitchers around him so that he can compete at their level. He hopes that the CPL will put him in a position to compete for a spot in the minor leagues.
Owen is equally gung-ho to move up the baseball ranks.
"I'm not ready to hang the spikes up," he said. "I want to play as long as I possibly can. If I have the opportunity to go play baseball after college, I'm going to take it."
*Editor's Note: Landis and Owen will be returning to Pfeiffer, while Topper, Marsh and Caughey are planning to pursue master's degrees elsewhere.