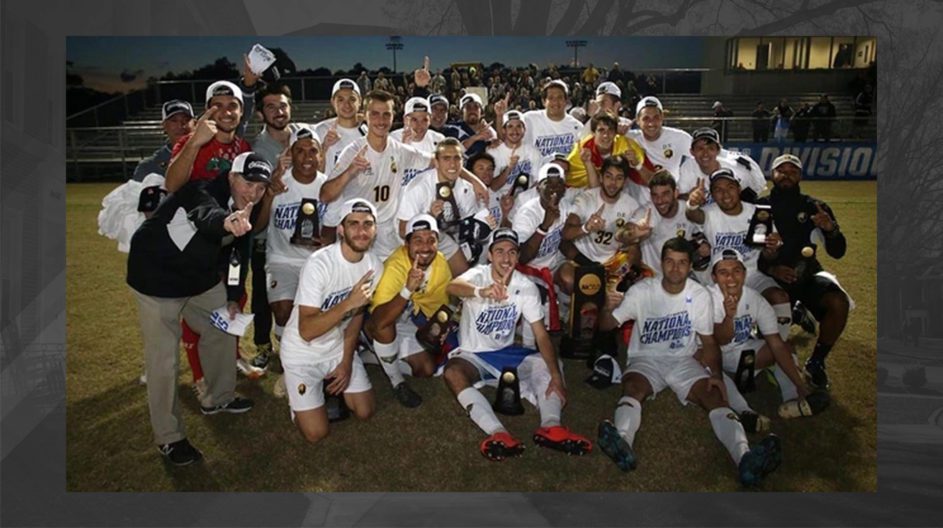 National Championship Team to Enter Hall of Fame
by Ken Keuffel
Jul 27, 2022
In 2015, the men's soccer team of Pfeiffer University won the NCAA Division II Men's Soccer National Championship, capping off an undefeated season. It is now bound for even greater glory.
On Oct. 1, the squad will be inducted into the 2022 Class of the Pfeiffer University Sports Hall of Fame during Homecoming weekend on Pfeiffer's Misenheimer, N.C. campus. Members of the Hall's 2021 Class will also be inducted, having had their ceremony postponed because of COVID.
Bob Reasso '73, who coached the 2015 men's soccer team, still speaks with enormous pride about what it accomplished.
"It's so hard to win a national championship," he said. "It was such a big thing for such a small school."
Dani Siaj Romero '17, '21 MHA, a center back on the title team, echoed these sentiments: "We all agree that being inducted into the Hall of Fame is the greatest honor for any college player. We all feel truly lucky to be part of something so important and transcending for Pfeiffer."
So, what accounts for the extraordinarily high level of excellence that Reasso and his players achieved? Several factors emerged during interviews with them.
Begin with Reasso, whom Siaj credits with playing "a key role in the process of converting a team of good players into a family of great players."
Reasso served as the men's soccer coach at Pfeiffer from 2013 to 2018. Before coming to Pfeiffer, he knew what it took to win, having coached Rutgers University to 13 appearances in the NCAA Division I tournament.
"Having a great coach like Bob Reasso made it easier for us to focus on just playing and enjoying it," said forward Nathan Regis '17, '21 MBA. "He held us to very high standards, but, at the same time, gave us enough freedom to make it worthwhile."
Regis now coaches at the Combine Academy in Lincolnton, NC, where Reasso is the Executive Director and Head Coach of Men's Soccer. Regis remembers taking on several challenging drills at practice that made everyone on the Pfeiffer team better. The team members became students of the game, not only learning the finer points of their own positions but also those of their teammates.
"If someone made a run out of position, we automatically would know how to cover for that person," Regis said. "If someone was out of position, we were not in shambles, we were not all over the place, and we were organized to deal with it."
Another reason for the success of the 2015 team: Reasso recruited well — and was willing to travel far and wide to do it. During the early years of his tenure at Pfeiffer, for example, he traveled twice to a special tryout for American college coaches in Madrid, snatching up five players from Spain and two from Portugal. Players from such countries as France, Colombia, Brazil, Mexico and Trinidad & Tobago were also on the team, collaborating with Americans from several states.
The foreign nationals would play key roles in Pfeiffer's advance through the DII tournament. Cristóbal Allendes Oviedo '17 of Santiago, Chile scored the winning goal with just a few seconds remaining in a nail-biter of a game against Palm Beach Atlantic, placing the Falcons in the Final Four.
And during the second half of sudden-death overtime in the semifinal game against the University of Charleston, West Virginia, Jaime Siaj Romero '16, Dani's brother, scored the winning goal, having received a pass from fellow Spaniard Santiago "Santi" Moar Sánchez '18. (Pfeiffer beat Cal Poly Pomona easily in the finals.)
Moar, who had overcome a career-threatening knee injury at the beginning of his time at Pfeiffer, now plays for Phoenix Rising FC of the USL Championship. Moar filmed a recap of the 2015 team's championship season. In his eyes, he and his teammates accomplished what they did because they were energetic and ambitious and because they benefited from great camaraderie. He also praised Reasso for never letting his team take their collective foot off the pedal.
"In sports, it's very easy to get complacent when things are going well," Moar said. "Bob never took any success for granted, and we bought into that. Even when we were up by three or four goals, he always kept us focused; that's why we won games."
Reasso said that at the end of the day he barely remembers the wins and losses. Rather, what sticks in his mind most is how the players on the 2015 championship team made him feel.
"They made me feel unbelievable," he said. "They enriched my life, and they're all dear friends now. They're great guys who did so much for Pfeiffer." Attendees at the Pfeiffer University Sports Hall of Fame will enjoy heavy hors d'oeuvres, starting at 5 pm. The Induction Ceremony begins at 6 pm. Reservations are required. Early-bird pricing is available through August.