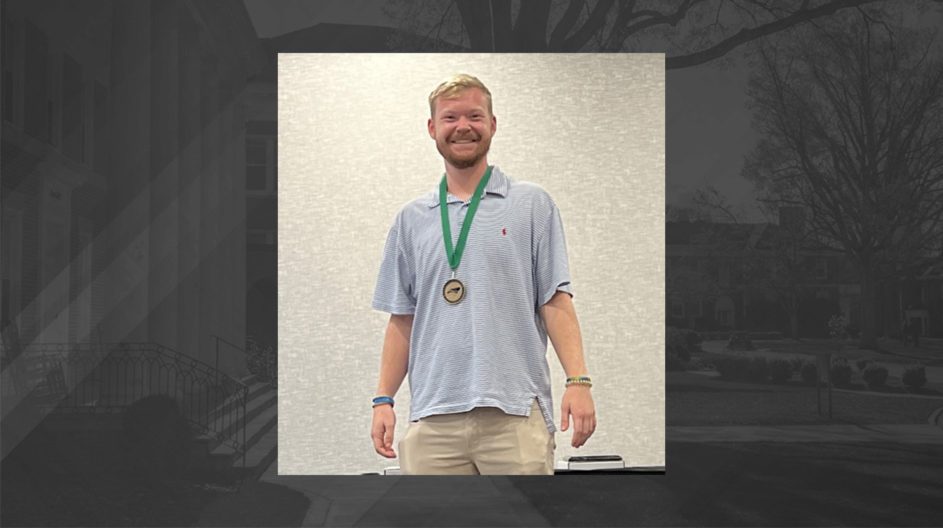 HPE Student Destined for Success in Teaching and Coaching
by Ken Keuffel
Feb 21, 2023
When Jacob Miller '23 of Reidsville, N.C. was attending Rockingham County High School, he approached a young physical education teacher during a career day and asked him to describe his job. The teacher, who also coached basketball, was more than a little enthusiastic. He told Miller that he loved his work because each day, he got to put on comfortable clothing, have fun and stay active as he helped kids better themselves in a variety of ways.
Miller was so inspired by his teacher's words that he decided to pursue a bachelor's degree in Health and Physical Education at Pfeiffer University. Now just a few months away from graduating, he's eager to begin a career in teaching and coaching, and his professors are confident he'll achieve great success. NC SHAPE (North Carolina Society of Health and Physical Education) has also recognized his potential, naming him a finalist for the 2022 Student Major of the Year award.
"I want to wake up each day and give kids a chance to grow physically, mentally, emotionally, and spiritually," said Miller, who has also played basketball at Pfeiffer and served as the class historian of Kappa Delta Pi, his fraternity.
"For me, that feeling is amazing. When students look back on their time at school, I want to be the teacher they remember as someone who cared and made a difference by teaching them about health and wellness and by making school a positive experience."
Miller has already made a difference as a student teacher and coach. At Mt. Pleasant (N.C.) Middle School, where he student-taught last semester, teachers Alison Hylton and Bradley Willis said he always took the initiative to help teachers and students alike. They lauded him for picking up morning duties, grading an extra set of papers, helping a student struggling with an assignment, or attending students' athletic events. They believe he will be an "undeniable asset" to any school's health/PE department.
Ellen Brewer Blue '89, '04 MSEE, the Teacher Quality Partnership Induction Coordinator at Pfeiffer, is of like mind. She taught Miller Introduction to Teaching, and she served as his Student Teaching Supervisor. In a letter recommending him for the NC SHAPE award, she called his energy and positivity "contagious and genuine."
Miller "works hard to provide lessons that meet the standards and also engage students," she added. "He expresses joy in working with hard-to-reach students. He works deliberately to make positive relationships with students. He understands that physical education provides many opportunities for students to learn collaboration, teamwork, and perseverance."
Dr. Dawn Lucas, a Professor of Health and Physical Education at Pfeiffer, said Miller has "grown exponentially" into a leader and professional. "I am so proud of him and cannot wait to see him excel in the world of health and physical education," she said. "I see him doing great things in the future for the profession of Health and Physical Education and for teaching."