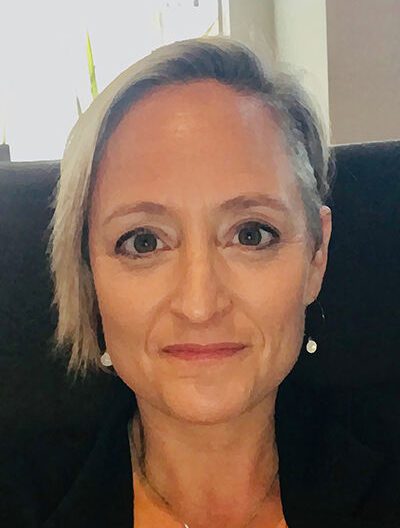 Bellmore Drives Growth of Counseling and Human Services
by campus
Oct 29, 2020
Dr. Aimée Bellmore, an associate professor in the Counseling and Human Services program at Pfeiffer University, serves as its program coordinator, primary faculty member and sole student advisor. Her program has been vital for some time.
Since 2013, when Bellmore began working at Pfeiffer, the number of students majoring in her discipline has jumped from 15 to 57. Each of the Counseling and Human Services majors from the Class of 2020 is working for the organization where they interned and/or has enrolled in graduate school to pursue master's degrees in such disciplines as social work and clinical mental health.
Internships are a robust component of Pfeiffer's Counseling and Human Services program. Each major is required to complete one as part of a Field Placement course. Bellmore has placed more than 100 students in internships since 2015, the year she began compiling records.
Most recently, Bellmore has begun offering Counseling and Human Services majors a chance to enhance their professional stature further by minoring in Social Justice Studies, an interdisciplinary course of study that was launched at the start of the current fall semester. Social justice is "an ethical core requirement" for any Counseling and Human Services major who ends up working with people, Bellmore said. (See accompanying story.)
During a recent interview, Bellmore suggested that there are three main ways that she has contributed to the growth and success of Counseling and Human Services, all of which can also be viewed as three solid reasons to join her program. Several of her former students weighed in for this article as well, bolstering her points with accounts of their own experiences.
1) Bellmore has a knack for building the kind of rapport with students that makes them want to major in Counseling and Human Services.
In Bellmore's eyes, at least 90 percent of effective education rests on a professor building rapport with their students.
"If we don't do that, there's less likelihood that our students are going to show up and be connected," she said. "I fit in with Pfeiffer's whole approach of creating a mentorship culture; that fits naturally for me. That's what works, I think, and that's what makes Pfeiffer different from larger schools."
Such sentiments resonate with two 2020 Pfeiffer graduates who majored in Counseling and Human Services: Haley Linker of Salisbury, NC and Katie Kluttz of Mt. Pleasant, NC.
During her entire senior year, Kluttz interned at Amazing Grace Advocacy, parlaying the internship into a leadership position she held there during the summer. She's now pursuing a Master of Arts in clinical mental health counseling at Gardener-Webb University.
Initially, Kluttz hadn't intended to major in Counseling and Human Services at Pfeiffer. However, after she took a couple of courses that Bellmore taught, she changed her mind, having come to see Bellmore's program as a way "to truly understand who I was and how I wanted to take my past experiences and use them to help others."
She added that Bellmore "believed in me the whole time and was always there for me when I had a question about class and even about life. She was truly a mentor for me."
Linker received a job offer from Nazareth Child & Family Connection after interning at its Rockwell location last spring. She's now helping children on the autism spectrum as a Registered Behavioral Technician at the Gastonia location of Compleat KiDZ, and she's enrolled in the Master of Social Work program at UNC Charlotte with the goal of becoming a Licensed Clinical Social Worker.
Linker still vividly remembers her first encounter with Bellmore. She was a junior at the time, having recently transferred to Pfeiffer from Rowan-Cabarrus Community College. Although her declared major was psychology, her advisor, Dr. Donald Poe, who chairs Pfeiffer's Department of Psychology, had placed her in a course called Introduction to Human Services, which Bellmore was teaching.
Linker knew next to nothing about Human Services and wasn't sure it would be for her. When she walked into Bellmore's classroom, though, the professor instantly made her feel at home. She greeted Linker warmly, asked her to introduce herself and seemed genuinely interested in learning more about her career goals.
The two would talk at length after that first class. In time, Bellmore would persuade Linker to double major in psychology and Counseling and Human Services.
"This ended up being the best thing I could have done," Linker said. "Counseling and Human Services aligns more with what I want to do with my life than just psychology."
While at Pfeiffer, Linker felt the weight of expectations that comes from trying to become the first person in her family to finish a four-year college degree. When she doubted herself because of that, Bellmore would emerge as a calming, encouraging force.
"During my first week at Pfeiffer, for example, I got really upset," Linker said. "I thought, 'Did I make a big mistake by going to community college first? Maybe, I can't do this.' I went to Dr. Bellmore's office. I felt comfortable around her. She told me that I seemed like a strong student and that transfer students were just as or more likely to succeed than traditional ones. From that point on, I felt that if I went above and beyond, I would be fine."
2. Bellmore's students do more than learn theory. They also practice and apply it, often tapping into Bellmore's real-world knowledge.
In addition to teaching at Pfeiffer, she has published numerous scholarly articles (trauma is one of her principal research interests). She also owns Sagrado Healing Arts, where, as a practicing Licensed Clinical Mental Health Counselor, she does everything from helping couples heal to evaluating the severity of the trauma experienced by asylum seekers from Latin American countries. Bellmore, who interviews the asylum seekers in Spanish, writes up assessment reports for their attorneys and serves as an expert witness in court proceedings.
This background, which also includes stints working at and researching the cultures of several prisons, matters in several ways. For example, citing examples of her counseling sessions with various (unnamed) clients, Bellmore can talk in practical terms about her use of the late Erik Erickson's Eight Stages of Psychosocial Development in every counseling session. She can illuminate listening/interviewing techniques and how to use them effectively during counseling. She can deepen her students' understanding of two foundational imperatives of good counseling: empathy and rapport.
In this way, Bellmore is teaching students how to use theory in real life. But that's just the beginning: Students also practice what they've learned in mock counseling sessions with their peers, a process that enables them to see what they're doing well and what needs improvement.
This hands-on approach "helps with my teaching and it helps my students get excited," Bellmore said. "I'm not just talking theoretically about what's in text books. I'm not saying, 'Well, I've never done that before, but I imagine that's what happens.'
"These days, students really want that. They need that connection between learning and textbooks and what this means in the real world."
Sarah Elliott '20 of Asheboro would agree. After interning at Rowan Helping Ministries in Salisbury during her senior year as part of her Counseling and Human Resources studies at Pfeiffer, she became an assistant in the Ministries' Crisis Assistance Network. Her clients apply for donated food, clothing and money – a process that requires Elliott to conduct face-to-face interviews with them to assess how great their needs are.
"The interview skills I learned from Dr. Bellmore have really come in handy in these situations," Elliott said. "She always told us to have empathy for our clients, to put yourself in their shoes and to ask, 'How would you feel if you were them?'"
Sometimes, clients sit down with Elliott after their request for help has been turned down at other agencies. They feel that nobody has listened to what they have to say, and nobody has given them reason to hope that their situation can improve. It then becomes Elliott's job to convey the message that even if her organization can't help, she can help the applicant come up with a solution.
"Also, just sitting there and listening to them talk for a couple of minutes without interrupting can make all the difference to them," Elliott said. "Or, stating back what they've said makes them feel that their words have meaning, that they're finally being heard."
3. Bellmore guides her majors into internships that align with their interests, can lead to jobs or give them a better sense of their long-term goals.
Sometimes, as was the case with Elliott's internship at Rowan Helping Ministries, the internship amounts to an audition for a job. Elliott said she learned to do everything she does or might do in her full-time role: manning office phones, putting the food and clothing pantries in order, filling out paperwork, and doing financials.
Then there is Kluttz, who parlayed an internship at Amazing Grace Advocacy into a job there this past summer.
The job entailed leading a summer program for kids with intellectual disabilities and for kids on the Autism Spectrum with the goal of helping them to determine what they wanted to do after high school. The kids explored areas in which they excelled and learned of resources that could help them.
"I loved it and it truly was such a learning experience because I got to use my counseling skills first-hand and apply them to the kids," Kluttz said. "By the end, they were all very excited about what they wanted to do and that it was obtainable."
Although Kluttz's job at Amazing Grace gave way to studying full-time, it did suggest that she was beginning to near her ultimate career goals:
After she completes her master's degree, she'd like to pursue a doctorate with the goal of owning a private practice and serving as a counselor for "dual diagnosis" kids and young adults (i.e., ones with intellectual disabilities and some other form of disability).
All of this would likely not have happened unless Kluttz had acted on her passion for helping young people on the Autism Spectrum.
"Dr. Bellmore supported me in this," she said. "She helped encourage me to do what I truly loved to do."
---
Ken Keuffel, who authored this article, has served as Pfeiffer's Assistant Director of Communications since December 2019. He welcomes story ideas from Pfeiffer's faculty, staff, students, alumni, and friends. The form for submitting story ideas is Story Idea/News Item Request Form.