A Program-Rich Chaplaincy at Pfeiffer
by Ken Keuffel
Nov 30, 2021
In the five years since Reverend Maegan Daigle Habich was appointed University Chaplain and Director of Church Relations at Pfeiffer University, the religious life on its Misenheimer, N.C. campus has seen numerous new programs develop.
For example, interfaith programming enables undergraduate students to learn about different faith traditions by meeting and talking with faith leaders from a variety of backgrounds and by visiting such religious sites as a Sikh temple, a synagogue and a Christian Orthodox church.
Other examples include "Intersections" and XOK. The former happens on Wednesday mornings in Henry Pfeiffer Chapel, offering a combination of lectures, conversations, contemplation, and traditional worship services. These experiences explore the crossroads of faith and learning. Past topics in the "Intersections" series have included mental health, faith and social action, COVID and grief as well as other contemporary issues related to the common good.
XOK, an ecumenical program begun at Pfeiffer in 2019, has evolved from a student club into a pass-fail academic offering that enables its students to earn a certificate in Christian leadership. (XOK is the abbreviation of the Greek words for "Christian Ecumenical Community.")
The most recent additions to Pfeiffer's religious life include "Calm Your Zoomies,"a weekly practice in mindfulness conducted over Zoom, and "Connections: Student-led Worship," a weekly modern worship servicethat is planned and produced entirely by students.
Habich is a Commissioned Deacon in the Western North Carolina Conference of the United Methodist Church. She came to Pfeiffer from Centenary College of Louisiana, also her undergraduate alma mater, where she served as the Chaplain of the College and the Associate Director of Christian Leadership.
During a recent interview, Habich addressed some big-picture questions in what she called her non-proselytizing "ministry of presence" for all students, whether they are Christian, practice another tradition, are atheist or something in between.
Reverend Habich, thank you very much for granting us an interview. Before we talk about the programs of your chaplaincy, could you tell us a bit more about the faith journeys of the Pfeiffer students whom you serve? What are they telling you in counseling sessions?
They talk to me about all sorts of things. Often, they're questioning their faith. Before you attend college, your beliefs and values tend to be those of your family. When you come to college, though, you have to make your own faith identity; you have to figure out your beliefs and values yourself. You get a lot of new views and ideas thrown at you, which you end up deconstructing and reconstructing. That's what I help students with in those one-on-one meetings.
How do the programs of your chaplaincy complement this work?
In general, they give students the space and the tools to question their faith, so that hopefully, instead of just losing their faith, as many students do, they actually are able to create and form a stronger and more robust faith. We want Pfeiffer students to stay in the local church and have a faith that helps them lead. That's especially important now because the church is in a hard place.
How so?
The church is seeing a decline in membership, particularly among young people. It's struggling, having lost the kind of influence that made it the center of society in the 1950s. I think a lot of young people want a church that's authentic and more inclusive.
So, what does that mean for the religious culture that Pfeiffer students will encounter after they graduate and in which they may well serve as leaders?
I definitely don't think the church is going away by any means, but I do think that it will look different in the future. It is "moving out of the building." By that, I mean that it is still doing God's work in the world — but maybe looking more like a nonprofit and less like a church traditionally looks on Sunday morning. Because of a movement in United Methodism and other denominations called Fresh Expressions, church may entail going on hikes and talking about God. Or, it may mean young couples meeting up and talking about God on a weekday instead of a Sunday. Or, it may mean combining dinner with a service. The pandemic has forced people to be creative with how church is done.
This all sounds pretty revolutionary.
Yes, but this kind of thing has happened in the church before. Phyllis Tickle, an author of theology and spirituality, once said that the church goes through a rummage sale every 500 years, resulting in such developments as the Protestant Reformation or the split of the church into two branches: the Western Roman Catholic Church and the Eastern Orthodox Church.
Can you talk about how your programs are helping students to develop leadership skills that will enable them to respond to these realities on the ground?
Sure. Let's consider XOK. XOK is a weekly meeting of students to discuss such big theological issues as Christian formation, the current church, and the changing church. The kids in the group are asking themselves what God is asking them to do with their lives and who God is asking them to be in the world. They have to be really committed to it. At the start of the current academic year, XOK became a pass-fail class that students can take alongside their major. If they take the class for six semesters, along with three religion courses, they can receive an endorsement in Christian Leadership upon graduation. So, that's a really exciting thing.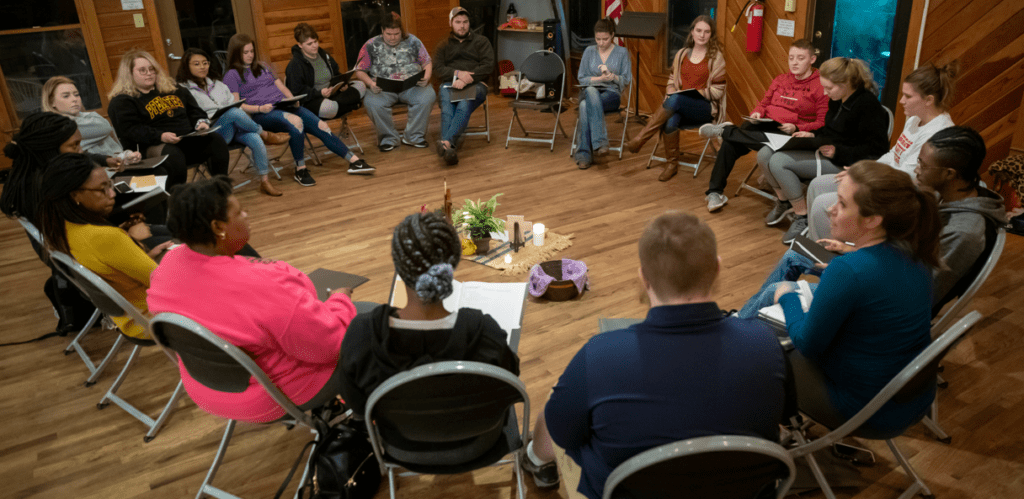 You also lead the Francis Center for Service Leadership & Faith Formation, established by Pfeiffer benefactor Mary Liz Francis in 1999. How has that entity evolved during your tenure at Pfeiffer?
The Francis Center for Servant Leadership & Faith Formation was established in 1999 to reflect John Wesley's charge to love God and one another. Traditionally, Francis Scholars, students who receive scholarships for their dedication to service work, engaged in different types of service and civic-related learning to promote the values of servant leadership. Before I arrived, The Francis Center really focused only on the impact of leadership through service. We now focus on both faith formation and servant leadership; each Francis Scholar's principal assignment is related to one of these areas. The faith areas include worship and beliefs and values, while a Francis Scholar involved in service might get area churches to help with our new Good Neighbor Pantry, organize service projects involving Pfeiffer and local churches, work with Stanly County Christian Ministry in Albemarle, or with Stanly County's Habitat for Humanity Chapter.
Finally, what are your hopes for the next five years?
I hope that our current programs continue to expand to meet the needs of our students and that our students are empowered to create innovative programming and experiences that can help them grow in their leadership and deepen their faith. I'd like students to participate in more innovative experiences off-campus; this would help them gain even more perspective to process their faiths and create change in their communities. I also hope we can accommodate an even more diverse array of beliefs and values, so that all students can think critically about who they are, their purpose, and how they can make a difference in our world.